Samsung Gear 360 gets a firmware update to improve image quality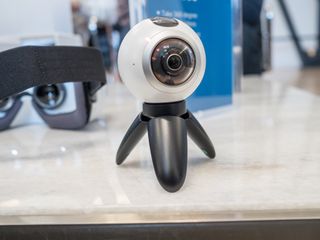 If you're one of the lucky few (OK, more than a few) who already have a Samsung Gear 360 camera, you've got a firmware update waiting for you.
The new firmware (C200GLU0APE4 is what my imported Gear 360 is now on) includes the following:
Time lapse menu added to onboard camera settings (set video resolution)
Front/rear lens adjustment for optimized color matching from each lens input
Image quality improvement
Those last two are particularly important, as color matching between the two images is what helps the stitch line disappear. Plus, the all-encompassing "image quality improvement."
In addition, there's also an update available for the Gear 360 Manager app. Samsung didn't give a changelog, but you'll be taken from v1.0 to 1.04. That app is only available (in the U.S., anyway) in Samsung's own app store.
The Samsung Gear 360 is expected to be available in the United States sometime this summer.
Image quality already looks awesome in the Gear VR, so it'll be interesting to see what improvements are made. (I don't have one as I didn't want to pay the high price Amazon sells it for now, but one of the people I see on vTime regularly has one) Posted via the Android Central App

good.. i would say 3 major issues 1) color difference between cameras
2) time it takes to stitch videos - takes forever!
3) image quality indoors is very poor when light is less than 100% will try the update today. another major issuer (somewhat) is sharing 3D pictures. I had to sign up for facebook because thats the only way i can do it easily from the phone

I think it's worse now.. stitching the color difference was better last weekend (had small update just after I installed it, only the app I think). The big firmware update didn't improve it I think.. let me now what you think!

Samsung keep the price under 200 and I'm in Posted via the Android Central App

Cool, I hope the stitch line gets even better. I've noticed that it is pretty decent, but also it is better when it is actually stitched together then when it is just previewed in gear manager. The fact that it takes so long to stitch I'm assuming it is doing a more comprehensive job then when previewing.
For anyone waiting for the Gear360 still, you can find ample supply on ebay. I bought one on a Friday with expedited shipping from South Korea on a Friday and received it on a Tuesday. Price was $360 which is probably less then what it will cost here after tax.

i paid $400 USD, that included shipping :), but it got it few days after launch

How do you like it and what are your favorite features Posted via the Android Central App

i would say its mostly great for recording memories in VR. my key issues are outlined above. is it worth $400? 100%! Considering in a bright room you get excellent shots, its worth the money. Its not a replacement of your semi-pro camera or even a cell phone camera. Its mostly good for VR and wide angle shots. Its basically an add on to your existing cameras

I haven't had much time to play with it, but it does seem to be best with a lot of people / scenery everywhere as you can look in all directions.
I think the timelapse feature will be cool once I have some time to play with it. I have a mount strap for a bike helmet and plan to take a trip around the lake with a speed of 1 shot per second or so, should make for an interesting quick view of the area around me. Also will try this in the backyard. You could set this up in the middle of a garden and see life in all directions moving by quickly over a period of all day if the battery can handle it.
Also have looked into the streetview capability. Haven't tried this yet but will be on vacation in Europe in a few months and hope to map some areas uncharted near family, and walk a beach on the sea to see if I can fill in where street view is lacking. If these 360 cameras catch on I assume google will be happy to have fresh map data in places they haven't been.

Ok thanks for the information will look in to it Posted via the Android Central App

Hope Samsung will give free cameras with the bundle like LG did Posted via the Android Central App

Lol. This is way too costly to be included "free" with a phone.

just got the gear 360, but seem to be having some issues with the app on a note 5. when i try to go to live view it app shuts down and goes back to the main screen of the app , anyone know of a fix
Android Central Newsletter
Thank you for signing up to Android Central. You will receive a verification email shortly.
There was a problem. Please refresh the page and try again.