Samsung Galaxy Tab S7 Plus hands on: Unfulfilled potential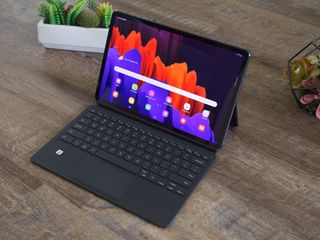 (Image credit: Joe Maring / Android Central)
Android tablets. What's there to say about them in 2020? We have our ultra-cheap Fire Tablets from Amazon, an array of budget and high-end offerings from Samsung, and — well, that's about it. Just about every major tech company has moved on from Android tablets, largely because the operating system never really caught on for the form factor. There were endless options back in the early 2010s, but for the past few years, they've all but dried up.
There's a very good reason for that, but for whatever reason, Samsung remains vigilant in its quest to keep making the darn things. Enter the year 2020, and we're presented with two new flagship tablets for the premium space — the Tab S7 and Tab S7+. They aren't coming out until later in the fall, but Samsung sent me a pre-release unit ahead of launch for a little sneak peek of what's to come. Based on a few days of playing around with the more impressive Galaxy Tab S7+, I have mixed feelings.
Galaxy Tab S7+ Hardware
Let's start with the good, which is virtually all of the Tab S7+'s hardware. This is a premium tablet through and through, and that's something you instantly realize as soon as you pick it up. The tablet has a very sleek and sturdy aluminum body, featuring rounded corners and flat edges. There are four speakers for stereo audio (which get very loud), tactile power and volume buttons, a USB-C charging port, and a glass strip on the back that houses the S Pen.
While it is a bit larger to accommodate the Tab S7's size, this S Pen has all of the same features that you'll find on the Galaxy Note 20. It's comfortable to hold, supports remote gestures, and has that buttery smooth 9ms latency for more accurate writing and drawing. That's the same level of latency you get on the iPad, and it feels every bit as nice on the Tab S7. I'm not much of an artist myself, but jotting down notes throughout the day feels as smooth and responsive as I could ask for.
Image 1 of 2
Flipping the Galaxy Tab S7+ over, you're treated to one of the largest displays currently available on an Android tablet. Measuring in at 12.4-inches, the S7+ is an absolute beast that demands your attention. That's a little bit smaller than the 12.9-inch iPad Pro (opens in new tab), with Samsung also favoring a widescreen form factor instead of the iPad's square one. This makes the Tab S7+ an incredible canvas for watching movies and playing games, but for browsing the web or working on Word documents, I feel like it would have benefitted more from a square-er aspect ratio.
In any case, the tech backing that huge screen is what you'd expect from a top-of-the-line Samsung device — Super AMOLED panel, 2800 x 1752 WQXGA+ resolution, and a 120Hz refresh rate. Safe to say, everything you do on the Tab S7+ looks incredible. Samsung is iconic for its industry-leading displays, and you'll be hard-pressed to find a better-looking screen than what's offered here.
As for the rest of the specs, you get high-end components in every regard. At the heart of the tablet is Qualcomm's Snapdragon 865+ processor along with 6 or 8GB of RAM, in addition to a beefy 10,090 mAh battery. Storage options include 128 or 256GB of space with microSD support, there's an in-screen fingerprint sensor, and you'll be able to get an optional configuration with 5G connectivity.
Galaxy Tab S7+ Software
All of that's great, but despite everything Samsung's done right, there's no getting around the ugly face of the Android tablet experience in 2020. The Galaxy Tab S7+ ships with Android 10 and the latest build of One UI 2.5. Samsung and Google have both done decent jobs at optimizing their apps to take advantage of the larger tablet form factor, but as you start downloading third-party apps from the Play Store, it doesn't take long at all to realize that the ecosystem just doesn't support this kind of hardware.
So many Android tablet apps are literally just stretched out versions of the one on your Android phone, and it makes the whole experience feel like an afterthought. Especially on a tablet with a screen this big, that annoyance is further exacerbated.
This isn't a knock against Samsung at all, but more of a reminder of what it's like to use Android on a tablet. It's an issue you encounter regardless of what one you're using, and as pretty as the Tab S7+'s display is, it feels like a waste when so few apps truly take advantage of it.
Samsung does try to combat this with its DeX interface, which essentially transforms the typical Android UI into something that looks and feels a lot like Windows. There's a lot more you can do with DeX compared to the normal Android layout, and when paired with the Book Cover Keyboard accessory that Samsung's going to sell alongside the Tab S7 series, you end up with a pretty nice laptop replacement.
I've had the most fun using the Tab S7+ in DeX mode with the keyboard cover, with the super flexible hinge and responsive keys allowing for a really enjoyable experience — that is, until you go to use an Android app that doesn't work with DeX. I tried logging into a website with 1Password, got a pop-up that 1Password and DeX aren't compatible, and was instantly taken out of the magic. There's still some work that needs to be done before I'd consider DeX to be a proper alternative to Windows or even Chrome OS, but the idea of having one device with two distinct user interfaces for work and play is an enticing proposition.
Galaxy Tab S7+ More to come
As far as pricing and availability go, sales begin in Fall 2020 with a starting price of $850. If you'd rather get the smaller Tab S7 (which has a few key spec differences), you're looking at a starting price of $650. At the time of publication, it's unclear how much of an upcharge the 5G models of each will come with.
We're holding off on a full review until later in the year when we can get our hands on a retail unit, but as mentioned above, the Galaxy Tab S7+ is a mixed bag.
When it comes to the hardware of the tablet, it's nothing short of amazing. From the display, processor, S Pen, and more, Samsung put a lot of work into ensuring the Tab S7+ is worth its high asking price. Sadly, a lot of that hard work is hard to appreciate when the operating system at its core just doesn't work all that well. I'm hoping I can get a better appreciation for the Galaxy Tab S7+ after I get to use it for a bit longer, but until then, I'll leave you with that.
Samsung Galaxy Note 20 first look: Surprises, both good and bad
Best in class
Samsung's latest tablet is right around the corner
The Galaxy Tab S7+ isn't available quite yet, but when it arrives later this fall, it'll be packing a big punch. It offers the best hardware you can get on an Android tablet in 2020, featuring a Snapdragon 865+, 120Hz display, and an improved S Pen. Whether or not that's enough to overcome some software challenges remains to be seen.
Get the Android Central Newsletter
Instant access to breaking news, the hottest reviews, great deals and helpful tips.
Joe Maring was a Senior Editor for Android Central between 2017 and 2021. You can reach him on Twitter at @JoeMaring1.
I love android tablets. All my apps from my phone normally work very well. Where I ran into trouble is with my Google Pixelbook- There are several apps that are "not compatible". Most of them actually will work once I went into developer mode and side loaded them. I have been away from Samsung tablets since the Note 12.2 Pro, as they were just too small for what I want out of a tablet. 12.4" is perfect for Youtube and and other video viewing and it should work with my Gopro and Sony camera apps- which my Pixelbook will not. What are people doing with an iPad that the S7+ won't do? With the S7+ I should be able to watch video, web browse, do some spreadsheets, basic photo and video editing, social media and check emails. What else do I need it to do? Personally I'm excited about this one..

I don't quite understand the concerns with the Android OS on a tablet. I use my Note 9 with Dex very often, and use Windows tablet and 2 in 1. I also use Android tablet. There are really very few things that an Android tablet cannot do. I do encounter a lot of disadvantages with Windows tablet : Shorter battery life, usually lack LTE, not compatible with phone apps, no instance on, battery drain on sleep, tedious Windows update etc. I can see the value of the S7+. None of the disadvantages plus beautiful screen and good speakers. It is a good consumption and productivity device for those who are not into IPad.

Most of your negatives the Surface Pro X does not have. Besides you can say the same trying to use Android as a tablet, just as sucky an experience.

Android tablets are a joke with unoptimised apps, poor user experience which is worse than Android phones, especially with the poor software support. The iPad is everything that Android tablets are not, great for gaming, which Apple has long since thrashed Android for years and continue to do so, apps are optimised and designed around the iPad and iPad OS gives the iPad it's own identity. Why do Android tablets even still exist? Apple won the tablet wars.

I agree that Apple has won the tablet war. But if there is no other high end tablet from Samsung or other manufacturers, the prices of premium IPad will be even higher. The point is, the Tab S7 can do most things that most people want to do on a tablet. And for watching Netflix, browsing web, replying emails, it will be a great experience that may be even be the best in class.

Regardless, the price of the premium iPads would still be highier regardless but seriously, Android on tablets will never be truly realized because Google and 3rd party developers have given you on the Android tablet, I still think there's no reason for Android tablets to exist and at least with an iPad, you don't feel like your compromising too much, even with the cheapest iPad unless with the cheapest Android tablet which performance is compromised which is because Android tablet OEMs don't even make the hardware and software like Apple does.

It seems AC has decided Android tablets suck, and construct their reviews around that bias.

I think this is true... and then samsung's own app doesn't work in landscape on the tab S6. It's a fair criticism, but I'm probably too biased, since I've always used a samsung tablet with the S Pen

Android Tablets don't suck but even as a Samsung Fan it's hard to justify paying these prices when there's a iPad Pro for in and around or not much more than this? I have a Tab S5e it's perfect for what I need like browsing, media etc but I only paid £350 for it I wouldn't pay much more as I have a S20 ultra as well.

Android tablets suck balls iPads are simply better.

Do you come on here to pimp for Apple every single day?

Perhaps I'm not using the same apps or whatever but I've never understood that complaint on android tablets. Been using them for years and I haven't really noticed a problem. Ah well I'm looking forward to this one, will try to snag one during a holiday sale this year!

The Tab S7+ isn't even a tablet, it is a laptop. Even the Tab S7 is an enormously big screen.
I thought my Tab S3 was big enough. The worst bit of the new lumps is that they are so tall and narrow. It feels they're pandering to the video watchers. You do not need something like this with an S-pen.

it's definitely a tablet, just like an iPad Pro is a tablet.

After buying the Lenovo IdeaPad Duet I'm convinced Chrome OS is the future of Android tablets and the Galaxy Tab S7 would've been a better device with it. Proper window support, w true desktop web browser and decent Android app support. They all work well.

Fair review of the Tab S7 and Android app ecosystem of what it is. Acceptable but no more.

Why would anyone choose yet another poor iPad clone over the superior real thing? Only the most 1 eyed of Android fanboys realise that Android tablets are dead and that Apple won the tablet war long since.

Why is the ipad superior to the S7+?

Better quality of apps that are actually designed for the iPad which means they're super optimised and Android on tablets cannot compare the iPad OS which has given the iPad a new lease of life and it's own identity while Android on tablets are just a blown up version of the phone with no thought or care being put into making Android work for tablets.

I am "that person" who really does love Android tablets. I genuinely don't understand why they are frowned on (well, except the crappy £10 knock offs). Samsung do terrific tablets. My only alternatives are iPads (which are just weird, frankly, even without the Apple wall of "we won't do XCloud cos mobile games are not actually so 2015") or Surface Pro (which is fabulous but not a grab and go internet device). The 7+ looks pretty good value in 4g form. I might trade in my S5e.

You're a minority because the rest of us love iPads which has already won the tablet "war", why do Android tablets even still exist?

Beno is a 13 year old snob lol bet he gets picked on at school. Or he's an adult fat loser who drinks mountain dew all day at his mother's apartment

Hhm. nope. Windows 10 or ChromeOS both more powerful than iPadOS thanks. Fair enough Surface Pros aren't for everyone. But give me a ChromeOS tablet over an iPad any day.

My s6 in Dex mode blows away my surface pro for most things I do. With Microsoft 360 I can do my estimates better and faster on my s6.
I've tried iPad multiple times it's a joke for any thing that needs real mouse support. I love my s6 with keyboard. It's funny iPad got a keyboard with track pad AFTER the s6 with keyboard came out. Dex mode is awesome and I hope Samsung keeps improving it.

For starters it's Microsoft 365. Secondly give over Dex isn't a Windows 10 competitor. Unless you want Mobile Apps (certainly) but you specifically cite Dex so "blows away". No it does not. Dex just forces Android apps into windows. They're still the same stretchy apps.

This crying out for ChromeOS. No watered down desktop experience from Dex but an actual Desktop experience. Web Apps, Android Apps, Linux Apps, Windows Apps (Enterprise only). Samsung OneUI only offers one of those.