Samsung Galaxy Tab S4 hands-on preview: The two-faced tablet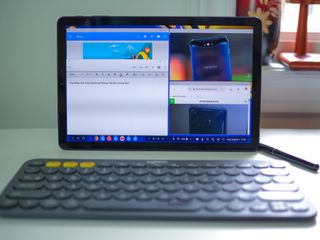 Samsung has returned to the tablet game after a near 18-month hiatus. In that time, the market has shifted to 2-in-1s, and Chromebooks have largely superseded Android tablets in bringing a great mobile experience to the Google ecosystem.
But Samsung lives in its own world, and the stylish, expensive Galaxy Tab S4 tries to work many of the same ideas we're seeing in the Chromebook and Always Connected PC space into its new tablet.
Samsung Galaxy Tab S4 The hardware
Swipe to scroll horizontally
Category
Spec
Operating System
Android 8.1 Oreo
Display
10.5-inch Super AMOLED, 2560x1600
16:10 aspect ratio
Processor
Snapdragon 835
Octa-Core 2.35GHz + 1.9GHz
Storage
64GB / 256GB
Expandable
microSD card
up to 400GB
RAM
4GB
Rear Camera
13MP, Auto-focus, Flash
1.12µm pixels, f/1.9 aperture
Front Camera
8MP, fixed-focus
Iris scanner for face unlock
Connectivity
Wi-Fi 802.11ac dual-band, Bluetooth 5.0
Wi-Fi Direct, USB Type-C 3.1, GPS
LTE (optional)
Charging
USB-C
Adaptive fast charge
Battery
7300mAh
Input
S Pen
4096-level pressure sensitivity
Security
Intelligent scan (face unlock + iris scan)
Dimensions
249.3 x 164.3 x 7.1 mm
Weight
482g (Wi-Fi)
483g (LTE)
Colors
White, Black
The first thing you'll notice about this tablet is its display. At 10.5 inches, it's one of the largest Super AMOLED panels out there, and the fidelity is striking, particularly because Samsung uses bright, colorful wallpapers to show off its vivid 287 pixel per inch density.
The now-16:10 aspect ratio is considerably longer and narrower than its predecessor, the Galaxy Tab S3, which was meant to be used as often in portrait as landscape (and was meant to compete directly with the iPad, which shares a similar shape).
Nearly two years later, the market is full of 2-in-1 Windows and Chrome laptops, and Samsung's aim is squarely for those always-docked slates — the ones that spend more time in landscape with a keyboard case at a desk than sitting on a coffee table or in portrait mode propped up in your lap.
Both to modernize the tablet's look and to encourage unfettered use as laptop replacement, Samsung has done away with any buttons on the front — there's no fingerprint sensor to be found on here — in favor of a larger screen and slimmer bezels. All your unlocking will be done via the combination of iris scanner and front-facing camera, but the effect is a much more streamlined, attractive product, one that looks less a Samsung tablet than a small monitor.
At 7.1 mm thin and 482 grams, the Tab S4 is thicker and heavier than its predecessor, but it's well balanced. And to be honest, you may not even notice considering the new aspect ratio and laptop-like configuration. It's still easy to grasp in one hand, though the awkward aspect ratio certainly discourages portrait use as much as possible.
Image 1 of 3
There are four AKG-tuned, Dolby Atmos-optimized speakers positioned on the top and bottom (or two sides, depending on how you're holding the thing), and from my brief time listening to demos, they sound excellent. On one of the longer sides sits a dock connector, one that facilitates the Tab S4's transition into a laptop replacement.
Thankfully, there's still a headphone jack on board, along with a USB-C port for fast charging, and a 13MP camera protruding slightly from the glass back. This is possibly the most understated, unSamsung piece of hardware Samsung has ever built — and that's a compliment. Note that Samsung didn't even put its logo on the front of the tablet, only the back (and on the stylus).
Inside, the specs are 2017 smartphone: a Qualcomm Snapdragon 835 platform with 4GB of RAM and 64GB of storage. The 7300mah battery is considerably larger than the one in the Tab S3, and Samsung says it should get many days of mixed use, and about 16 hours of constant video playback.
There's also a redesigned S Pen stylus in the box, and I have to say, despite there being nowhere to stash it like there is in the Note phone series, it's quite the performer. Thick and weighty like a real pen, Samsung said its aesthetic overhaul was one of its biggest priorities when building this tablet. And it shows.
Despite no technical improvements over the last generation — it's still passive, so no charging, and has 4096 points of pressure — it feels much nicer to use while note-taking or doodling. And if you buy the $150 Book Cover Keyboard (opens in new tab), there's a little slot to stash the stylus, like on the Tab S3's keyboard, so it won't get lost.
Enter the laptop
And chances are, if you're spending $650 on this tablet already, you're probably going to want to pick up the Book Cover. While Samsung wouldn't outright say it, the Tab S4 is basically designed for one function: productivity. It wants to be part of the conversation when you're thinking about buying a Surface Go or a HP Chrombook X2 or any number of "detachables" that are hitting the market.
That's why, by default, when you dock the Tab S4 in the Book Cover, it launched DeX, the desktop experience that launched with the Galaxy S8 in 2017 but required an external dock and monitor. DeX works even if you don't have a keyboard, but it's a lot better with one. Thanks to the tablet's beefy hardware (though it really should be launching with a Snapdragon 845 at this price) it can run many windowed apps at the same time, and with a Bluetooth mouse can pass for a Windows or Chrome laptop quite easily.
Image 1 of 4
The problem isn't the experience — DeX is quite nice to use, in fact — but the quality of the apps. On the Windows 10 side, every app was built with a landscape-oriented screen in mind. Chrome apps were too. (Plus Chromebooks can run Android apps, which for the most part play nice with Chrome.)
Here, you're at the mercy of whether Android developers have optimized their apps for the big screen, and chances are, given the state of Android tablets these past few years, they haven't. Even if they have, unless the app is made by Samsung, Microsoft, or Google (or had money thrown at it by Samsung or Google), the feature set of the average tablet-optimized app may not compare to its iOS or Windows counterpart.
Samsung has curated a bunch of DeX-optimized applications, including Microsoft's suite of Office 365 apps and a bunch of news, to-do, and email apps, but the pickings are slim. The big question I'm going to need to figure out is whether regular windowed Android apps are adequate substitutes for a true Windows, macOS, Chromebook, or even iOS experience. There's just so much competition in this space right now it's hard to see how, at $800 with the keyboard, the Tab S4 is worth its asking price.
All about the transition
It takes a few seconds to jump between productivity-forward DeX mode and Samsung's good ol' regular Android software. And while that may not seem like a long time, it's a good example of the two worlds this tablet is attempting to bridge. There's no question that Android tablets are in a bad place right now, but Samsung doesn't seem to care; it's moving in parallel, utilizing Android's extensibility and scalability to build an entirely new desktop experience on top of its traditional software layer.
As an Android tablet, the Tab S4 is fine. It has a beautiful screen, great speakers, and has hardware more than capable enough to run every demanding game and social media app on the Play Store. But no one is spending $650 for an Android tablet just to browse, read, and watch — there are dozens of sub-$200 choices that will do that just fine.
Instead, if you're considering the Tab S4, you're likely doing so because you see a world in which it can function as both tablet and laptop, and that experience lives and dies by DeX's ability to recreate a great desktop experience. At this point, I'm not convinced — but I'm willing, as always, to be proven wrong.
The Wi-Fi version of the Galaxy Tab S4 goes up for pre-order August 3, and fully on sale August 10 in the U.S. and August 22 in Canada. An LTE version will be available later this year for an undisclosed price. The tablet will be available at Verizon, Best Buy, Amazon and Samsung.com, and until August 9, pre-orderers can get the Book Cover for 50% off its $150 retail price.
See at Samsung (opens in new tab)
Android Central Newsletter
Get instant access to breaking news, the hottest reviews, great deals and helpful tips
Daniel Bader was a former Android Central Editor-in-Chief and Executive Editor for iMore and Windows Central.
Why last years processor at that price?

Put in current gen processor, make it 8" and I'm in. That's all I'm sayin'.

Let me think...
$650 (tablet) + $150 (keyboard cover) = $800
Nah, the Surface Go is much better choice. There is a promotion at Costo that sells the 128GB SSD with keyboard cover for $549

Why get this instead of their good Chromebook that Jerry recommends?

Chromebooks are still under work, I heard in Google I/O 2018 that they are working on package manager like apt-get to install open source professional snap desktop apps like Inkscape which would make sense if you have a Stylus, or photo edition software like Gimp which is much more advanced than any Android app.

It's a nice tablet, but I just don't need one. My solution for a keyboard was a wireless Logitech for my Samsung Galaxy Note 8. To get around the Defender case: Atrached a male USB C/ female micro USB connector. I then attached a short micro USB / female USB cable. Insert the Logitech wireless USB dongle into the USB cable. Presto! I now can use the wireless keyboard and mouse to navigate my smartphone. It's a great solution for the journal I write daily (I use the app Journey), word processing, and occasional spreadsheet use. Sure, it is kind of funny to use a wireless keyboard with a phone, but it beats buying a larger device like a tablet, or event a Chromebook or the Dex, which is still too expensive.

Darn. That solution didn't work... A simple male micro USB C / USB connector is the only thing that works... You can't mix Micro USB and USB c along the way, lol.

you could use a bluetooth mouse / keyboard?

So my question to you is, should I get this S4 Tablet with keyboard dock as a laptop replacement or get the Google Pixelbook. I rarely use my HP Laptop anymore and when I do its causal browsing or working on a few word docs. I was anxiously waiting for the S4 tablet but kind of bummed on the internals.

Pixelbook blows this out of the water in every respect and it's cheaper.

Im in the same boat but the specs don't match the price unfortunately. I maybe still get one, the dex features intriguue me lol

I consider myself as a heavy tablet user with an 8" slate that I carry everyday and 10" for home use but a tablet for me is well... just a tablet that I use for some multimedia consumption, gaming and web browsing but never even came close to replacing my laptop. All this so called "laptop replacement" is just half baked on all available OS for me to give up a fully featured laptop. Its cool if someone just want to have a slice of both world in one device but I want the whole experience of the two and that's only really possible by owning two separate devices that focuses on their own thing.

Take it from me as a Surface user that I have never once considered my SP4 as a laptop replacement but I've never really felt the need to have a laptop as well as my SP4 either. I think that this is what Samsung is going for with the Tab S4 as well, not replacing a laptop but making it so you don't feel the need to have a laptop as well.

I'm in the dilemma. I might get a new macbook pro but I don't have much use for it and my MBA is still working well enough. So I'm looking at this and the pixelbook. I think the pixelbook is better overall but this device looks interesting too.

good joke, iCutting board can do just 10 % of this Samsung Android, kiddie ;)

no fingerprint scan, deal breaker for me. I do not want to use iris or any type of face scan. and I was in the market for a new tablet. is it me, or does it look thicker than previous models.

According to the article, yes, it is thicker.

No fingerprint reader isn't a deal breaker for Surface tablets, so I'm not sure it's that much of a problem here either compared to the amount of DeX optimised apps available for it.

I like that you comment the same thing on multiple sites. That's dedication to putting in your 2 cents.

Snapdragon 835 vs the absolute beast of processors in current gen iPads or surfaces?!? That will sink this tablet.

I don't know, you have to remember that iPads have Apple custom built processors and Surface uses x64 based processors which are more powerful than ARM based processors anyway. The Snapdragon 835 is, as you put it, a beast of a processor anyway, it's the same one that I have in my phone and it's still very capable.

Might get slated for it but at that price point etc just get a iPad and be done seriously, Android on Tablets is awful!

I. A lot more impressed by this s4 then I thought I'd be, I like where there going unfortunately that price it's too much I think.

too heavy, 8.4 tab is genially portable

Surface Go 128GB is the way to go for productivity...

Does it have always On display and notifications?

10" tablets are tough to hold for long.

That's why they're banking on people to buy a wireless keyboard and mouse to compliment it.

I have to agree, that's why I use my Surface Pro 4 with the keyboard attached mostly.

I would get the acer chrome tablet over this.

There's the problem, DeX has even less DeX optimised apps available for it than Windows 10 does in it's store which is going to be the issue. That's the main reason why I have a Surface Pro 4 for productivity as nothing beats Windows and it's ability to run applications from anywhere not just the Store. I really want the Tab S4 to do well but as mentioned in the article, DeX optimised apps will make or break this 2 in 1.

I use an Android tablet constantly, and have been looking to upgrade. But with Chrome OS seemingly getting ready to truly transition to the tablet space, I think I'm going to have to hold off a bit longer to see where that goes before committing to another Android tablet.

What distinguishes the Galaxy S4 is also the worst flaw is built-in Dex Mode, which turns the tablet interface into a desktop-like mode on Windows computers where Dix works on the icons of the application icons to the left, with the possibility of modifying their places. With Dex mode, some features are not working properly, such as resizing the application or closing the application. The touch feature does not work under this mode, and the S Pen attachment or Bluetooth mouse must be turned on. Applications are shut down and randomly including Google Docs.
Android Central Newsletter
Get instant access to breaking news, the hottest reviews, great deals and helpful tips
Thank you for signing up to Android Central. You will receive a verification email shortly.
There was a problem. Please refresh the page and try again.