Samsung Galaxy Tab 10.1 takes flight with American Airlines as new airborne entertainment system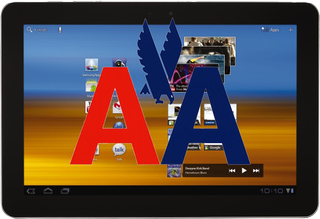 American Airlines has partnered with Samsung Mobile to bring the Samsung Galaxy Tab 10.1 to select flights this year. The Galaxy Tab 10.1 will replace the personal entertainment devices currently outfitted in some premium cabins.
You'll be able to find the Galaxy Tab 10.1 on flights between New York's JFK and Los Angeles, JFK and San Francisco, and Miami and Los Angeles, if you're flying on either a 767-200 or 767-300. Internationally, flights to and from Europe and South America using 767-300 will also see the Tab 10.1, and flights departing Boston to Los Angeles on a 757 will also have the Tab 10.1.
Anyone a regular flier here? Looking forward to all the Tab 10.1 goodness you'll eventually be experiencing? At any rate, this is a huge boon for Samsung and the Android tablet market at large, so it'll be interesting to see how this plays out for other manufacturers in the future.
Source: Business Wire
Android Central Newsletter
Get instant access to breaking news, the hottest reviews, great deals and helpful tips
Thats not the Galaxy Tab, its the G-Slate, no? In any case, that's pretty cool. Glad they picked up some Sam Tabs over the Ipad.

No, just the old Tab 10.1. Image has been updated to avoid confusion.

I'm going to go ahead and guess that I'll never see one of those back in the stowage section my company makes me fly… -Suntan

Yeah I'm in the same boat, I'm sure this sort of thing will eventually trickle down though. Very cool replacement for the ancient screens/interface they use now.

Pshhh AA makes you pay for EVERYTHING on a damn flight lol. . . I wonder how much this would cost.

even if 10 bucks, gotta be better than the stupid headsets you have to pay for to watch some crappy movie

I think one thing everyone is missing here is,,,if the airlines are providing Galaxy Tabs to passengers in, I assume first class, will we be able to use our own devices in say....coach???? Hmmmmm....either way this is great news for a great product....

And I ask because I dont fly much, but everytime I have I remember being told that I couldnt use my stuff....or is that just take off and landing???

Its just take off and landing, and they still want you in Airplane mode so that your phone doesn't light up every cell tower they fly over. Some airlines have in-cabin wifi, since 2007. More are adding it on long flights. Many WERE experimenting with in-cabin cellular femtocells. Because these were close, they tended to force cell phone transmitters to the lowest possible power setting, except for some misbehaving phones.
9/11 pretty much put the stop to in-cabin cellular, but it is slowly coming back, especially with non-US carriers. http://www.airlinetrends.com/press/debate-over-cell-phones-on-flights-co...

I fly almost every month. Carriers have upgraded most planes to include DirecTV. Even those planes with older monitors and audio service, you can use your own headsets. United/continental upped their DTV fee from $5.95 to $7.95 for a 2-3 hour flight. USAir charges $5.95 for wi-fi on a 2 hour flight. I tend to have movies saved to my laptop or TV Shows in my EVO (from U-verse) and skip all the "extras" charged by the carriers.

hopefully they provide a way to show a person how to use the device so someone doesnt just dismiss the platform because they didnt understand on a flight...

Since its mostly for movies, how much instruction would you need? With only two or three icons on the screen main screen: Movies, Magazines, and language selection, what more instruction would you need? They could bypass the unlock all together, or have the unlock directions printed on the unlock screen in 4 or 5 languages. Your grandmother could do it.

How long till one of these is hacked and Cyanogen loaded on it mid-flight?

This is hilarious. How are they going to charge all these Tabs when AA planes have practically zero outlets for passenger use?

Awesome! I am leaving on a first class flight from lax to jfk then from Mia to lax a week after that. Is this happening right now? If so ill so make a short video when I get on the plane here in a week
Android Central Newsletter
Get instant access to breaking news, the hottest reviews, great deals and helpful tips
Thank you for signing up to Android Central. You will receive a verification email shortly.
There was a problem. Please refresh the page and try again.