Samsung Galaxy Tab 10.1 commercial hits the net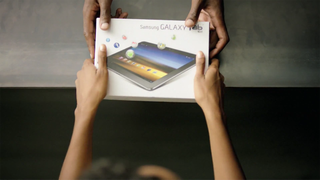 It looks like Samsung's finally rolled out its first commercial for the Galaxy Tab 10.1, and while it's not quite in the same vein as its phone offerings, it's still a fun watch -- and takes a swipe or two at the iPad 2.
I think we can all agree it's not quite that easy to convince someone to go and spend hundreds of dollars on a tablet, but nice try in making it look that way. Also, the Flash bit has definitely been a point of contention for a while now, but did it need airtime?
At any rate, I think Sammy's got a good ball rolling now, especially with that slogan. Ladies and gentlemen, it's time to Tab.
Source: YouTube; via the Android Central Forums
This is one tablet that I'm actually considering buying.

The only android tab worth competing wither the ipad2. I want one!!!!

I just switched from a palm pre to a nexus s 4g and couldn't be happier, but can't decide between a hp touchpad or this. Tough decision because the touchpad has alot of promise, yet the tab is just so sexy

When you actually own a tablet you'll start realizing that it is All about. APPS.... the touchpad has nice hardware and I LoVE webOS... but now its either iPad or an Android tablet.

I am a former Palm Pre Plus user as well and switched to the Droid Charge. I have a Tab on pre-order at Amazon. The Touchpad looks great, but I have given up on WebOS for now.

Awesome commercial, simple and to the point
also makes me want to go pre-order one today.. instead of tomorrow

sweet! now technology can get our cats out of trees! sweet stuff. but,um...still loving my xoom. come on sd card allready. woot! imbossy loves corey! lol

That is actually a pretty good commercial.

It's been time to Tab for months now! And besides, 7 inches is where all the action is at. I've been all over the place with my Galaxy Tab, best part is I've been there without a bag, just slip it into my pocket and off I go.

Im very happy with my eee pad transformer. Just waiting to get the dock for fathers day. That said, that was a pretty groovy commercial. It kinda made me want one!

Flash is always gonna be a point of contention imo, it's worth hammering the point home when the competition still doesn't measure up there. When/if the web ever starts shifting to HTML5 overall then we can forget Flash.

Great commercial. These guys are finally learning to counter Apple's marketing. Here's the thing with Apple's marketing. It shows you what the product can do. It's not too masculine, like the Droid commercials. And it doesn't compare to another device (except for the Mac vs. PC) commercials. Now if you're not number one, you have to compare. But Samsung has struck the right balance here. They need more commercials like this.

Nicely done commercial. Gives people a reason to want it w/o going technobabble on them, which is what Apple has always been good at :-)

LOVE the commercial! Agree with Kenyee above, "Gives people a reason to want it w/o going technobabble on them, which is what Apple has always been good at :-)" Loved the music, use of humor (loved the guy holding the laptop with a pencil in his mouth having a moment of clarity), and the end with the "better" bit.

Now all they need is to give away a 6-pack of Tab cola with the purchase of a Galaxy TAB and the world will be a better place. :)

Good Commercial!!! But I disagree with the author regarding the Flash issue...This is what clearly sets android apart. I still think that Flash is the main current vehicle of wed media. And while the mobile market may be using some variation of this this, there are alot of website (PC format) that still depend on it. I still prefer regular site on my phone than the mobile ones, as most lack lots of content. Kudos to Samsung, and Android community for embracing this. It is a real deal breaker for i pad.....then again I am not an apple fanboy :p
Android Central Newsletter
Thank you for signing up to Android Central. You will receive a verification email shortly.
There was a problem. Please refresh the page and try again.