Samsung Galaxy S8 Oreo update: Top features + what's new!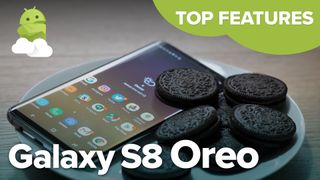 Samsung Galaxy S8 owners around the world will soon be getting their first major Android update. The upgrade to Oreo keeps the core GS8 experience the same, but brings welcome performance tweaks and a handful of new features on top of everything else this phone could already do.
First of all, though, your Galaxy S8 is still a Galaxy S8. This update doesn't make any drastic changes to the overall look or feel of Samsung's software, even though technically we're up to "Samsung Experience" version 9 now.
Of course this is Android Oreo, so you get all the new features we've been seeing in Pixel phones and some others for the past few months -- things like improved notification management -- notifications channels, and the ability to snooze alerts that aren't important right this second. And it's also easier to sign into apps -- Autofill with Google pulls in details automatically from your Google account.
Other changes on the Samsung side? New edge lighting, shortcut features from the Note 8, new clock widgets, a GIF keyboard and much more. Check out our Galaxy S8 Oreo video above for a quick rundown of what's new.
How to get the GS8 Oreo beta
Samsung Galaxy S8
Samsung Galaxy Note 8
Alex was with Android Central for over a decade, producing written and video content for the site, and served as global Executive Editor from 2016 to 2022.
Any word on Treble support? It seems as OEM's are bailing on that with this generation of phones due to the requirement of an extra partition. However, I really think Sammy should do it, because it could separate them even further from the smaller OEM's that aren't gonna do it.

My understanding of the feature is that it's only on new phones going forward. I'm guessing most can't partition the storage space appropriately right now.

That's what it is looking like, but I do remember that Google stated that they were working with OEM's to implement it on current hardware. It would likely require a software tool for PC and Mac that would require you to connect it manually to repartition the drives.

Essential was able to add it.

Coming to the S8 Active also? If so when?

no one here knows....why bother asking? it still has to go through the carriers which will take months

I hope soon. Kudos to Samsung.

Soon? As in how soon? Got a date?

The video says probably early 2018. You could get it now if you really want it.

Really? Can you get it without root access?

not true beta is closed and Samsung has blocked the 8888 Samsung+ app trick and it'll detect anything rooted so no.....you can't..

The Beta is running quite nicely on my S8. We're on Beta 3 currently.

Samsung currently has beta 4

They fix the crackley Bluetooth audio yet!?

No. Hopefully in the beta 4 update. Possibly coming this week, according to the chatter.

I presently have beta 4 is been on the samsung site since sunday.

That's strange. No mention of it in the Members App. What site did you get it from?

Did they fix the bluetooth connectivity issues? No, they haven't. I was on the phone all morning with Samsung and they couldn't fix it. Then all afternoon with ATT and Samsung, and they couldn't fix it. Samsung can't fix the bluetooth issue, because they won't acknowledge they have a problem. Their tech at ATT wouldn't acknowledge it in spite of over 83 pages of complaints on the Samsung owners page. I'm returning my second S8 phone and going back to the Samsung Galaxy Note 7 because the BLUETOOTH on the S8 DOESN'T WORK, NO MATTER HOW MANY TIMES I TROUBLESHOOT WITH ATT AND SAMSUNG. HOURS. DAYS. THE WHOLE WEEK. RUNAROUND. BS. NO, WE DON'T HAVE A PROBLEM (CAN'T FIX IT IF YOU WON'T ACKNOWLEDGE IT). BEYOND FRUSTRATING. I really like the S8. But no bluetooth? Goodbye.

I understand your frustration, however Oreo (nor the Oreo beta) have been released for AT&T's S8 so, it may or may not be fixed assuming it's a software issue. Your S8 could have a hardware issue because I have no Bluetooth issues with my AT&T S8 plus.

You should insist they replace your phone. I've had my GS8 since May, and though the Bluetooth isn't any better than the GS6 (lots more drop-outs outdoors than the GS4), mine does work fine on two different speakers, a headset, a receiver link and a keyboard.

So Samsung is finally going to support GIFs? Jesus Christ.

I have been using gifs through the keyboard for ages. (Note8)I didn't know it was an issue.

"ages" but on a Note 8 that's been out a month....lol. you haven't on the stock keyboard....maybe an app but not stock.

More important what's the release date for AT&T devices. Can't wait the note 8 just keeps getting better and better.

What happened to major versions of an OS being huge overhauls? Honestly, on a UI perspective, we should still be on ICS lol.

So is the Note 8 included in this?

finally native gif support. it wouldn't be such a pain if Samsung messages allowed gboard gif support. personally I like gboard better any way. but to force me to use android messages is horrible, is strange and a bad business model.

lame, really don't see the big deal when people scream for updates.

.....if unlocked or not on a US carrier. Otherwise it'll be spring of 2018 lol

Any new features to the camera like adding a portrait mode which can be done even with the single camera like pixel xl2?
Android Central Newsletter
Get the best of Android Central in in your inbox, every day!
Thank you for signing up to Android Central. You will receive a verification email shortly.
There was a problem. Please refresh the page and try again.