Best Samsung Galaxy S8 Deals for March 2018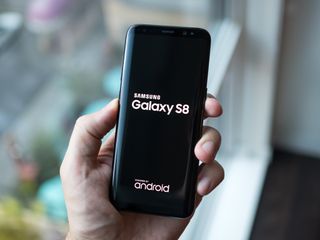 (Image credit: Android Central)
After a lot of hype and anticipation, Samsung's all-new Galaxy S9 and S9+ are here. Both phones bring a lot of new features to the table, and while there's no denying their greatness, they're not the only phones you should look at if you're in the market for a new Samsung device.
Last year's Galaxy S8 and S8+ are still fantastic smartphones, and now that the S9 series is here, you can get them for a lot less money than before. If you want to get 90% of the Galaxy S9's features while spending a fraction of its price, these are the S8/S8+ deals you need to check out.
Save $200 with activation on Verizon at Best Buy
Right now at Best Buy, you can save $200 on both the Galaxy S8 and S8+ when buying either one at the retail giant and activating them on Verizon's network.
That $200 discount is spread out as a bill credit for 24 months, and it brings down the price of the Galaxy S8 to $23.16/month (normally $31.50/month) and the S8+ to $26.66/month (normally $35.00). Whether you choose the S8 or S8+, you'll be able to get the phones in Midnight Black, Coral Blue, Orchid Gray, and Arctic Silver.
See at Best Buy (opens in new tab)
Get a $250 discount with Sprint activation
If Sprint's your carrier of choice over Verizon, Best Buy's got an even better offer for you. With a qualifying activation, you can lease the Galaxy S8 with Sprint Flex for just $8/month and the S8+ for $12/month. The Sprint Flex lease is good for 18 months, but once that time is up, you'll need to turn in your phone for something else.
For folks that'd rather keep their phones, you can save $250 on the total cost of either the Galaxy S8 or S8+ when buying them on 24-month installment plans. With this, you'll pay $20.83/month for the S8 (usually $31.25) and $25/month (usually $35.42) for the S8+.
See at Best Buy (opens in new tab)
Buy one Galaxy S8, get another for free
AT&T isn't offering any single-device discounts like Verizon or Sprint, but it does have its own promotion that might be even better. When buying a Galaxy S8, S8+, or Note 8, you can get another Galaxy S8 for free!
You'll need to activate both phones on monthly installment plans to qualify for this deal, but as long as you do this, it doesn't matter if you're a new or existing customer. With this, you can pay just $25/month for two brand-new Galaxy S8s. Not too shabby.
See at AT&T (opens in new tab)
Take $54 off the Galaxy S8 and S8+ at T-Mobile
Lastly, for our friends on T-Mobile, the Un-Carrier has a deal of its own that's worth a look.
The Galaxy S8 and S8+ usually retail for $750, but thanks to a $54 savings, you can get either one for $696. You can choose to pay that $696 outright, or you can do $0 down and then $29/month for 24 months. That's not as extravagent as some of the other deals on this list, but then again, a discount is still a discount.
See at T-Mobile
Your favorite deals?
Have you come across any deals that aren't listed here? If so, be sure to drop a note in the comments with a link to the deal so others can check it out as well!
Updated March 2018: Removed expired offers and added all-new ones!
Android Central Newsletter
Get instant access to breaking news, the hottest reviews, great deals and helpful tips
Joe Maring was a Senior Editor for Android Central between 2017 and 2021. You can reach him on Twitter at @JoeMaring1.
Jared, thanks for taking the time to collect and post the deals for April. As an AT&T subscriber, I feel our "deal" is more of a trade for TV services. One only benefits from AT&T if they are adding a new line AND subscribing to their Direct TV service. With more people being cord cutters, and the ability to watch quality programming on a mobile device, why would this seem attractive? To get a S8 for free one would have to pay for Direct TV for X amount of months, and receive credits over the installment plan. God forbid AT&T run a promotion where they don't ask for something in return. You never get a "free" tablet, because you're required to have a data plan for it for X months. Same goes for wearables.

I agree! AT&T doesn't treat their current customers with any good deals. They had a buy one Galaxy S7 and get one free deal but that was only for people willing to become a new AT&T customer. They should offer some deals for current customers ; especially the ones who've been with AT&T since forever ago.

Their customer loyalty benefits are a joke. Buy one get one free movie tickets on a Tuesday night at participating theaters? Something to reward customers for 5, 10, 15, 20 years of loyalty would be nice. How about a 20 bonus trade in value on devices, early upgrade, exclusive access to inventory on clearance, complementary device insurance for the first 3 months.

Yea, I left after 10 years.

+1, I left the evil empire of AT&T after about 15 years and never going back.

And you went where? They are all corrupt.

If you are an AT&T customer or any other carrier for that matter and you feel like they're not treating you with good deals there are some things you can do. First would be to drop them, I know that's probably not an option for some people because of coverage issues and family plan deals. So there is a second option, call their customer retention dept and threaten to cancel. Do not call the regular customer service people, those guys can't help you. When you call in, select the option that says cancel your service. Don't worry they will never let a machine cancel you, you will be transferred to a live person. This person's job is to do everything they can to keep you as a paying customer. They have the power to give you free or heavily discounted phones, monthly bill credits and so on. It's a shame that a loyal customer of 10, 15, or 20 years has to jump through these hoops. But it works and you can negotiate one heck of deal. Be sincere about your cancellation threats these guys can smell your bluff through the phone. If the person is unwillingly to help you hang up and call again get a different person. You'll be amazed at what you can get.

That's great advice for ANY service that you want better discounts for current customers: TV, Internet, Phones...

There is never such a thing as " Free".
Read the fine print. LOL

Best buy seems like the best deal. Any reason I should get my phone from them?

because they seem like the best deal?

Best buy is the best deal! That's where I ordered my Galaxy S8 Plus and it's $100 off. You get the VR headset and controller.. For an additional $99 you get said promo plus 256 Samsung Micro SD card and Bluetooth headphones.

walmart has $150 off....if you wanna fukc with walmart that is.

Sams Club has $150 GC. USe GC to buy Visa/MC GC and spend elsewhere if you like.

I had all sorts of problems getting my Note 7 from Best Buy after preorder. They kept calling me leaving a message saying there was a problem with my order, when I'd call back they didn't know why they called or what the problem was and eventually the phone arrived for pickup without any solution that I'm aware of but not before I spent a lot if time on the phone trying to resolve the mystery problem. Then they billed me not once but twice for the "free" promotional Gear Fit2 watch. It took me months to get the charges removed from my BB Citi credit card after filing the dispute. I'll never use BB again for a preorder. I spent way too many hours dealing with issues!

I think going through Verizon is the best deal they are offering $480 for my pixel XL which isn't too bad and would only be paying like 4xx dollars for the s8+. If I go through best buy and do device trade in then they would only give me $210 for my pixel xl.

Im sure you could sell it outright for more than that

Well Sam's Club has the usual freebies (Gear VR and remote) plus a $150 Sam's Club Gift Card. Good for new lines and upgrades!

This sounds like the best deal if you shop at Sam's. We spend no less than $100 everytime we GoTo Sam's.

Plus you can get the accessories bundle currently offered. BB is also doing $100-150 BB GC depending on carrier. $150 for Verizon.

Can you get the Galaxy forever plan if you get it at Sam's, or is it Sprint exclusive?

I am planning on going with this deal. Do you know if you can still do the ATT next plan through Sams club, or do you have to buy the phone at full price?

And no activation fee either.

Does anyone know how the 99 dollar axe for headphones and sd card work? Is it part of the preorder deal and when you get your device you do the online paperwork, or was it something the carriers are doing? I'm on T-Mobile by the way.

So you have to pre-order the device. Then you upload your receipt to Samsung's website once you pick up your device at launch.

You can double up the Best Buy $100 off deal and the AT&T BOGO deal, just FYI. And it works for current customers; you have to add a new line though and have another line with an upgrade available. The only downer here is that I'm going to probably lose the phone number I've had for forever...but that's technically on me since I could've been hiding my phone behind a Google Voice number for years now. Oh well...not a bad trade for a free flagship phone.

Well, I have been ready to pull my hair out trying to order one!!! 3 times to Verizon store at Mall of America, Called Verizon, went to Best Buy & the stories change all the time. Keep in mind that a whole lot of these offers are contingent on your switching to unlimited data, which is something I definitely do not need. When they give you a trade in amount, you still pay a $30 one time stocking fee & need to come up with the tax up front. I have been told I could get $360. for trade in on my S6 Edge+ to $145. Will try once again tomorrow, but realistically will not get more than $60 for my trade in when it is all said & done. Yes, I can get the free VR...but do I want it? I don't play games or watch movies on my phone:-)

I just ordered mine on verizon online so don't know what issue you are having. They are doing a promotion on doubling the trade in value hence why they are saying $410 for my pixel xl instead of 210

Keep in mind with the AT&T deal that the "free" phone comes in the form of monthly credits starting 3 months after the activation and that you can't pay the phone off early without losing the monthly credit on the "free" one. As a result, you're stuck with the phones for 30 months and unable to sell them to put toward another device. I asked the rep back when I got my S7 Edge if I could pay off early and have the free one be paid off as well, and he assured me that I could. That isn't the case.

That's sounds about right for AT&T, raising the bar, lol.

Sell the phone and kept on paying. What is the difference? Also, you got 0% loan. Can't beat that!

Ordered mine directly from Samsung.com with the Gear VR and controller included free. They're advertising guaranteed delivery on the 20th

Me too. I've had bad luck using Best Buy and like you mentioned the guaranteed delivery by the 20th sounded good, hopefully it is for real!

I feel like the T-Mobile deal is lacking. I expected more...

T-Mobile extended the free Gear VR offer, if you buy an S8 before 5/14 you can still get a Gear VR.
https://promos.samsungpromotions.com/tmofreevr/

I don't care about the AT&T BOGO deal but I believe the trade in deal is still active... can someone confirm??
https://www.sammobile.com/2017/05/08/att-offers-200-minimum-trade-in-for...

Samsung even pays the shipping for your trade in phone.

Costco had the best deal! On top of getting the current Verizon promotion, they paid my sales tax and upgrade fee. All that upgrade fee is the interest up front. Plus they gave me chargers and cables free.

Just got $300 for my S7 on a new unlocked S8. Couldn't be happier!

Can you post a link to where you did the trade in? And as far as condition, mine is in excellent shape, just the home button is losing some of it's paint

If only this phone came with a flat screen.

Yeah... That would have been ideal for me also. Oh well.

Unlocked Galaxy S8 for 525 with a trade in of whatever old phone you have lying around. Don't know if you can beat that deal.

People are reporting that they are being denied on this deal.

They accepted my s7 as a trade in without issue, but I know a lot of phones were denied.

How long is this Best buy/Verizon Galaxy S8 deal? Wanting to wait to see the Note 8 but $300 off is a great deal! Just wondering how long until this deal expires? Thank you.

It has been going this 2 weeks ago today, and it has been renewed to go at least until the 12th of August. If you are a Costco member, they have a good deal going this month as well. Buy the S8/S8+ and get $250 back in Costco Cash cards, a free Samsung Wireless Fast Charger 2017 model (it can act as a stand or as a flat surface,) and a free TYLT accessory pack, which includes a portable battery pack, a 2-port Usb car charger, 2 USB-C cords (3 feet, one braided, one not) and a 2 port Usb plug. Or, you can get $300 back in Costco Cash cards and just get the TYLT accessory pack.

If you could put this deal up Jared so people know, that would be awesome.

Xfinity Mobile got me with their $200 off S8+ and S8 until 24 Aug. I'm using the by the gig plan with them ($12 per gig). I've had these two phones for about a week and a half and still only owe the phone payments for the first bill cycle. I do believe if you have qualifying Internet you can get up to 5 phones with no credit check. I'm not a huge data user, i'm either at home or at work where we are not allowed to use any elctronics except for fitbits and if i am out i just text or call.

I just got a S8 from Best Buy and they were out of the cases for the phone and it looks like they can't even back order any. They gave me an OtterBox in its place

That blue s8 is my favorite color and for 300 off wow that a no brainer

Best deal is Costco. $250 Costco card plus a Samsung wireless charger or $300 Costco card.

How is that better than 2 phones for $800 from T Mobile with a prepaid debit card?

Cause that's only if u add a new line of service. If ur doing 2 upgrades the Costco deal is better. And for tmobile the s8 at Costco is $200 off.

Yeah, no article I seem to read seems to mention Costco.

I work in Costco in the wireless center.

Sorry, I know it's a deal, I got an email from Costco, I just meant that no one seems to post Costco's deals on their websites.

Probably cause u need a member ship to get in.

when the s8+ first came out and if you traded in a phone it would be $15 a month. The att deal i got at best buy took of $200 for both phones and it was a bogo deal.

I purchased the s8plus thru Verizon. My blue corral s7edge was paid off so I upgraded. A new line & the unlimited package. Total cost was 540.00. Personally I couldn't pass on this deal. The way I figure 300.00 off was very enticing. Performance wise very good. Camera & battery and the speed of the 835 processer, very good. At first I thought the 6.3 display was too big. One handed use no problem. It's very compact. For myself it is a very good phone!

Don't know about US but in UK no deal offered by a carrier is ever as good as just buying the phone outright e.g. from Amazon.
In fact I just bought, and am waiting for delivery on, a S8 Orchid Grey unlocked. I can use that on any network in the UK, currently I'm on 3 with 200 mins/unlimited text/2GB data, but since we have SkyTV we're in the process of switching to them where it will be cheaper and give us unlimited calls and texts and 500MB data - but data rolls over from month to month so if I don't use it all it builds up over time. I don't use loads of data so that combined with the accumulating rollover will do me fine. In the UK the phone deals it might sound okay, like not having to pay anything up front, for example, but then they lock you into a 2 year contract which ultimately will mean you pay a lot more than just going with a sim only plan.

I love the blue color ,looks good .

I got my Galaxy s8 from Best buy and the transaction was seemless. I got the deal before that was $300 off the Verizon version. I just bought it in BB store, gave them my Verizon account details, they put a $300 payment on the account and voila. I walked out with my new phone. No reason not to go through them.

No deals for the unlocked model or T-Mobile model? Samsung has a deal on their website where you can get up to $300 off with trade in of an older Galaxy or iPhone.

Hmmm, best deal? My old phone was introduced to a tile floor and was no longer bootable. I brought it in where I bought it, as well as the insurance policy, ponied up $115 upgrade fee and got an S8+ for $215 (including original warranty sign up fee). Had I opted for the S8 instead, there would have been no charge other than the original sign up...Needless to say, that warranty service is now no longer offered...

I wanted an S9 but I just got an S8 for $0 on Rogers in Canada for 2 years keeping my same plan. Just can't justify hundreds more to get an S9.
Android Central Newsletter
Get instant access to breaking news, the hottest reviews, great deals and helpful tips
Thank you for signing up to Android Central. You will receive a verification email shortly.
There was a problem. Please refresh the page and try again.