Samsung Galaxy S III will be available at Sprint beginning on Sunday, July 1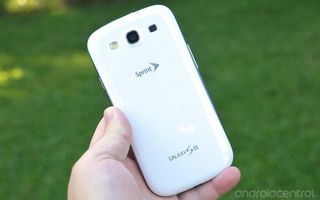 If you're holding out for the Sprint Samsung Galaxy S III you still have a little bit longer to go. The latest official confirmation coming from Sprint has the device arriving for folks on July 1st now.
Sure, it's a bit later than expected but things could always be worse and it's certainly nice of Sprint to keep everyone in the loop rather than just leaving us to guess when it will arrive.
Android Central Newsletter
Get instant access to breaking news, the hottest reviews, great deals and helpful tips
PRAISE CROM! Finally! Im soo going to be in line!

I've been on the fence about this. Now with the latest news about jelly bean I'm definitely keeping my galaxy nexus. There will be a new nexus in a few months anyway and if sprint doesn't have lte up in orlando by then I'm jumping ship.

My VZW account says 7/9 ship date! WOO HOO!

This means I will have mine this weekend. Yay!!

Gotta love it for my Sprint friends. I will have mines on June 28th for Tmobile the wait is over. Another great weekend ahead.

I have the HTC Evo 4G LTE, it`s going back for the Galaxy S3, I like the 2GB Ram, that`s makes the phone fast in a way... Special on Sprint network.

Yeah, but the 2GB ram isn't available for system performance. Some of it is used by the OS and to install programs (like a storage partition). Anyone have any numbers for how much ram is actually available on the Galaxy III as opposed to the Evo 4G LTE?

Any update on LTE? It is mid 2012 already!!! :)

I don't get it, I had mine since the 21st.

I don't get it either. My 32GB arrived at my doorstep 4 hours ago.

Got my shipping notification today for the white 32gb.....should arrive tomorrow.

Best buy getting them on Sunday too?

When I called my local Best Buy yesterday, they said they were expecting a shipment in today (Thursday). I'm going to call once they're open. I'd rather not buy direct from Sprint, as I can save $100 at Best Buy.

It's hard getting anything with out jelly bean. But its sooo nice!!!

Nothing has jelly bean yet.. and since this is a minor update, I don't see it taking very long to get updated. I'm rocking my Sprint S III since the 21st, and it is amazing. I don't even miss my WiMax so LTE is gonna be amazing once it's up and running.
Android Central Newsletter
Get instant access to breaking news, the hottest reviews, great deals and helpful tips
Thank you for signing up to Android Central. You will receive a verification email shortly.
There was a problem. Please refresh the page and try again.