Samsung Galaxy Premier is official - 4.65-inch screen, Jelly Bean and TouchWiz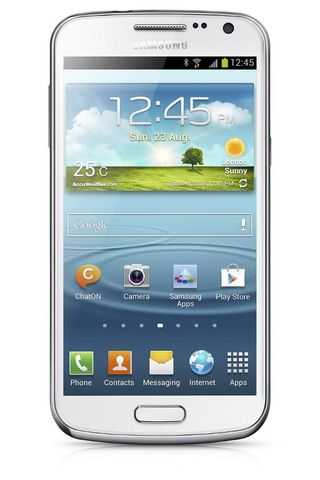 After numerous rumors and leaks, the Samsung Galaxy Premier has finally been officially announced by Samsung Ukraine. Aimed at Eastern European markets, the Galaxy Premier combines mid-to-high-end smartphone internals with the latest software from Google and Samsung.
The Galaxy Premier packs a 4.65-inch, 1280x720 HD SuperAMOLED display, and is powered by a 1.5GHz TI OMAP 4 CPU, backed up by 1GB of RAM. You've also got 16GB of storage, expandable via a microSD slot, an 8MP rear camera and 1.9MP front-facer. On the software side, you're looking at Android 4.1.1 Jelly Bean and Samsung's latest TouchWiz UI.
At one point the Galaxy Premier was rumored as a possible Samsung Nexus device, owing to its product number (GT-i9260) being similar to that of the Galaxy Nexus. Instead, it merely looks like Samsung's re-using some Galaxy Nexus components in its latest mid-range handset.
The Samsung Galaxy Premier is due for a November launch, priced at ₴5,555 ($679). So far there's no information available as to any launch outside of Eastern Europe.
Source: Samsung Ukraine, via: Engadget
Get the Android Central Newsletter
Instant access to breaking news, the hottest reviews, great deals and helpful tips.
Alex was with Android Central for over a decade, producing written and video content for the site, and served as global Executive Editor from 2016 to 2022.
Good looking one, than the s3.

What do you bet, that Samsung did prep this as the next Nexus phone but lost out to LG due to internal politics or some such nonsense. Well, why not just roll it out anyway? What's one more SKU to maintain? (i bet it was rejected because of the presence of buttons...)

I know. I don't mind the capacitive touch buttons, but the single large home button in the middle is annoying. Can't wait until Samsung starts rolling out more handsets with on screen buttons.

I bet you are partially right. I doubt in it's nexus form it had buttons or an SD card slot. However, I think Samsung would have been better served to just take the hit and not release this device. All it does is hurt GSIII sales as it doesn't serve a different market. That said, I have one more conspiracy theory. I've been thinking/hoping that Google is working on some type of "solution" for SD cards. Maybe this would have been a nexus with it and it didn't happen because Google wasn't ready with that feature. Probably not likely though.

It's being launched solely in Eastern Europe; that serves a different market. They don't know if they're going to release it outside of that bloc of the world, so I don't think it would hurt GSIII sales anywhere else but there.

I believe they (Google) went with LG to keep the price low (read: cheap). I just can't see a Samsung flagship device selling for $349 and under retail. There's no way.

I don't see the point in releasing this phone.

This mid range device launches with Jelly Bean all the while, my S3 on AT&T is still waiting on the official Jelly Bean update. One more reason to get excited about the Nexus 4.

Again with the buttons! When will they get it through their heads?

I like capacitive buttons. Thank you Samsung for providing the option.

Same here.. don't really care for software buttons taking up screen space.

I used to be a fan of Software buttons like in Stock GNex Android, but now that I think of it, it takes up so much screen space. I really don't see the point anymore. I think capacitive buttons are better, like in the HTC phones.
That big button Samsung puts on the phone, they're just trying to make it look a little more iPhone-like imo.

I'd be willing to bet this indeed was going to be a slightly refreshed GNex to be sold at the 299 & 349 price points and then LG came in with a top notch device and were willing to let Google sale it so cheap. LG really has nothing to lose and Samsung wasn't going to put out something better than the S3 at half the price.

hey looks its an s3... oh wait.... So why are almost all of new samsung phones looking exactly like an s3??? kinda lame IMO

$700 for a mid range device? really, what's up with Sammy.

I don't why people are speculating that this was the next Nexus and LG beat Samsung to the punch. This was never the next Nexus. The only evidence - ever - that this phone was the next Nexus was some blogger on Sammobile typing the word 'Nexus' next to this model number on a spreadsheet that he created. Samsung just figured they'd use some of their existing Nexus parts and manufacturing lines to make a mid-range phone.