Samsung Galaxy Note 7 vs. Note 5: Should you upgrade?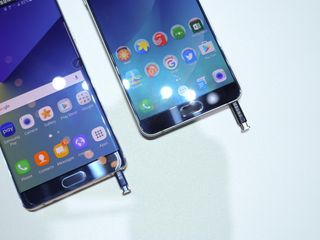 The argument for upgrading from a Samsung Galaxy Note 4 to a Galaxy Note 7 is fairly straightforward: considerably more power and a larger battery in a smaller body, an improved camera, and an S Pen with twice the pressure sensitivity, and twice the features. The upgrade speaks for itself.
But here I am holding both a Galaxy Note 5 and a Galaxy Note 7 in each hand, and the justification for upgrading becomes much less convincing. The Note 5 has been out less than 12 months at the time of writing, and feels just as modern — and new — as it did back in 2015. With Samsung maintaining the Note 5 on shelves as its cheaper S Pen-enhanced variant, should you be thinking about upgrading to the Note 7 from the Note 5? Let's dig into it a bit.
Unlike the Note 4, the Note 5 looks and feels remarkably similar to this year's model. The two are only millimeters apart in absolute dimensions, and are made of the same metal-and-glass construction. Even the backs have the same curved glass that meet the sturdy aluminum frame. But the Note 7 takes that design and adds a touch of S7 edge to it, adding a curve to the front glass as well.
What emerges is the best of both worlds: a Note with the form-fitting DNA of an S7 edge in the slightly boxier body of a Note. As Andrew mentioned in his hands-on preview, the Note 7's edges are much tighter and more subtle than on the Galaxy S7 edge, and don't inspire as many frustrating false touches and misfires. And there's something visual satisfying about the symmetrical curves on both front and back converging on the now much-smaller metal bezels (that, on the black, silver, and gold models, happen to be color-matched).
Galaxy Note 7 vs. Galaxy Note 5 specs comparison
Category
Galaxy Note 7
Galaxy Note 5
Operating System
Android 6.0 Marshmallow
Android 6.0 Marshmallow
Display
5.7-inch 2560x1440
Super AMOLED
Dual edge screen
Gorilla Glass 5
5.7-inch 2560x1440
Super AMOLED
Gorilla Glass 4
Processor
Quad-core Snapdragon 820 (U.S.)
Octa-core Exynos 8890 (international)
Exynos 7420 octa-core (2.1GHz quad + 1.5GHz quad)
64bit, 14nm
Storage
64GB
microSD up to 256GB
32GB or 64GB
RAM
4GB
4GB
Rear Camera
12MP f/1.7
1.4-micron pixels
OIS
16MP f/1.9
1.12-micron pixels
OIS, phase-detection autofocus
Front Camera
5MP f/1.7
5MP f/1.9
Charging
USB-C
Fast charging
Qi wireless
Powermat wireless
Micro-USB
Fast charging
Qi wireless, PMA wireless
Input
S Pen stylus
4096 pts of pressure sensitivity
S Pen stylus
2048 pts of pressure sensitivity
Battery
3500 mAh
Non-removable
3000 mAh
Non-removable
Water resistance
IP68 rating
No
Security
One-touch fingerprint sensor
Iris scanner
One-touch fingerprint scanner
Dimensions
153.5 x 73.9 x 7.9 mm
153.2 x 76.1 x 7.6mm
Weight
169 g
171 g
Colors
black, silver, gold, blue coral
black sapphire, white pearl, gold platinum
The Note 7 is also 2.2mm narrower than the Note 5, which, along with the curved display, makes it much more comfortable to hold and use in one hand. It may be ever-so-slightly taller and thicker, but, comparing these two phones side by side, all you notice is the less your hand has to stretch to grip the phone comfortably.
The placement of the ports and buttons are practically unchanged from the Note 5 to the Note 7, but Samsung wisely lowered the volume buttons on the left side to be easier to reach with a curled-around finger. And while the phone's bottom similar cutouts for the mono speaker and microphones, the Note 5's Micro-USB port has been upgraded to the reversible, more versatile USB Type-C port.
Because Samsung made a number of strategic changes between the Note 4 and 5, including sealing up the battery and moving away from the fake leather back replaceable back cover that debuted on the Note 3 in 2013, we're not talking about major visual alterations between the Note 7 and its predecessor. Instead, as it did with the Galaxy S7, Samsung kept what was working while addressing a number of complaints levelled against it from the enthusiast community. Jerry did a good job going over these "power user" features, but we'll go over them again here.
The Note 7 marks three major improvements over the Note 5 that will be as close to justifying the upgrade over last year's model as you can get: the return of microSD expansion; the addition of IP68 water resistance; and a bump in battery capacity by 17% to 3500mAh.
The first is important for a number of reasons, since Android 6.0 Marshmallow, which the Note 7 ships with, makes using and administering microSD cards both easy and more reliable than in Lollipop. And while few are going to quickly fill up the Note 7's standard 64GB internal storage, Samsung can easily check that box with no repercussions. Lollipop, which the Note 5 shipped with, reverted many of the positive changes to microSD card support that debuted with KitKat, which may have been another reason Samsung decided to lop off that feature in its 2015 models.
The second, water resistance, is a key benefit for a phone like the Note 7, since very few smartphones have ingress protection, and even fewer do so as seamlessly and elegantly as Samsung. That the company was able to completely seal both the phone and the S Pen, which is still removed with a satisfying click from the phone's bottom right, is even more impressive. And this isn't some coating applied at the factory that will wear off after a few months; the Galaxy Note 7 can be immersed in up to five feet of water for 30 minutes.
The third, a larger battery, explains the slightly thicker chassis, and should be very good news to power users. Let's just get this out of the way now: yes, the Note 7's battery is around 3% smaller than the S7 edge's, but as we talked about in episode 300 of the AC Podcast, that was likely to make room for the S Pen. And there's still Quick Charge 2.0 support and wireless charging to top up your phone in just over 90 minutes.
Unlike in previous years, this isn't a "spec sequel" to the Galaxy S lineup: this is a complementary product that lives on the same "platform". It's the reason Samsung skipped the Note 6 to jump straight to 7. It's about continuity and consistency.
If those three things aren't enough to convince you to upgrade, perhaps the fact that the Note 7 is built on stronger internals — a Snapdragon 820 in the U.S. and an Exynos 8890 in Canada and around the world — and has at least 12 months of extra updates in its future, will do the trick. While the Note 5 has already been updated to Android 6.0.1 (my Canadian model is running Marshmallow with a June 1, 2016 security patch), it likely won't get many of the new software features as the Note 7.
Some of those features are hardware-specific — the Note 7 has an edge screen, which confers all the edge-related features we loved (and loved to hate) from the Galaxy S7 edge. But others are merely evolutions of existing ones, like an all-new camera app design and a number of S Pen-related improvements.
If you're buying a Galaxy Note, you're probably at least partially considering it based on the inclusion of a stylus — especially since this year there are no overt spec improvements of the Galaxy S7 to push sales. The Note 7's S Pen not only looks better and is water-sealed, it interacts with the Super AMOLED screen at double the points of pressure — 4096, to be specific — as the Note 5. After using the Note 7 to jot down some words and sketch a few figures, it's immediately clear that improved interaction between screen and stylus leads to great control over the nib (which has been thinned for extra precision), while a more powerful processor leads to less input lag.
Writing on the Note 7 is as close to writing on a piece of paper as I've come on a smartphone, and while tests need to be made to prove this assertion, it could be a better experience than the Apple Pencil on the iPad Pro.
Not only is using the S Pen a great experience, but this year the Note 7 can do more with it, from creating GIFs to magnifying the screen to a new feature called Glance that seamlessly switches between apps without touching the display at all. All that and a new consolidates note-taking experience called S Notes means that if you rely on the Note 5 to jot notes in class or during meetings, the Note 7 is going to take your experience that much further. Of course, the improvements may not warrant spending upwards of $850 for the convenience, but that's your call to make.
We've yet to talk about the Note 7's iris scanner because, well, it's still a relative unknown, and is certainly not a reason alone to think about upgrading from the Note 5. Whereas many Android apps have been updated to take advantage of the convenience of fingerprint scanners, iris scanners are still the domain of proprietary APIs and unproven developer interest. As a result, unlocking your phone and securing the Note 7's "private vault" are two of a half dozen ways the iris scanner can be considered useful, but if anyone is going to make a platform out of a feature in the Android space, it's Samsung.
The iris scanner is located on the front of the phone, a combination of an infrared sensor and a low-resolution camera. That is separate from the 5MP selfie camera, which comes equipped with a slightly sharper f/1.7 lens than the Note 7. But it's around back that the Note 5 and Note 7 separate themselves, as did the S6 and S7 previously. The Note 7's main camera drops its resolution to 12MP from the Note 5's 16MP sensor, and improves to an f/1.7 lens from an f/1.9. All of this technical jargon means one thing: though photos taken with the Note 7 won't have as much detail as the Note 5, they will be both sharper, thanks to the lens, and better in low light, because of the combination of larger sensor pixels and an improved optical image stabilization mechanism that accounts for hand shake.
I probably don't need to reassert this because we've been saying it all year, but since the Note 7 has the same camera chops — plus a better camera app — as the Galaxy S7, it is automatically one of the best camera phones on the market. Period. Amazing in daylight; excellent in low light; incredible macro abilities; subtle but effective HDR; smooth 4K video; excellent sound capture; and a bevy of options that are totally optional but still useful.
So what, if any, are the downsides to the Note 7 over the Note 5? Perhaps you prefer the sapphire blue color over this year's black-on-black or coral blue options? Or you think that the iris scanner hardware gums up the otherwise-clean look of the phone's face?
To be honest, there are few, if any, reasons to prefer the Note 5 over its successor, and only one major consideration: price. At around $850 outright, or around $37 per month, the Note 7 is not cheap. It stacks up with the iPhone 6s Plus (and likely the forthcoming iPhone 7 Plus) as one of the most expensive phones on the market. But it's also one of the best phones on the market, too.
The Note 5 is a great phone; the Note 7 is a greater one. That's what you need to know when deciding whether to upgrade from last year's model, or if you're still rocking a Note 4 and are thinking of making the same jump.
Daniel Bader was a former Android Central Editor-in-Chief and Executive Editor for iMore and Windows Central.
Well the note 4 was a better device then the 5 so I'd say hell yeah. Posted via the Android Central App

I was going to say that the argument is actually a little less obvious in the scenario of the Note 5 since the Note 5 was not equipped with an SD card slot. For sure Note 5 users should upgrade to the Note 7 as their note is probably the least feature-packed. Posted from my unlocked S7 Active on T-Mobile

And the note 5's battery is beginning to deteriorate. Posted via the Android Central App

I'm noticing that too. Got my note 5 in September and even after factory resetting the battery is draining much faster than it used to. Might be marshmallow doing it, but either way it stinks now. Posted via the Android Central App

I don't think it is marshmallow. I recently had the misfortune of dropping my note 5 and the screen no longer worked. It was replaced by the insurance with a new one. Battery life is stellar once again, and it is running 6.01. I had noticed my old Note 5 was starting to run down faster than it had in the past. So it must be that the newer battery in the new device just works better, and the old battery (approx. 10 months old) was starting to go bad

If true, that is pretty piss poor on Sammy's part. Never had a battery fail this quickly. My LG G2 from 2013 still holds it's charge just fine. Might have to "drop" my Note soon too ;)

Having owned both devices I have to disagree. The note 5 ran so much better. Less glitchy and just over all much faster. The note 5 is also decently more narrow, feels better in the hand. Posted via the Android Central App

Did you ever used Note 5??

i'm waiting for your comparison 'samsung galaxy note 7 vs. note 2: should you upgrade?" ~ before i can decide for sure. hurry!

i'm serious. i have a note 2 that's feeling a little slow these days.

Vinvino - I've got the Note 2 also, and love it. I'm on the fence too! But mine runs soooo slow, and the battery even with a new one is awful draining. What about your note 2, same issues or do you have different issues? Thought about taking it to a place that fixes phones. So don't know what to do.
~Pink Flamino~ Sent from my unlocked Note 2 on Ting.com

I'm still on my Note 3 ... I looked at a 7 in Costco, the screen is so skinny compared to the 3. I'm not sure I like the skinny design.

Skinny as in narrow, not the thickness. I have big hands so I like the wider phone.

I'll stick with my Note 4.... (not really, I have the Note 5 and am updating to the Note 7, but you know someone is going to complain about the battery, and the god forsaken, best feature to ever exist, IR blaster that people seem to not be able to get out of bed unless they have it.... just figured I would do the public service and get it out of the way)

Haha your right I'm glad you mentioned that...but this article is about n5 owner haha don't wake up the n4 guys there already pissed Posted via my note 5 are gs7 edge

LOL... but since when are the comments anything to do with the article. LOL. And the Note 4 guys have been irritated for well over a year now, and nothing short of an Note 4s, Note 4 Pro, or Note 4 II will appease them.

I'll take the Note 4 Pro over the Note 7 any day!

Buy a few to keep around. Those old days are gone!

I still have the note 4 and the note 5. Emphasis is on the "and" because until that point the next note fully replaced the previous one AND was a better phone. That wasn't the case with the note 5 over the note 4 and I can't possibly join the bandwagon of people celebrating a loss of features when you're shelling out an obscene amount of money for a smartphone. Posted via the Android Central App

And that's why you have a choice to buy are not to buy . You note 4 guys are taking it way through serious. Let me repeat your not required to purchase the note 7 and I haven't heard one article tell you to purchase the note 7 are that your n4 us junk
The article is just to compare all the note I think a grown ass man should know his own limits on what's best for his are her needs . The price is what it's is and to be far it's only $30 more then my att n4 was and my n4 edge was $950 and that was two years ago. So not sure why you guys are getting so damn offensive. Just don't buy it see just that easy . There's plenty of guys waiting in the wing that want the latest technology so we can't wait your mileage may differ live and let live that my motto Posted via my note 5 are gs7 edge

It's not being offensive but being able to think independently. A few years from now the IR blaster may make its way back to the note line and it will still sell a lot. The option to buy or not will be there until the end of time so it's not really an argument you can make. I use my note 5 as my daily driver. I travel a lot and spend a few nights at a time in a hotel and most of them have gyms with a TV and cable. I go to the gyms with my note 4 for ease of setting the volume and channel to my needs (remotes get broken or missing frequently)while I'm there and for those 45 minutes the note 4 is arguably smarter than the note 5 which until then was unheard of. The whole idea behind a smartphone is being able to do more while overtime being faster with a smaller form factor imo. Samsung has brought back the SD card slot and probably bring back a few more features over time. Being able to decipher pros and cons are independent of what you untimately choose to do with your money. Posted via the Android Central App

Just remember, no one really cares how great you think the Note 4 is. Samsung also doesn't care. If the Note 4 was so great, people would be breaking their necks trying to buy one. But not surprisingly, people are not. People are buying the latest & greatest versions of Samsung phones because the new phones really are that great.

Why are you so mad at people that own the Note 4? Posted via the Android Central App

Not mad. They just tend to infect every forum that has nothing to do with them.

Hum I've had my n5 for almost a year and it's been a beast let me just get that out the way frist . Now the n7 I've played with it and all the previous fears of palm rejection and the edge won't work with a note ..forget about it...it's a major major go . To me it's more like my 7edge on steroids and dare I say it fills better then any phone in the hand ...they nailed it aesthetically, I say if you got the cash do it if not your n5 like my is still the second best note to date now where's that elusive blue note it's like trying to find Pokemon Posted via my note 5 are gs7 edge

How is the Note 7 an S7 Edge on steroids? Isn't that usually referring to something that's bigger and stronger? Or are you saying that simply aesthetics are better. Posted from my unlocked S7 Active on T-Mobile

Pugh is the official note 7 hype man, let him have his fun Posted via the Android Central App

What's different about it? It has a 0.2" larger screen, smaller battery, 64GB storage, and an s-pen. The rest isn't much different.

S7 edge has that too, which is what they are comparing in the comment. Posted via the Android Central App

0.2" larger, lighter, slightly thinner, edge display, smaller battery, 64gb storage, usb type c, iris scanner, s pen, gorilla glass 5, first phone with hdr screen. Just enough to warrant a upgrade but it is a unnecessary upgrade for most note 5 owners unless you want more storage and bigger battery

I skipped the GS6 and Note 5 for ONE major reason,.. NO SDCARD! Got a GS7 flat screen because I needed a high-end replacement for my Note 4 that received a bad Marshmallow update. I wish I could have waited for the Note 7, but six months of 18 daily reboots was going to kill my Android experience.

how about s6 edge plus.. should I upgrade?? Posted via the Android Central App

The gs6 plus is a Hella good phone had it before I got the 7edge . If your wanting all the benefits of the S pen and there's plenty then yep upgrade and it has a bigger battery 500 amp more . I'd challenge you to go check it out and compare oh and you get 256 gigs more for free Posted via my note 5 are gs7 edge

My wife has the Note 5 and is thrilled about the Note 7. She wants her expandable storage back. It's a necessary upgrade that will prepare this generation Note for the future. Posted via the Galaxy Note 4

I have the Note 5, and promised this was going to be my last phone.....But that Note 7 though!!!!!!

Same articles over and over again Posted via the Android Central App

And you keep coming back to comment on that what's the problem filling a little butt hurt . You know you could just scroll down to which ever article that fix your needs . Here's a thought every time you see the words note 7 .....keep moving see just that easy ...troll Posted via my note 5 are gs7 edge

Good article, the note 7 just isn't for me. The upgrades don't matter much to me,
I haven't used sd cards in years, even when I had phones that support it (I prefer cloud storage)
Not a fan of the curved screen, this isn't even false touches, etc. I just don't like looking at the screen and the irregularities it causes in colors and more reflections. The new IP68 certification is nice as are the new s-pen features, but not worth $850 plus dealing with a display I don't like.
So I'll keep rocking my Note 5 for now.
thanks for the article.

I am with you on one part, I don't understand the need to rush out on upgrade all the time to the latest and greatest phone. I do personally use my SD card a lot. I travel quite a bit for work and don't want to use data just to download my media when it is easier to keep in on my local device. That said, the Note 7 has some nice features, but my Note 4 works great, battery life is great and the Marshmallow update has been working great on my phone. I have better, and more fun ways to spend $850+ that to buy a new phone.

I totally get the usage model for sd cards for those on tiered data plans, I'm just lucky enough to live in an area that is exceptionally covered by t-mobile and I don't travel much for work, so I don't worry about it with my unlimited data plan. I did buy the 64 GB version of the note so I can have a little bit of my music collection on the device itself and still have plenty of room for apps and games.

The note 7 does have SD storage. Regarding cost, you can always sell your old phone to offset the price-with my plan on T-Mobile, I can upgrade for $260.00. My guess is most people will not pay the full price unless they want an unlocked version or the Exynos version which isn't sold by the US carriers as far as I know.

@Daniel, For someone looking to try out their first stylus experience would the Note 4 or 5 be a better experience? Obviously looking to save some $$ over the Note 7 (and if I were to go all in on the Note 7 I'd prefer to wait for the carrier agnostic version to be released).

What carrier are you on? VZW phones are usually capable of being "carrier agnostic" (short of a little bloatware that you can disable) in terms of being SIM unlocked and the N5 and the N7 will have the necessary radios to work on other carriers. As far as which will be the better experience: The S pen has gotten better in terms of hardware and software with each iteration, so the best experience is going to be with the newest phone. If the N7 is outside of your price range currently, the N5 would be you next best bet. The N4 still gets a lot of love for the SD card and removable battery, but not for its software when compared to the newer models.

On Verizon. Rather than trying to take a Note 7 intended for Verizon and hoping to be able to use it on a different carrier I'd rather wait for the carrier agnostic version that Big Red can't give me any b/s about if I decide to leave. Regarding the Note 5 vs. the Note 4 (I'd obviously be stuck with the Verizon model) - is the difference in price (Note 5 still seems to be around $500) worth any performance differences? As I mentioned, this would be my first stylus device.

Seems like A LOT of justification to go to the Note 7. I was very disappointed when the specs came out on the Note 7, I don't think any of the hype forecasted made it into the Note 7. I have a Note 4 that is all paid for, now let's see what the Note 8 brings.

News flash the note 8 won't be any cheaper soooo. Not sure what you'll expecting. Yes there will be a new processor for sure and a new body hell maybe new every thing ...but in the end it'll be over $800 . And that's not gonna change. Samsung is not in the bargain phone business . I suggest you pick up any one of the Chinese knock-offs are moto phones for that not sure why you guys don't get that that's why there Chevrolet and there's Mercedes . If samsung has gotten to uppity for you vote with your wallet . Are just keep rocking your n4 the n7 is on the way and no amount of b****ing on AC is gonna change that are the price get over it guys there's cheaper options to be had Posted via my note 5 are gs7 edge

He is not complaining about the price. He obviously paid a pretty penny for the Note 4 as well. After all didn't you just mention that the Note 4 was the same price approximately when it was released? It sure was. And he paid that. He is saying that since his Note 4 is such a good device the lack of a larger bump up in specs on this device makes him feel he doesn't have to spend the money this time around. He is looking at the Note to possibly upgrade which means he is willing to pay the price. Just because you're willing to pay the price every 6 months doesn't mean everybody else is and should be (even if they have the money) but of course they have the right to come on here and express that opinion just like you and I do. Posted from my unlocked S7 Active on T-Mobile

Its one thing to always buy into the latest hype and ads about what's the next smartphone you should get and actually doing the research and objectively comparing your options and coming up with an opinion. If we let corporate marketing dictate what we do, we might as well blindly get the next best anything without giving it a second thought given that technology advances every day no matter how little. Posted via the Android Central App

Yes,and I would suspect that Robert Moran was referring to a lack of 6Gb of RAM and an option for 128Gb of internal storage when he alluded to disappointing specs.Now,everyone come back and screech that it's not necessary and not useful so that you can feel better about not even having the option when there are multiple $400.00 phones with it available.I'm still waiting to see if China gets the version that was expected by many.The Note series is traditionally more powerful than the S series device released in the same year.Just my opinion. Posted via the Android Central App

Exactly. I don't get the bickering that Phillip does about everyone who has a different opinion than he does.

I enjoy fact checking trolls that don't have a dog in the fight but like to jump in on samsung forums just to stare the pot hahaha
Oh and by the way we all have our on opinions and agendas. That's why they have open forums Posted via my note 5 are gs7 edge

Bruh, are u looking for arguments? Not once did the OP say anything about price.
U called someone a troll above, but I'd dare say you're halfway trolling right now.
Don't throw stones if u live in a glass house Posted via the Android Central App

Umm... Samsung's not in the bargain phone business? Oh really? I guess you haven't heard of the Galaxy J series. The J1 can be had for the wallet-busting price of... $69.99 from Walmart (contract-free of course). The Note/S flagships are their flagships. They may generate lots of hype (and sales in the US and other wealthy, luxury-obsessed markets), but they by no means represent the lion's share of Samsung's handset sales.

No one company represents all of Android sells but they . But they are the only Android company making any real money . Oh and there closest competitors sold 200 million less phones (drop the Mike) Posted via my note 5 are gs7 edge

Hi, Can you confirm the Canadian version is going to be Exynos. I have had several live chats and a couple of visits to the Samsung store and there are a lot of conflicting ideas as to what CPU Canada is getting? Thanks

In the real world test there's really not that much difference in the two. And if your a gamer the 820 has the better chip Posted via my note 5 are gs7 edge

Eh, at the end of the day I will keep my Note 5 and my Iphone 6S Plus I just bought. I went to the Best Buy yesterday and played around with the Note 7 nd it still doesn't really feel any different in my opinion than the S7 Edge. At the end of the day The Note 7 is pretty much the Note 5 in terms of specs, memory and ram. Sure it has got the sd card feature, but I can live without it. Again this is just my opinion.

the note 5 and the note 7 have nothing in common not sure what phone you was looking at haha. nice try though

I just laugh when people say the Note 4 is a better device then the Note 5. Posted via the AT&T Note 5

And some people laugh when others say the Note 5 is better than the Note 4. See, we're all different and have different needs and likes. Posted from my unlocked S7 Active on T-Mobile

+1, my man Posted via the Android Central App

I had both simultaneously like a lot of other folks here did and liked each one. That said, the 5 thoroughly kicks the 4's teeth in, in my opinion, all day long.

Same here, Note 5 was a much better experience, my phone isn't in my hand 24/7 I have plenty of time to charge it, don't need that removable battery. These guys arguing the Note 4 is better might as well say the Note 2 and Note 3 are better than the Note 7 as well. Posted via the Android Central App

That was my point if you prefer a SD Card, removable battery and a IR blaster then the Note 4 is for you. But that doesn't make it a better device. That just means you have different needs. I have owned both devices and the Note 5 has better build quality, hardware, battery life and performance. Some of Note 4 users haven't even received the MM update from their carriers yet and I highly doubt it will get 7.0. Don't get me wrong the Note 4 is still a great device but it's just not better then the Note 5 Either way in a couple of months I will upgrading my Note 5 to the 7. I'm sure the Note 4 users will say the Note 4 is a better device because of a removable battery and that all important IR blaster in case you lose your remote lol. Which I have never done in my life and if I did they make these things called universal remotes. BTW if you have been living under a rock just about every new device that has been released has a non removable battery. Posted via the AT&T Note 5

Speaking for myself, I would only hope the next edition of the note would perform better than the previous.
So I'm sure the note5/7 will perform better than the 4. But for me the N4 is a solid device and it's features keep me holding onto it Posted via the Android Central App

I know, it's ridiculous. I had them both. The Note 5 is better looking (to me), better quality, and at least 50 times faster. Absolutely 0 lag after a full year. The Note 4 was extremely laggy, a nice phone for sure but not in the class of the Note 5. I was one complaining and vowing to keep my Note 4 until I didn't.. Lol... Posted via the Android Central App

Not everyone has the skills to streamline a device like the Note 4. Rest assured that the Note 4, with the proper tinkering, can be streamlined to be literally as fast as a Note 5. Now I agree that you shouldn't have to do that but I almost feel as if some updates purposely slow down devices so people can just dump them and move on to the newest one (that's one reason I root and ROM). If you don't have time to make one device work for you and the newer one does, then by all means the newer device should be the one used. Posted from my unlocked S7 Active on T-Mobile

And you make a excellent point. Go back to the beginning of the year when the gs7 edge was released and the n5 release some of the same folks that swore off both . A few weeks later they purchase that very phone . I personally have friends that did that very thing and had some off the same opinions about the legitimacy of the n5 ..until they finally caved ..long story short they all admit it so much more dependable then there n4 ever was it's because of the n5 that has bestow trust in Samsung again. The n7 will help convert more iPhone jumpers back Posted via my note 5 are gs7 edge

Ok, I can attest to the fact that there's 2 times where the N4 lags: when activating the camera (roughly 2sec), and hitting the recent apps (another roughly 2sec)buuuuut, that only occurs when the first time pulling up recent apps. After that, it's almost instant.
So speaking for myself, lag on the note 4 is seldom, and is something that I can work with easily Posted via the Android Central App

hum both my n4 got hella buggy after 5 months . and my n4 edge was even worse . where as the n5 has been a beast lets face it the earlier Samsungs where more are less a hot mess and it pains me to say that . but the last two years have got them doing all the right things . I would tell any n4 owner to put down that n4 and try the n5 at least youll thank me later I promise

at this point the note 4 people will only be satisfied by a Note 4 SE lol Posted via the Android Central App

I don't know about anyone else but I was glad to get rid of the Note 4 for the Note 5, even though I was super pissed about the storage and removable battery. The Note 4 was super laggy. I mean sometimes it would take 5 seconds for a text message to open from the time I tapped the screen. I even factory reset a few times, only to get the same slow results. The Note 5 was and still is a lightening bolt in terms of comparative quickness. Everything is instantaneous as soon as you hit it. This is still true one whole year later. On another note, the Note 5 battery socks rocks, but hey so did the Note 4's. The lack of memory card is my only real gripe as I usually carry well over 100gbs of stuff.. Heck my music collection is 30gbs. And I don't want to hear about any nonsense cloud storage where it takes you 5 minutes to access one song, if you even have Internet available, not to mention your data being burned to eventual overages.. Personally, I will not, for the very first time, update to the new Note. I think that Samsung purposely starved the Note 5, to have something to improve on with the Note 7. Then to add insult to injury, they only have the option of a curved screen, which personally I dont care for. We basically have a 6 month old S7 Edge with an Spen. I even think the Note 5 feels like more quality as to me the Note 7 feels a bit plasticky for some reason. This would have been fine and dandy if the new Note was reasonably priced, but at almost $1000, no thank you. I will put that money towards a surface pro 5 or the new surface book when those come out soon. Posted via the Android Central App

5 minutes? You with Sprint?

The edge on the Note 7 is very suttle and is absolutely nothing like the edge on the S7 Edge. The reason Samsung went with a slightly edged screen is because the S7 Edge outsold the S7. People on this website need to understand that we represent a very tiny percentage of people who buy phones and the slight edge on the Note 7 will not deter them from buying it. In fact the Best Buy rep informed me they have had a massive amount of pre-orders for the Note 7 already. Posted via the AT&T Note 5

What messaging app did u use on the note4? Posted via the Android Central App

Stock app, extremely slow. To the point where I deleted most of my old texts. Same result. Phone was just slow. I was shocked at the speed of the Note 5 and even more shocked that it's still the same speed after a whole year. I just regret that we never got 128gb model which I think I is an atrocity for a power user when the S6 got 128gb. Posted via the Android Central App

I wont be spending the money to go from my Note 5 to the 7 so soon. I got the Note 5 on release day and still feel its a fantastic phone. Its not even a full year old yet. Way to soon for an upgrade. With MM on it now I can see what comes next year.

My Note 5 battery performance is horrendous. Other than that a good phone.

I've got the regular S7, probably trade it in for a Note 7 in a few months, much prefer the larger screen and pen. Posted via the Android Central App

Only a 17% bigger non-removable battery than Note 5? Unless it's better optimized that won't cut it. My Note 5 battery performance is abysmal.