Samsung Galaxy Note 7 vs. Note 5: Should you upgrade?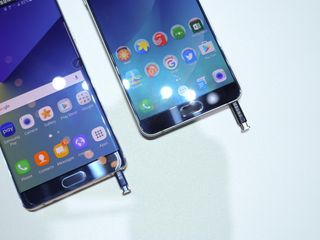 The argument for upgrading from a Samsung Galaxy Note 4 to a Galaxy Note 7 is fairly straightforward: considerably more power and a larger battery in a smaller body, an improved camera, and an S Pen with twice the pressure sensitivity, and twice the features. The upgrade speaks for itself.
But here I am holding both a Galaxy Note 5 and a Galaxy Note 7 in each hand, and the justification for upgrading becomes much less convincing. The Note 5 has been out less than 12 months at the time of writing, and feels just as modern — and new — as it did back in 2015. With Samsung maintaining the Note 5 on shelves as its cheaper S Pen-enhanced variant, should you be thinking about upgrading to the Note 7 from the Note 5? Let's dig into it a bit.
Unlike the Note 4, the Note 5 looks and feels remarkably similar to this year's model. The two are only millimeters apart in absolute dimensions, and are made of the same metal-and-glass construction. Even the backs have the same curved glass that meet the sturdy aluminum frame. But the Note 7 takes that design and adds a touch of S7 edge to it, adding a curve to the front glass as well.
What emerges is the best of both worlds: a Note with the form-fitting DNA of an S7 edge in the slightly boxier body of a Note. As Andrew mentioned in his hands-on preview, the Note 7's edges are much tighter and more subtle than on the Galaxy S7 edge, and don't inspire as many frustrating false touches and misfires. And there's something visual satisfying about the symmetrical curves on both front and back converging on the now much-smaller metal bezels (that, on the black, silver, and gold models, happen to be color-matched).
Galaxy Note 7 vs. Galaxy Note 5 specs comparison
Swipe to scroll horizontally
Category
Galaxy Note 7
Galaxy Note 5
Operating System
Android 6.0 Marshmallow
Android 6.0 Marshmallow
Display
5.7-inch 2560x1440
Super AMOLED
Dual edge screen
Gorilla Glass 5
5.7-inch 2560x1440
Super AMOLED
Gorilla Glass 4
Processor
Quad-core Snapdragon 820 (U.S.)
Octa-core Exynos 8890 (international)
Exynos 7420 octa-core (2.1GHz quad + 1.5GHz quad)
64bit, 14nm
Storage
64GB
microSD up to 256GB
32GB or 64GB
RAM
4GB
4GB
Rear Camera
12MP f/1.7
1.4-micron pixels
OIS
16MP f/1.9
1.12-micron pixels
OIS, phase-detection autofocus
Front Camera
5MP f/1.7
5MP f/1.9
Charging
USB-C
Fast charging
Qi wireless
Powermat wireless
Micro-USB
Fast charging
Qi wireless, PMA wireless
Input
S Pen stylus
4096 pts of pressure sensitivity
S Pen stylus
2048 pts of pressure sensitivity
Battery
3500 mAh
Non-removable
3000 mAh
Non-removable
Water resistance
IP68 rating
No
Security
One-touch fingerprint sensor
Iris scanner
One-touch fingerprint scanner
Dimensions
153.5 x 73.9 x 7.9 mm
153.2 x 76.1 x 7.6mm
Weight
169 g
171 g
Colors
black, silver, gold, blue coral
black sapphire, white pearl, gold platinum
The Note 7 is also 2.2mm narrower than the Note 5, which, along with the curved display, makes it much more comfortable to hold and use in one hand. It may be ever-so-slightly taller and thicker, but, comparing these two phones side by side, all you notice is the less your hand has to stretch to grip the phone comfortably.
The placement of the ports and buttons are practically unchanged from the Note 5 to the Note 7, but Samsung wisely lowered the volume buttons on the left side to be easier to reach with a curled-around finger. And while the phone's bottom similar cutouts for the mono speaker and microphones, the Note 5's Micro-USB port has been upgraded to the reversible, more versatile USB Type-C port.
Because Samsung made a number of strategic changes between the Note 4 and 5, including sealing up the battery and moving away from the fake leather back replaceable back cover that debuted on the Note 3 in 2013, we're not talking about major visual alterations between the Note 7 and its predecessor. Instead, as it did with the Galaxy S7, Samsung kept what was working while addressing a number of complaints levelled against it from the enthusiast community. Jerry did a good job going over these "power user" features, but we'll go over them again here.
The Note 7 marks three major improvements over the Note 5 that will be as close to justifying the upgrade over last year's model as you can get: the return of microSD expansion; the addition of IP68 water resistance; and a bump in battery capacity by 17% to 3500mAh.
The first is important for a number of reasons, since Android 6.0 Marshmallow, which the Note 7 ships with, makes using and administering microSD cards both easy and more reliable than in Lollipop. And while few are going to quickly fill up the Note 7's standard 64GB internal storage, Samsung can easily check that box with no repercussions. Lollipop, which the Note 5 shipped with, reverted many of the positive changes to microSD card support that debuted with KitKat, which may have been another reason Samsung decided to lop off that feature in its 2015 models.
The second, water resistance, is a key benefit for a phone like the Note 7, since very few smartphones have ingress protection, and even fewer do so as seamlessly and elegantly as Samsung. That the company was able to completely seal both the phone and the S Pen, which is still removed with a satisfying click from the phone's bottom right, is even more impressive. And this isn't some coating applied at the factory that will wear off after a few months; the Galaxy Note 7 can be immersed in up to five feet of water for 30 minutes.
The third, a larger battery, explains the slightly thicker chassis, and should be very good news to power users. Let's just get this out of the way now: yes, the Note 7's battery is around 3% smaller than the S7 edge's, but as we talked about in episode 300 of the AC Podcast, that was likely to make room for the S Pen. And there's still Quick Charge 2.0 support and wireless charging to top up your phone in just over 90 minutes.
Unlike in previous years, this isn't a "spec sequel" to the Galaxy S lineup: this is a complementary product that lives on the same "platform". It's the reason Samsung skipped the Note 6 to jump straight to 7. It's about continuity and consistency.
If those three things aren't enough to convince you to upgrade, perhaps the fact that the Note 7 is built on stronger internals — a Snapdragon 820 in the U.S. and an Exynos 8890 in Canada and around the world — and has at least 12 months of extra updates in its future, will do the trick. While the Note 5 has already been updated to Android 6.0.1 (my Canadian model is running Marshmallow with a June 1, 2016 security patch), it likely won't get many of the new software features as the Note 7.
Some of those features are hardware-specific — the Note 7 has an edge screen, which confers all the edge-related features we loved (and loved to hate) from the Galaxy S7 edge. But others are merely evolutions of existing ones, like an all-new camera app design and a number of S Pen-related improvements.
If you're buying a Galaxy Note, you're probably at least partially considering it based on the inclusion of a stylus — especially since this year there are no overt spec improvements of the Galaxy S7 to push sales. The Note 7's S Pen not only looks better and is water-sealed, it interacts with the Super AMOLED screen at double the points of pressure — 4096, to be specific — as the Note 5. After using the Note 7 to jot down some words and sketch a few figures, it's immediately clear that improved interaction between screen and stylus leads to great control over the nib (which has been thinned for extra precision), while a more powerful processor leads to less input lag.
Writing on the Note 7 is as close to writing on a piece of paper as I've come on a smartphone, and while tests need to be made to prove this assertion, it could be a better experience than the Apple Pencil on the iPad Pro.
Not only is using the S Pen a great experience, but this year the Note 7 can do more with it, from creating GIFs to magnifying the screen to a new feature called Glance that seamlessly switches between apps without touching the display at all. All that and a new consolidates note-taking experience called S Notes means that if you rely on the Note 5 to jot notes in class or during meetings, the Note 7 is going to take your experience that much further. Of course, the improvements may not warrant spending upwards of $850 for the convenience, but that's your call to make.
We've yet to talk about the Note 7's iris scanner because, well, it's still a relative unknown, and is certainly not a reason alone to think about upgrading from the Note 5. Whereas many Android apps have been updated to take advantage of the convenience of fingerprint scanners, iris scanners are still the domain of proprietary APIs and unproven developer interest. As a result, unlocking your phone and securing the Note 7's "private vault" are two of a half dozen ways the iris scanner can be considered useful, but if anyone is going to make a platform out of a feature in the Android space, it's Samsung.
The iris scanner is located on the front of the phone, a combination of an infrared sensor and a low-resolution camera. That is separate from the 5MP selfie camera, which comes equipped with a slightly sharper f/1.7 lens than the Note 7. But it's around back that the Note 5 and Note 7 separate themselves, as did the S6 and S7 previously. The Note 7's main camera drops its resolution to 12MP from the Note 5's 16MP sensor, and improves to an f/1.7 lens from an f/1.9. All of this technical jargon means one thing: though photos taken with the Note 7 won't have as much detail as the Note 5, they will be both sharper, thanks to the lens, and better in low light, because of the combination of larger sensor pixels and an improved optical image stabilization mechanism that accounts for hand shake.
I probably don't need to reassert this because we've been saying it all year, but since the Note 7 has the same camera chops — plus a better camera app — as the Galaxy S7, it is automatically one of the best camera phones on the market. Period. Amazing in daylight; excellent in low light; incredible macro abilities; subtle but effective HDR; smooth 4K video; excellent sound capture; and a bevy of options that are totally optional but still useful.
So what, if any, are the downsides to the Note 7 over the Note 5? Perhaps you prefer the sapphire blue color over this year's black-on-black or coral blue options? Or you think that the iris scanner hardware gums up the otherwise-clean look of the phone's face?
To be honest, there are few, if any, reasons to prefer the Note 5 over its successor, and only one major consideration: price. At around $850 outright, or around $37 per month, the Note 7 is not cheap. It stacks up with the iPhone 6s Plus (and likely the forthcoming iPhone 7 Plus) as one of the most expensive phones on the market. But it's also one of the best phones on the market, too.
The Note 5 is a great phone; the Note 7 is a greater one. That's what you need to know when deciding whether to upgrade from last year's model, or if you're still rocking a Note 4 and are thinking of making the same jump.
Sign up for Black Friday email alerts!
Get the hottest deals available in your inbox plus news, reviews, opinion, analysis and more from the Android Central team.
Daniel Bader was a former Android Central Editor-in-Chief and Executive Editor for iMore and Windows Central.