The Galaxy Note 7 is waterproof with an IP68 rating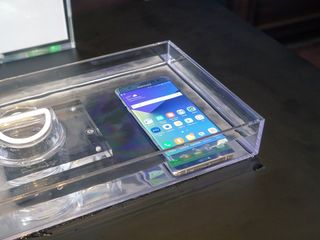 The Galaxy Note 7 shares a common platform with the Galaxy S7 edge, and that means bringing over one of its best features: an IP68 water resistance rating. This is a first for the Note line, and it's a feature that you can't see but you're extremely happy to have when your phone faces unexpected contact with water.
What does an IP68 rating mean?
So it's not so black and white to just say something is "waterproof" or "water resistant" — though we often end up using these terms interchangeably. There are IP (or "ingress protection") ratings to say just how resistant the device is to dust and liquids. In the case of the Note 7, we're talking about a rating of IP68.
The "6" part of the rating is for resistance to dust, and 6 is a great rating — it means that when the phone comes in contact with fine particulates, whether wet or dry, it'll be able to survive just fine. You may not think of your phone coming in contact with "dust" per se ... but think about an example of being at the beach, and all of the openings on the phone that could take in things that really shouldn't be in there.
The "8" part is more important for most consumers, as it refers to just how much water the Note 7 can handle, and for how long. In this case, it's the same story we see over and over with lots of mobile devices: you can submerge the Note 7 in water up to five feet deep for up to 30 minutes.
Chances are you won't regularly need your phone to withstand such a depth of water for so long, so this ends up just being extra insurance over and above the phone being rained on or splashed during a day at the pool.
Don't push it too far
Just because the Galaxy Note 7 can survive some time in water doesn't mean you should go overboard in exposing it to liquid just for fun. This isn't a "rugged" phone in any way. An IP68 rating is awesome to have, but it's also not an entire guarantee that the phone won't see negative effects from constantly being submerged — this is technically only a "resistance" to water. (Fine print is fun!)
Be safe out there, and take care of your beautiful Note 7 — and if in the course of using it, the phone comes in contact with water, you can know that the phone will likely survive to fight another day.
Be an expert in 5 minutes
Get the latest news from Android Central, your trusted companion in the world of Android
Andrew was an Executive Editor, U.S. at Android Central between 2012 and 2020.