The Galaxy Note 7 is waterproof with an IP68 rating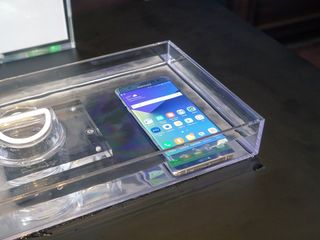 The Galaxy Note 7 shares a common platform with the Galaxy S7 edge, and that means bringing over one of its best features: an IP68 water resistance rating. This is a first for the Note line, and it's a feature that you can't see but you're extremely happy to have when your phone faces unexpected contact with water.
What does an IP68 rating mean?
So it's not so black and white to just say something is "waterproof" or "water resistant" — though we often end up using these terms interchangeably. There are IP (or "ingress protection") ratings to say just how resistant the device is to dust and liquids. In the case of the Note 7, we're talking about a rating of IP68.
The "6" part of the rating is for resistance to dust, and 6 is a great rating — it means that when the phone comes in contact with fine particulates, whether wet or dry, it'll be able to survive just fine. You may not think of your phone coming in contact with "dust" per se ... but think about an example of being at the beach, and all of the openings on the phone that could take in things that really shouldn't be in there.
The "8" part is more important for most consumers, as it refers to just how much water the Note 7 can handle, and for how long. In this case, it's the same story we see over and over with lots of mobile devices: you can submerge the Note 7 in water up to five feet deep for up to 30 minutes.
Chances are you won't regularly need your phone to withstand such a depth of water for so long, so this ends up just being extra insurance over and above the phone being rained on or splashed during a day at the pool.
Don't push it too far
Just because the Galaxy Note 7 can survive some time in water doesn't mean you should go overboard in exposing it to liquid just for fun. This isn't a "rugged" phone in any way. An IP68 rating is awesome to have, but it's also not an entire guarantee that the phone won't see negative effects from constantly being submerged — this is technically only a "resistance" to water. (Fine print is fun!)
Be safe out there, and take care of your beautiful Note 7 — and if in the course of using it, the phone comes in contact with water, you can know that the phone will likely survive to fight another day.
Get the Android Central Newsletter
Instant access to breaking news, the hottest reviews, great deals and helpful tips.
Andrew was an Executive Editor, U.S. at Android Central between 2012 and 2020.
So, can this thing write underwater? :P

Yes it can as shown in Mr. Mobile's quick take video. Posted from my unlocked S7 Active on T-Mobile

Yes, you can write underwater.

That's cool, though I can't fathom why you would want to do that. Posted via the Android Central App

Because I'm curious if it could do that? Posted via the Android Central App

Fathom? That's plumbing the depths of comedy. Please leave.

apparently, the phone is not rated for one fathom, its actually just short at 5 feet...

I am happy to hear, not because I want to write underwater, but because this means: the phone will survive water even if the spen is not inserted!

This is another Samsung mistake, and they have already back tracked on the S7. Too late to change the Note 7 design but maybe there's advertising for it we'll never see. It's either waterproof (which it suggests in its advertising) or it's not ... and it's NOT.

They haven't backtracked. They actually posted a notice on their news site that they will honor water damaged warranty requests. At least for the S7 Active. http://news.samsung.com/us/2016/07/15/official-statement-response-consum... Posted from my unlocked S7 Active on T-Mobile

Which they didn't post out of the starting post / grid / blocks, so it's back tracking.

Is the Note 7 considered waterproof if i can toss it in a swimming pool, take it in the shower, submerge it underwater in the sink, and take it in the ocean? I have done all these so I would consider that waterproof and i consider you a dumbass.

The ip68 is functional on my S7edge and I'm glad to have it.If you're going to complain about it muting the speaker,buy a stereo.I do other odd things as well,such as watch movies on a 65" screen,instead of a 5.5" screen. Posted via the Android Central App

Hear hear well said ....and the trolls just keep firing arrows with only trolling in mind Posted via my note 5 are gs7 edge

Not waterproof. Water resistant #TeamFrosty Nexus 6P

"So it's not so black and white to just say something is "waterproof" or "water resistant" — though we often end up using these terms interchangeably. " What? It is black and white and the terms are absolutely not interchangeable. They never have been, considering the concept of water resistance versus waterproof isn't exactly a new one.
It ain't just "fine print." They're two completely different things. If someone takes your phone with an impact resistant screen and says "resistant...proof...whatever!" then goes to smash it with a hammer, I'm betting you'll jump to stop them. Because there's a pretty big damn difference.

So after generations of rumors, they finally done it this time.

Please stop with IP68 meaning 'waterproof'. It doesn't meant that. IP ratings are protection against a possible state. In other words, as Samsung states, it can handle being in water for a period of time, in this case 30 mins. This does not mean it's waterproof. IP ratings are determined through specific testing based on the manufacturers specifications. This also means you cannot swim with it, use it in a shower or go anywhere near saltwater without additional protection. Something a lot of people seem to get confused about.

Well, if it can handle being in water for a period of time (30 minutes), wouldn't it be safe for one to think that it is waterproof for up 30 minutes in the specified depth of water? In my opinion, Samsung should have left IP68 out of their marketing strategy for the S7 variants and Note 7 devices. Make the devices IP68 certified and don't make a huge deal out of it. List the specification in small print somewhere and leave it be. People would be more careful with their devices and if and when the device fell into water, there would be no expectation of it being water resistant/water proof.

Yeah, try dropping that thing in your bathtub. If it gets damaged, do you think Samsung will replace it?? I doubt it. Its really just a marketing gimmick to convince people they need a water resistant phone instead of something useful,... like a removable battery.
I've had to replace phones way more times due to battery issues than due to water damage. #plannedobsolescence

Yea I hate when the terms are use interchangeably because they are not the same thing. Still very good phone and water resistant is still better than nothing. Love for all things android and IT

My new Note 7 is dead. Water, less than a foot deep, less than 10 minutes. Verizon just wants to sell me a new phone. Samsung rep told me that yes, they are billed IP68 but there are variations in manufacturing and some devices may not survive up to 5 feet of water for up to 30 minutes. Samsung told me I could mail it in for their techs to evaluate whether it could be repaired or not. Rep clearly and repeatedly stated that although advertised as IP68 rated the warranty does not cover water ingress. If the water indicators inside the phone show water, it isn't covered by warranty. Water poured out of mine after removing sim slot so I already know what their techs are going to find. So, if you have a Samsung device with IP68 rating, I would advise you purchase an IP68 case or just treat it exactly like every other phone you've had. Never mind the commercials. Cheers!

As a follow up, I just received a call from Samsung to let me know that they had discovered an issue with the Note 7's and that I could receive a refund for the full cost of the phone and any accessories or wait for a new Note 7 when they become available. Just passing along my experience.