Samsung Galaxy Mini mini review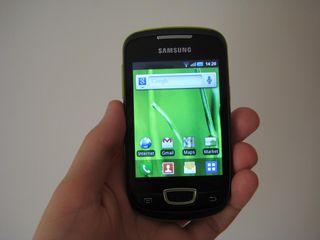 We spend a lot of time here on Android Central obsessing over the latest high-end, high-spec, high-price handsets -- devices aimed at nerds like us who crave shiny new toys every few months. But in the real world, not everyone likes to blow hundreds of their local currency on a cell phone, even if they're looking to dip their toe into the enticing world of smartphones. This means that competition among budget devices can be just as fierce as it is between the latest dual-core superphones.
The Galaxy Mini is Samsung's contender in the budget arena -- it's a low-cost device for folks making the switch from a feature phone, and as such, you can pick one up without breaking the bank. We tested the Three UK-branded version of the Galaxy Mini, which is available for £99 on Three's Pay As You Go service with "all you can eat" data, or for free on-contract.
Join us after the jump to find out how the phone measures up.
Hardware
The Galaxy Mini comes in a small, light form factor that's easily pocketable, and pretty good-looking for a budget smartphone. Our review unit featured a stylish lime-green trim, and although the device feels a little plasticky, we were generally pleased with the build quality. The Galaxy Mini sports a 3.2-inch capacitive LCD touchscreen, beneath which sit three buttons -- menu, back and home. There's no dedicated search button, unfortunately, although the menu button can be held down to activate search functionality.
The Galaxy Mini's micro-SD card slot and USB port are both protected by plastic covers, which is a nice touch, and the power and volume buttons are positioned to line up naturally with your thumb and middle finger regardless of which hand you're using. The back of the Galaxy Mini is relatively clear, aside from the 3-megapixel camera, and the battery cover has a textured feel which makes the phone easier to hold securely. So all in all, we were happy with the phone's build quality, especially when we consider its low price.
There's one problem though, and it's something that hits you the first time you turn the Galaxy Mini on. Its 3.2-inch display runs at an eye-punishing 320x240 resolution (QVGA). We'd much, much rather see budget devices take the small step up to HVGA (320x480), as the extra pixel density makes a huge difference on smaller displays. We were similarly irked with the screen on the original HTC Wildfire, which also ran at this resolution. And if QVGA wasn't acceptable in mid-2010, then it certainly isn't today.
Even looking beyond a simple pixel count, the Galaxy Mini's screen isn't of the highest quality -- off-angle viewability is poor, color reproduction isn't great, and there's some noticeable ghosting at times. It is at least reasonably bright, so you shouldn't have any trouble using it outside. Again, all these quality concerns should be balanced against the handset's price, and we should remember that high-end phones like the Nexus S use displays which cost more than the RRP of the Galaxy Mini.
Inside the Galaxy Mini you'll find a respectable 600MHz CPU and 384MB of RAM. You'll also get 150MB of internal storage for apps, a decent amount for a budget phone. As the Galaxy Mini runs Froyo, there's the option to move apps to the SD card, too (our review unit shipped with a 2GB card).
While the Galaxy Mini's hardware isn't screamingly fast, it's certainly speedy enough to provide a good, responsive smartphone experience on a device of this size.
Software
The Galaxy Mini runs a cut-down version of Samsung's TouchWiz UI on top of Android 2.2.1 Froyo. TouchWiz has been trimmed a little to fit onto the smaller screen and less powerful hardware of the Galaxy Mini, but it's still very much recognizable as the same software found on other Samsung phones. You get up to seven homescreens to customize with the usual Android widgets, as well as some Samsung offerings. There's also the horizontal-scrolling app drawer that should be familiar to TouchWiz users, although thankfully the colored icon backgrounds aren't present on the Galaxy Mini.
In terms of apps, you'll find the usual Android 2.2 stuff, albeit slightly skinned to match the rest of Samsung's UI. The icons for the music player, calendar, gallery and clock might be different, but the actual apps function just the same as stock Android. The browser is also a near-stock experience, with only a couple of changes and visual refinements from Samsung. You'll get the Swype keyboard as standard, too, which is a great way to speed up typing on the Galaxy Mini's small screen.
The manufacturer's also included its Social Hub app, which aggregates SMS and social networking messages into one space, though this compares poorly to similar offerings from the likes of Sony Ericsson and HTC. Other apps like the file manager and task manager aren't going to blow anyone's mind, but are nice to see nonetheless. And as well as the Android Market, you also get access to Samsung's apps portal, though we didn't find anything particularly inspiring on there -- it's mostly just dictionary and trivia apps.
Media transfers and firmware updates are handled via Samsung's Kies software, which provides an iTunes-like interface for managing the assortment of stuff on your phone.
Our review unit was the Three-branded version, and so it came pre-loaded with a couple of Three-based icons in the app drawer -- one is a shortcut to their website, the other to their accounts portal. Some will complain about any carrier interference in their phone's software, but as carrier-mandated additions go, Three's web links on the Galaxy Mini are inoffensive, and could actually be useful to some users.
What bugged us a little, however, was the shortcut app to some online casino site that's also pre-loaded, and impossible to remove. Gambling in all its flavors is nice and legal on this side of the Atlantic, but seeing a link to "Win Cash!" every time you open the app drawer just cheapens the user experience. We're not sure whether Three or Samsung is to blame for its inclusion, but whoever it is should probably go to their room and think about what they've done.
While we're ranting, the lack of Flash support on the Galaxy Mini is a little disappointing -- all we can guess is that the hardware wasn't up to the task. You may be able to sideload Flash onto the Galaxy Mini if you know what you're doing, but you certainly won't be able to get it via the Android Market. That said, Flash sites would probably difficult to use on a QVGA display anyway.
Galaxy Mini on Three
We've always enjoyed high download speeds on Three's 3G network, and this held true on the Galaxy Mini, which regularly gave us speeds of 4 megabits per second or higher in suburban areas and 2-3 megabits in built-up areas. Unfortunately, the Galaxy Mini doesn't support HSUPA, meaning upload speeds are limited to around 300 kilobits per second. This is a slightly bizarre hardware limitation, though fortunately it doesn't affect the browsing experience all that much. It's only really noticeable in network speed testing apps.
Finally, we didn't notice any call quality or reception issues on the Galaxy Mini -- everything was nice and clear, and signal strength was comparable to other phones and networks.
Battery Life
We were generally pleased with the Galaxy Mini's battery life. With typical smartphone usage patterns, you'll get a day's use out of a single charge without too much trouble. As with any smartphone, heavy use, especially multimedia consumption, will run down the battery in a few hours. This is just a fact of life in the smartphone universe.
Camera
The Galaxy Mini has a 3-megapixel rear camera, which does a pretty decent job of capturing photos to be scaled down to Facebook resolutions. The camera is fixed-focus, however, so capturing anything up-close can become problematic.
Unfortunately, we found that video quality was poor across the board. You're looking at 320x240 resolution with 15 frames per second, regardless of lighting conditions. Not unexpected from a budget handset, but still disappointing.
Wrap-up
The low-res screen and lack of HSUPA and Flash are a little hard to swallow, but something's got to give when you're selling a phone for under £100. However, when it comes to basic smartphone functionality, the Galaxy Mini is a surprisingly speedy performer, and a device that'll suit many in the market for a mainstream or budget device.
It's easy to find fault with the Galaxy Mini if you try to compare it to higher-end smartphones, but it isn't really fair to judge it next to devices which sell for two or three times its RRP. And while it isn't going to set the world alight, you could certainly do a lot worse for your 99 quid.
The Samsung Galaxy Mini is available now for £99 on Three's Pay As You Go service with "all you can eat" data, or for free on any of the network's monthly contracts.
Get the Android Central Newsletter
Instant access to breaking news, the hottest reviews, great deals and helpful tips.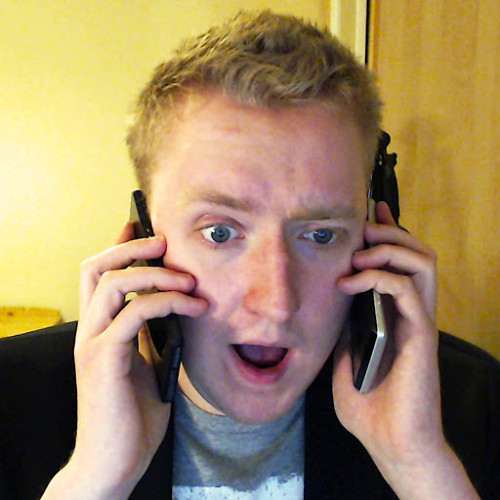 Alex was with Android Central for over a decade, producing written and video content for the site, and served as global Executive Editor from 2016 to 2022.