Samsung just fixed one of the worst things about One UI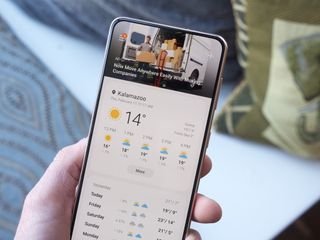 (Image credit: Joe Maring / Android Central)
Update, Oct 1 (11:10 a.m. ET): Samsung Pay and Samsung Health apps no longer include ads
What you need to know
Samsung could soon stop displaying ads in its stock apps.
The decision was reportedly announced by Samsung's mobile chief TM Roh during an online town hall meeting.
Samsung began showing ads in some of its apps last year.
In June last year, Samsung began showing ads within some of its apps like Samsung Music and Weather. Unsurprisingly, the move didn't go down well with Galaxy users and caused a lot of outrage. Fortunately, it looks like Samsung has finally decided to listen to its customers and remove ads from pre-installed apps on Galaxy phones and tablets.
According to South Korean publication Maeil Business News, Samsung's mobile chief TM Roh announced during a town hall meeting earlier today that the company will soon remove ads from stock apps such as Samsung Pay, Weather, and Samsung Themes.
The ads aren't just limited to budget Galaxy phones and tablets. They also appear on Samsung's best Android phones — including the Galaxy S21 Ultra and the $2,000 Galaxy Z Fold 2 5G.
Samsung plans to remove ads from its pre-installed apps with a future One UI software update. Sadly, there's no word yet on exactly when the update will arrive. The next major One UI update is expected to be One UI 4.0, which will be based on Android 12. Samsung is likely to announce a One UI 4.0 beta program for its latest flagships soon, while the stable update is expected to begin rolling out sometime towards the end of the year.
The decision comes at a time when Samsung is losing its lead in several global markets. Data from Counterpoint Research recently revealed that Xiaomi surpassed Samsung to become the world's largest smartphone vendor in June 2021. The Chinese smartphone maker was also successful in snatching the lead from Samsung in Europe in the second quarter of the year. Just like Samsung, however, Xiaomi also shows ads on its phones.
Android Central has reached out to Samsung for confirmation.
Update, Oct 1 (11:10 a.m. ET) ― Samsung begins removing ads from its Android apps
Just as promised, Samsung has started to remove ads from its popular apps. As spotted by the folks over at TizenHelp, a moderator on the Samsung Community forums in Korea has confirmed that the Samsung Health app will no longer display ads. Besides Samsung Health, the company has also removed banner ads from the Samsung Pay.
Get the Android Central Newsletter
Instant access to breaking news, the hottest reviews, great deals and helpful tips.
Doesn't really bother me to be honest, but this can only be a good thing. You shouldn't be seeing ads on flagship devices full stop.

I'm absolutely good with them doing this, but I still struggle to understand the angst about this as I have yet to receive a notification "ad" and the only time I see one is if I open up the Galaxy Store app and I really don't have an issue with one there as the point of a Store is to get you to buy something.
But if others are getting notification ads, then good on Samsung to address that as that would be annoying. Just not sure why others see them and I never have.

@justafew are you in the US? For whatever reason folks in the US don't seem to see as many of these ads as people elsewhere. I'm in Canada - and I see the ads in Samsung Pay, Samsung Health, the Galaxy Store (this one doesn't bother me much), and several other locations - as well as the occasionally "notification" ad. Also they can't all be disabled. I dropped a lot of money on an S21 Ultra. I really don't think Samsung needs to solicit more of my money every time I go to check my step count or the current temperature. So this is very good news indeed.

Yes, I'm in the US and I don't use Samsung Pay or Health (yet, but may get the new Galaxy Watch), so that explains a lot on why I'm not seeing them everywhere.

Now if they could just let me uninstall all their duplicate apps, stop fiddling with the Settings app, messing with notifications and the quick tiles while removing the designed by a 4 year old vibe I might just buy one.

So basically, become a Pixel. Yeah no thanks... If I want a Google phone, I'll buy one.

Who the hell buys Samsung for their half assed software anyway, probably someone with either no imagination at all or an Apple lover. There are dozens of better launchers, browsers, and messaging apps available

Whoa, calm down its just a phone. Samsung apps are fine

uh...So you DON'T want them to take the ads away?

It's a Samsung phone. The duplicate apps are the Google crap. Gmail with ads, or Samsung Mail without them. Hmm...let me think.

It's about time. Had Samsung Music on my phone and couldn't believe that their damn ads could not be avoided so I can have the privilege to play my own music files. Solved that problem by uninstalling as many Samsung apps as I could and finding replacement apps instead.

Ads? Never heard of em.. Honestly didn't even know it was an issue until I read this.. My ad blocker was worth every cent!

I did the same, but just went back to Samsung apps after this latest move.

it didn't bother me a lot but it was one of two reasons i got rid of S21 and kept Pixel 5. those ads cost them customers.

All I want is to be able to have the same number of quick tiles in each row when the panel is first opened and when its fully opened, and for a homescreen shortcut to a folder in the app drawer to stay in sync when I add or remove apps. Cant say I've seen any ads, but that may be because of an adblocker. I will not use apps that contain intrusive ads, and they absolutely should not be baked in to a system unless it was free.

I could have sworn this was announced ages ago. It should never have happened in the first place. I question the sanity of any company that thinks it would be a good idea and in all honesty it creates huge doubt on buying Samsung stuff in future even if they do remove it. Absolutely nut-house-job decision making to have allowed this in the first place.

The ironic thing is that as I opened the AC app to read this story, I was greeted with a full-screen ad (courtesy AC app devs). Boo!

I wouldn't know... Other than Gallery, I've never opened a Samsung app... I've had Samsung phones for many years.

Samsung brought the Ads to OneUI long before "last year." It's the reason why I didn't bother upgrading beyond the Note 9. I went to the iPhone. They turned Bixby Home into basically an on-device perpetual commercial, too. I'm not even sure what that looks like, anymore. Talk about completely gutting functional parts of the device for no apparent reason or gain (other than money for putting the Ads there).

IPhones also have ads backed into their UI.

I've never seen these ads.