Samsung dispatches emergency S Finder update to Galaxy S5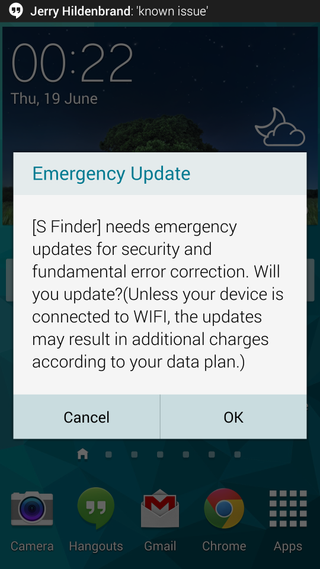 It looks like Samsung is pushing out a critical update to the Galaxy S5 that the company says is an "emergency update" related to the S Finder universal search app on the phone. The update could be downloaded over WiFi or over your carrier's network, though the latter will incur "additional data charges according to your data plan."
At this time, it's not known what is being patched, but the company says that "S Finder needs emergency updates for security and fundamental error correction," asking the user "will you update?"
We've seen the update hit our Galaxy S5 phones here at Android Central. Are you getting a push notification prompting you to update? Did the update process run smoothly for you? Let us know in the comments!
Get the Android Central Newsletter
Instant access to breaking news, the hottest reviews, great deals and helpful tips.
I don't have the update:(
Posted via Android Central App

Go to your settings. Click on the About Device icon. Then click on Software Update to check if your device is up to date

nothing yet on my verizon gs5

Got the same update this morning on my Sprint Note 3 Posted via Android Central App

+1 for the Note 3 on Sprint Got one on the office S5 on Sprint as well this afternoon

Also with Note 3 Rogers Posted via Android Central App

Same on mine, I think this is any device running the s finder app Posted via Android Central App

Hi I had a emergency update for s finder on Thursday 19th. & I updated it. Since then I have had no Internet on my mobile. It just disappeared. Got no mobile data whatsoever. Can anyone help me

What's the purpose of this update? Posted via Android Central App

Security fixes...nothing changed on the outside that I saw but didn't look either...

To patch the root exploit.
Posted via Android Central App Edit...that would be my guess.

I got it earlier today via "Samsung Apps" - T mobile S5

I got it and it went well.

I got the update on my Note 3 20 minutes ago in Canada Posted via Android Central App

My T-mobile note 3 got it this evening.

Got it on my S5 through samsung apps on my way home from Boston tonight. It was a very small (like 3mg) update. Posted via Android Central App

I got it 5 minutes ago #CanadaNumberOne

i got the update today and I have the note 3

Nothing yet on Vz s5 but then again, I don't use any s-devices so I don't care for this update too much... The panda has spoken

Got this update on my T-Mobile note 3 Posted via Android Central App

Updated this afternoon. Posted via Android Central App

Got it early this afternoon, s5 on Sprint. Posted via Android Central App

Was on my S5 when I woke up this morning. Took less than a minute over wifi.
Posted via Android Central App

I've got it on my note 3. Posted via the Android Central App on my Samsung Galaxy Note 3

I'm on Rogers in Canada I got the update on Wednesday. Competed over the carrier network. With no issues Posted via Android Central App

Nothing on my Verizon Note 3

This is the information age Samsung, you must explain yourself.

Hola,
Just updated Galaxy S5 (UK) on o2. To date no problems.

nothing. get there error message and have had to factory reset the thing 3 damn times, but no update. "All updates have been applied." can i get it somewhere? i've got a Galaxy Note 3 on Sprint.