Samsung announces 'merlot red' and 'rose gold' black and white Galaxy Note 3s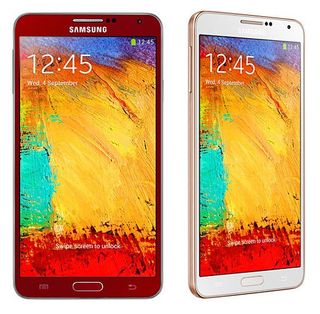 'Rose gold white' Note 3 headed to China this month
A couple of days after it quietly unveiled the new color options in Argentina, Samsung has today officially announced the arrival of the Galaxy Note 3 with "rose gold" accents in black and white, as well as a new "merlot red" model. The two rose gold versions have front and back designs similar to the existing "classic white" and "jet black" Note 3s, but with bronze accents in place of the standard silver edges. The merlot red version with silver accents sports a more traditional paint job.
The new Note 3 colors join the existing classic white and jet black with silver accents, as well as the lesser-spotted blush pink variant. Samsung says the the "rose gold white" Galaxy Note 3 will launch this month in China, with other colors to be launched "according to each market's preference."
Update: We've got a gallery featuring all the new Galaxy Note 3 colors after the break.
Source: Samsung
Image 1 of 8
Image 2 of 8
Image 3 of 8
Image 4 of 8
Image 5 of 8
Image 6 of 8
Image 7 of 8
Image 8 of 8
Alex is global Executive Editor for Android Central, and is usually found in the UK. He has been blogging since before it was called that, and currently most of his time is spent leading video for AC, which involves pointing a camera at phones and speaking words at a microphone. He would just love to hear your thoughts at alex@androidcentral.com, or on the social things at @alexdobie.
No pictures? Pfft! Sent via the Android 5.0 MilkShake.

Plain and simple nothing beats Samsung or the Galaxy Note products period. Posted from my Galaxy Note 3 on Tmobile via Android Central App

So let me get this straight: just because Samsung comes out with 2 more colors for their Note 3, a few months after its initial release, automatically makes them "unbeatable"? Man, I'd hate to see how easily you're impressed in other matters...

Ah, you've bitten on a richardyarrell comment. Congratulations, you are officially a member of the AC community now. :-) Sent from my iPhone

I think that was not the point....some take comments too far trying to inject sarcasm

I don't see what this had to do with the comment. Posted via Android Central App

Wrong! Two words for you: Chuck Norris. Posted via Android Central App

I wish Samsung would use a different wallpaper when showing off their phones. The current one looks like a preschooler threw up a pack of crayons on it.

It's abstract art, not that I'm a fan of the genre, although I guess they're better to look at under LSD influence.

Plastic is plastic no matter what color you make it. When will Samsung get this simple notion? I have a S4, and it is probably both the ugliest, and least pleasant to hold smartphone I have have owned.

Gee, criticizing Samsung phones in a Samsung related article...
Do you want to die? XD

Samsung fanboys are dangerous and relentless. Fortunately, it doesn't seem to bad at Android Central beside our resident Samsung shill.

Note 3 feels more premium than tacky S4. Sent via the Android 5.0 MilkShake.

It is better than n scratch and dent aluminum but I would prefer the soft touch material. As another poster said, the Note 3 feels pretty good and I think you might see Samsung going that way from here on out ----------------------------------------------------
So where is the competition for the Note 3? Oh right there isn't any...

Why is plastic so wrong on smart phones?. If your going to slate plastic atleast make a point other than tacky. Your home phone is no doupt made of plastic. Your t.v no doupt is made of plastic. Your interior of your car is made of plastic. Your toaster kettle ect ect. Plastic aint bad if used correctly ok so the gloss on the s3, s4 ect does feel cheap due to gloss, other brands also use the same gloss plastic so lets not single out Samsung. i am a critic of metal as its easly damaged and when it is you cant replace (in most cases except now the Htc One Max). and then have to live with it. They are usually heavier and to me personally although they may look and feel like that premium device you want. They dont offer any long term durability that then warrents its better than plastic. The Note 3 is now a fine example again plastic however with the faux leather back it looks and feels alot better. So just making that easy tweak has now given the Note 3 that premium feel whilst still keeping the weight down and keeping things easily replacable. Posted via Android Central App

Plastic is in everything now, however, I was totally unimpressed with the S3 build quality. It's not just gloss, it's just cheap. I removed the battery door a few times and there are cracked marks on it from the flexing. It's real easy to damage the phone too. The Galaxy S and S2 while plastic are much more durable.

I'd rather have a plastic cover than a non removable battery.

Yep plastic is plastic but looks like majority of the millions and millions of people that buy there products have no issue. Just seems a small minority that Is crying for metal Posted via Android Central App

What I find kinda funny is that no one is complaining about the plastic back on the Nexus, just Samsung. Am I missing something? ----------------------------------------------------
So where is the competition for the Note 3? Oh right there isn't any...

Thats what i was saying many many phones are made of plastic yet Samsung are the only ones that get any flak hmmm im led then to believe people lack any inteligence and own opinion and by that i mean they see one or two posting samsungs cheap plastic phones are crap and they have to repeat to get that attention tbh. Posted via Android Central App

I like my rosé red and my diamonds blue.

Cue Apple fans getting mad in three...two...

I like the white one better

I think red with rose gold trim woulda been nice..

Love mine despite color or "plastic" back....I stayed away listening to negative comments about the back. But gotta tell you it is an awesome phone

Android has been dominating the current market of mobile phone. I am afraid if it grabs the OS of our PC. Soon it might be installed in our PCs http://verveinc.com

The current one looks like a preschooler threw up a pack of crayons on it.
Trafic Organique - http://www.serplinker.com
Android Central Newsletter
Get the best of Android Central in in your inbox, every day!
Thank you for signing up to Android Central. You will receive a verification email shortly.
There was a problem. Please refresh the page and try again.