Samsung and Google are getting cozy, but it's not all sunshine and rainbows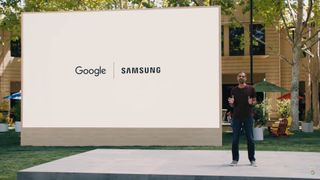 (Image credit: Google )
The Samsung Galaxy Watch 4 is here, bringing with it our first look at the new Wear OS 3 experience aimed at taking on the Apple Watch. For years, Google and Samsung have been working towards the same goal — providing a viable Android smartwatch experience. And recently, the two companies have put aside their differences and "joined forces," so-to-speak, with Wear OS 3.
However, now that the Galaxy Watch 4 is actually here, things don't feel as rosy as they did back at Google I/O 2021. You see, when Samsung and Google took the stage together to announce this new joint effort, I had high hopes that we would be seeing Samsung's excellent hardware paired with Google's optimized-for-Android wearable experience. But there are still some important features that I expected to see with the Watch 4 that still aren't here yet.
The first of which is Samsung's unrelenting commitment to Bixby for some unknown reason. Yes, the company has sunk millions (if not billions) of dollars into a voice assistant that is arguably marginally better than Apple's Siri. But it's clearly the lesser voice assistant when compared to Google Assistant, and despite the "Wear OS powered by Samsung" branding, there's no Assistant on the watch yet. There isn't even integration with Google apps and services like Google Fit. Of course, both of these are expected to change, but this release makes me feel like this "dream" partnership between Google and Samsung is a lot more one-sided than anticipated.
Another example of this one-sided partnership is apparent if you are considering pairing the Galaxy Watch 4 with your non-Samsung Android phone. That awesome BioActive technology which is comprised of three different health-monitoring sensors? Yeah, you can only use it if you're also using a Samsung Galaxy phone. So you won't be able to use the best Android smartwatch and be able to take full advantage of its features with the Pixel 6 or even the recently introduced Pixel 5a. Let alone anything from OnePlus or any of the other best Android phones.
My concern is only slightly growing as we barrel towards the release of the Google Pixel 6 and Pixel 6 Pro. Rumors suggest that Samsung is actually providing the chips for Google's 2021 flagship lineup. And while I have no doubt that Google gave Samsung the specs for the Google Tensor chip and that's what Samsung will produce, there's still an uneasy feeling about it all.
Samsung knows that this is Google's biggest chance to get things right with its flagship-tier smartphone. Development has been taking place ever since Google completed its acquisition of HTC's hardware division, and we're finally expecting to see what a true Google-powered smartphone will be capable of.
But unlike the Galaxy Watch 4 series, Samsung doesn't really have a say in the matter when it comes to the final product. If the Tensor chip is based on one of Samsung's Exynos processors, are we going to end up with the underwhelming and disappointing performance of the Exynos 990? Or are we going to be seeing a chipset based on the Exynos 2100, which is powering Galaxy S21 units overseas, and largely competes well with Qualcomm's Snapdragon 888? What if it's something else entirely, like a completely redesigned chip using the Exynos architecture that hasn't been tested in the "real world?"
This is where I'm a bit concerned that Google is relying too much on Samsung, and that it's not actually a balanced partnership. Things might be different if Google told us what the Tensor chip is based on, even if it is a custom-designed chip. But that would likely end up with some type of Samsung branding or Galaxy fanfare taking place, pushing the Pixel 6 and Google out of the spotlight.
I'm still keeping my fingers crossed that Google alleviates these concerns once and for all with the release of the fabled Pixel Watch. But outside of some leaked renders earlier this year, we haven't really heard a peep about that. Moreover, there hasn't been any such Google device that has passed through any FCC certifications or anything of the sort.
You could say that this is all just the ramblings of someone who doesn't want to see Samsung completely take over the Android world, at least here in the US. But it's also the ramblings of someone who wants for the Pixel 6 to succeed so badly and for Google to give us the best Android smartwatch to pair with it. Is that too much to ask of Google?
Get the Android Central Newsletter
Instant access to breaking news, the hottest reviews, great deals and helpful tips.
Senior Editor - Chromebooks, tablets, and wearables
Andrew Myrick is a Senior Editor at Android Central. He enjoys everything to do with technology, including tablets, smartphones, and everything in between. Perhaps his favorite past-time is collecting different headphones, even if they all end up in the same drawer.
Is Siri really worse than Bixby? I know that's not what I'm supposed to take from this, but it's shocking.

Ha, that was my first thought too. I've never heard anyone describe Bixby as being better than anything, full stop.

You're only missing 2 features outside of a Galaxy phone, just saying.... Chicken little much!?!

it doesn't matter if the Pixel 6 is a magnificent phone, or not. Google is too easily distracted to put out a product line (hardware or software) that won't change on a whim. just look at what's going on with GPay. Apple is committed. so is Samsung. outside of ads and hoovering up as much personal data as possible, Google just plays with the food on their plate.

I don't understand the watch complaints. Wear os feels like it is finally android on a small screen, instead of the weirdo proprietary fake android it was before. Manufacturers can customize and innovate just like they do on phones. The first watch is by Samsung and performs marginally better with a Samsung phone. Future watches from google, Fitbit, and others will be different. As for the SOC conversation, Samsung was in the wilderness for a few years with their custom ARM cores that did not work out and dragged their devices down. I'm guessing the Application cores and GPU will be standard ARM cores, and will probably perform just fine. I doubt google is targeting 888 levels of performance but I think it will be competent. Others may disagree but I think Android needs a healthy and competitive Samsung (and other important OEMs like Xiaomi) more than it needs Pixel

Totally agreed! Lately advances in android are being led by OEMs, mainly Samsung in the West and the Chinese group led by Xiaomi and Oneplus. Even in the software space google getting the inspiration from OneUi and MIUI

But I think the point of the article (well at least the first half) is talking about how on stage it appeared that the two would integrate fully with each other but at launch it's not the same. So far, Samsung has benefitted the most from this 'new relationship"

Samsung could easily make a watch that is best with a Samsung phone and still sell more wear os devices than Fitbit, google, fossil, and mobvoi combined. If google wants the new wear os to have the dev support it needs then this is exactly what they should be hoping for.