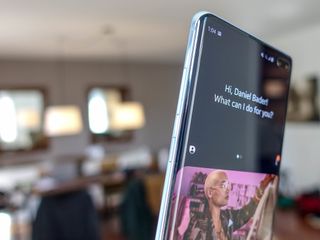 (Image credit: Daniel Bader / Android Central)
A septet of tech journalists has joined forces to share their thoughts on Samsung's Galaxy S10 phones in this live episode from Barcelona. On the eve of Mobile World Congress, Daniel Bader, Nirave Gondhia, Derek Kessler, Alex Dobie, Hayato Huseman, Michael Fisher, and Andrew Martonik look at the pros and cons of each model. Pre-orders have already begun, but take a listen and keep your eyes open for our MWC coverage so you can pick the one that's best for you!
Listen now
Subscribe in Google Play Music: Audio

(opens in new tab)

Subscribe in iTunes: Audio

(opens in new tab)

Subscribe in RSS: Audio
Download directly: Audio
Show Notes and Links:
Best Places to Buy the Galaxy S10 on Day One | Android Central
The Galaxy S10 has one thing other phones in 2019 lack — courage | Android Central
Sponsors:
Joybird: One-of-a-kind furniture made to your unique taste. Go to joybird.com/ACP and receive an exclusive offer for 25% off your first order by using the code ACP.
Wix Creation without limits. Visit wix.com/podcast and get 10% Off Your Wix Premium Plan — enter the code WIXPROMO at checkout.
Would have been cool to see a 10 model with no front camera. I could care less about selfies.

That would be a pretty darn small market for Samsung to address.

That's not going to happen. Too many people not only take pics of themselves, but also make video calls. Alternatively, you could opt to not use the front facing camera.

Anymore, I'll pay outright for a phone. Locking me into a contract is no longer preferable with options like Straight Talk, Visible, Google Fi and all of the various Carrier options etc. So Unlocked or not branded...
Plus that leaves me open in case a particular phone comes into the market that I simply must have...

I bought unlocked directly from Samsung. Got $300 trade for my GS8 and 24 months of interest free financing.

I agree. But a full display phone would be cool.
Android Central Newsletter
Get the best of Android Central in in your inbox, every day!
Thank you for signing up to Android Central. You will receive a verification email shortly.
There was a problem. Please refresh the page and try again.