Roku is working on smart speakers and its own virtual assistant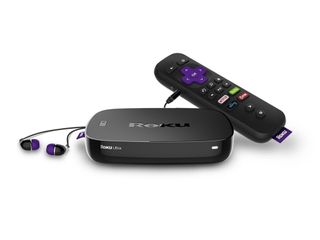 There are a lot of different smart TV platforms to choose from these days, but if you want access to the most content possible and don't want to be stuck between middle school feuds, Roku is the way to go. Roku's been releasing media streaming boxes since as early as 2008, and ten years later in 2018, the company has announced its two latest projects – Roku Connect and the Roku Entertainment Assistant.
Roku Connect
Starting with Roku Connect, this is a new platform the company is launching for smart speakers. There have been rumors of Roku diving into the smart speaker space for a few months now, and this is how it'll be going about it. However, the approach is a bit different from what we've seen from the likes of Google and Amazon.
Rather than creating its own smart speakers, Roku will license out its tech and the Roku Connect platform to third-party OEMs (not unlike what it does with Roku TVs). Roku Connect will be able to power single speakers like we've seen with Echo and Google Home products, as well as sound bars, surround-sound systems, and multi-room audio solutions. Roku Connect speakers can connect to each other wirelessly, and TCL will be launching the first Roku Connect-powered device at CES 2018.
We aren't sure exactly what to expect from this gadget just yet, but it'll likely just be the first of many that we see throughout the year.
Roku Entertainment Assistant
Powering these Roku Connect speakers is the Roku Entertainment Assistant. This is similar to Alexa and Google Assistant seeing as how it's a virtual assistant, but that's where the similarities end. You'll talk to The Roku Entertainment Assistant by saying "Hey, Roku", and then the command that you want.
You'll be able to use the Roku Entertainment System for playing music on your Roku Connect speakers, controlling media playback on your Roku TV/streaming box, turning off your television, and more. Roku wants its Assistant to be focused for only entertainment purposes, meaning that you won't be talking to it about the weather, traffic conditions, etc.
Roku plans on launching the Roku Entertainment Assistant to its TVs and streaming boxes by Fall of this year, and the idea is that it'll be used alongside other smart assistants – not as a replacement for them.
Android TV vs. Roku: Which smart TV platform is right for you?
Joe Maring was a Senior Editor for Android Central between 2017 and 2021. You can reach him on Twitter at @JoeMaring1.
If everyone keeps coming out with their own "Assistant" soon my home will have a multiple personality disorder and will need to be medicated.

LMAO! LOVE IT! SUMS IT UP PERFECTLY!!!!!!!!

I can see it now...from my desk at work. "Cortana, ask Alexa to tell Roku to have Google play a movie."

Since Roku is the most popular movie player, wouldn't that be more like, "Bixby, ask Cortana to ask Google to ask Alexa to ask Roku to play a movie"?

Ugh, so much for my Google Home ever getting the ability to activate/launch my Roku.

It'd be great if they release a way to re-map the buttons on my remote. I mean Rdio has been dead for how long?

You can remap the buttons on the Roku website.
Android Central Newsletter
Get the best of Android Central in in your inbox, every day!
Thank you for signing up to Android Central. You will receive a verification email shortly.
There was a problem. Please refresh the page and try again.