Fire TV YouTube app has already stopped working for some users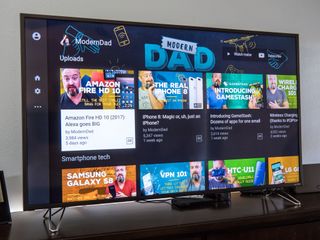 At the beginning of December, Google announced that it'd be pulling the YouTube app from Amazon's Fire TV products. Amazon made a couple piece offerings by reselling Chromecasts and pushing a Prime Video app to Android TV, but even so, it looks like Google is sticking with its decision.
Google will officially remove YouTube access from Fire TV on January 1, 2018, and some users are now seeing a warning message about this when opening the app that reads "Starting on 1/1/2018, YouTube will not be available on this device. You can continue to enjoy your favorite creators and videos in many other ways. Please visit https://support.google.com/youtube/answer/7582560 for a list of devices you can use."
However, for others, the YouTube app has already stopped working. Along with the warning message that allows you to keep using YouTube until January 1, there's another message that appears and says "Access YouTube and millions of other websites by using a web browser such as Firefox or Silk." Below this, you'll still two options for visiting YouTube.com with either of the two browsers.
YouTube warning message (left) and redirecting users to web browsers (right)
Cord Cutter News reports that you'll only be asked to go to YouTube on a web browser if you have one of them installed, and according to AFTVNews, sideloading another version of the YouTube app will allow you to keep using it with the warning message. This suggests that Amazon is the one pushing people to start using the Fire TV's web browsers right now, but either way, this is still bad news for consumers.
We're crossing our fingers that Amazon and Google will be able to make amends sooner rather than later and get the YouTube app back on Fire TV, but until then, make sure you've got a web browser installed before the beginning of next month.
Get the Android Central Newsletter
Instant access to breaking news, the hottest reviews, great deals and helpful tips.
Joe Maring was a Senior Editor for Android Central between 2017 and 2021. You can reach him on Twitter at @JoeMaring1.
Glad I'm not into Amazon home products, love Google home products since most of my work flow/media is around Google services. Amazon only for shopping and I don't care about shopping from smarthome devices. I do like few Amazon prime series but also have an Apple TV to watch prime video.

Good. Amazon's way too greedy nowadays.

Good? It is the users that suffer. Stop playing silly ecosystem wars.

Switched to Roku a few days ago. I should have done it sooner.

Girlfriend inherited a Fire TV from her brother. I have her in my Google Play Family plan and allow her access to my Vudu stuff. It's annoying having to jump around between the Fire TV, her TV's own smartapps or using my phone and the Chromecast she also has. Her new Roku arrives tomorrow :) Ordered from Amazon (ironically).

I assumed that they'd come to some agreement before this happened. They didn't. What to move to now is the only question. I use(d) YouTube on my fire TV boxes far more than anything rise.

That's my number one app on the fire stick as well. It works the same way on the firefox and silk browser though. So, nothing lost for me.

YouTube on the Roku is pretty amazing. I really like the interface.

Really? You're still getting your ad revenue Google, and Amazon is selling Chromecast again. Come on, let me consume my media on all the things. Stop being jackholes over this.

I'm kinda surprised that they still went through with it. Considering the fact that Amazon has started selling Google products again and they allowed Prime Video on Google Play. I have a feeling Google will undo this ban rather quickly as long as Amazon doesn't act up.

Um,,, Prime Video is on Google Play? Really?

@Deke - Yes it is. https://play.google.com/store/apps/details?id=com.amazon.avod.thirdparty... It just doesn't support cast.

@YourManAdrian - Prime has been there for a little bit now but it still doesn't support casting.

That's why I switch to a shield

Glad I went with Apple TV 4k with Directv Now deal.

Between my smart TV, Apple TV and Chromecast I won't have any issues viewing YouTube content on my TV if i wanted. For me , Amazon has enough content that comes with my prime membership that I could care less whether I can view YouTube on my Fire TV.

Thought they were making nice with Amazon releasing there app on the Play store?

Do yourself a favor, dump your fire tv stick and google chromecast and get a 3rd party tv media streamer. I used the fire tv stick and the chromecast and like them both. I now have the Roku 3 and I love it. Both Amazon prime movies and Google movies work. I won't be buying anything from Google or Amazon. They can't get along and come up with an agreement to get along for the end user. They can suck it. My .02 worth.