Roku app for Android getting an overhaul alongside a new set-top box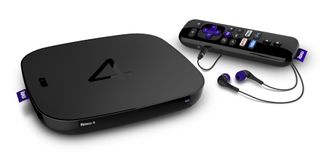 Roku has pulled the wraps off its latest set-top box, the Roku 4, that brings 4K capabilities to your living room along with announcing an overhaul to its Android companion app.
The Roku 4 keeps most of what people love the most about it, namely the huge range of content, while adding some nifty features besides 4K, like a remote finder. Because who can ever keep track of a remote control, right?
A few of the interesting specs:
Quad-Core processor, up to 60 fps 4K streaming, HDCP 2.2 and Optical Audio Out
802.11ac MIMO Wi-Fi for optimal wireless
Access to more streaming channels for 4K entertainment than any other streaming player with selections from Netflix, M-Go, Amazon Instant Video, ToonGoogles, Vudu and You Tube
Curated 4K Spotlight channel exclusive to Roku 4 offers instant access to 4K movies, TV shows and more
4K UHD category within the Roku Channel Store to make finding streaming channels with 4K entertainment quick and easy
Remote control with voice search, headphone jack for private listening, and the new Remote Finder
The companion app for Android and iOS is also getting a makeover, as well as the latest Roku 7 OS being pushed out to existing devices:
It doesn't say when the app update will be pushing out, but you'll find the download link up top for when it does.
The Roku 4 will cost $129.99 and is available to pre-order now (opens in new tab) with a view to shipping later on October 21. Roku OS 7 will roll out to current-generation Roku players in the U.S., Canada and the UK, and Roku TVs in the US and Canada from sometime in October and is expected to be completed in November.
Sigh, still no AnyNet capability but I still love these things. Our old XD needs replacing. I could get this and move our Roku 3 to our secondary TV. So it looks like a Chromecast Audio and a Roku 4 for Christmas. Posted using SwiftKey on my LG G4 via the Android Central App

I have multiple Roku boxes, but $129 seems a little pricey, especially when the Fire TV is $99 Posted via the Android Central App

While true, I am not sure whether amazon offers the same thing as roku. I think Roku is the only vendor that does not push their service over others. Plus the headphone is great but that just me. Anyway I have no problem supporting Roku over amazon mostly because it is a better product. Posted via the Android Central App

I got the headphones on my Roku 3 remote and absolutely love it. I use it all the time. Would be cool to be able to use some Bluetooth headphones with the Roku though. Posted via the Android Central App

We got a 32" Roku TV on clearance (display model) at Sam's club, with a 3 yr warranty for $160. It's been really great so far, haven't even hooked up the DirecTV to it yet, lol. My 3 yr old loves it, he knows he can just press the Amazon button on the remote, and be watching Dora the Explorer in no-time.

Wish it was $99 like the new FireTV, but it will be shortly after release. I might just bite the bullet anyway. As much as I like the Gen1 FireTV in my living room, I use the Roku 2 XS in my bedroom as much if not more. Hard to beat all the official and non-official channels. The XS is very long in the tooth at this point. Posted via the Android Central App

Every time I see that content is curated I imagine some prepubescent doofus hipster trying to get me to watch Ferris Bueller's Day Off.
They never get it right. Posted via the Android Central App

I've had my Roku LT for like 3 or 4 years now and it's still going strong. I even get my parents and in laws each a Roku stick on sale for the same price as a chromecast. Can't wait to see the updated app for Android. It's the only way we interact with the Roku lol

I am not sure if Roku box is still using ads? Or was it just some apps that added ads? Anyone? Posted via the Android Central App
Android Central Newsletter
Get the best of Android Central in in your inbox, every day!
Thank you for signing up to Android Central. You will receive a verification email shortly.
There was a problem. Please refresh the page and try again.