The RAZR 2 could be the best foldable yet — if Motorola does these 5 things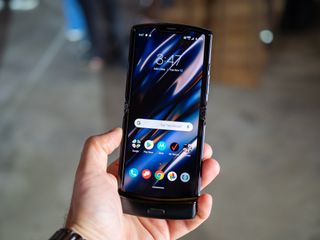 (Image credit: Daniel Bader / Android Central)
At the beginning of the year, before we were all at home social-distancing, Samsung and Motorola made big pushes into the folding smartphone space with the Galaxy Z Flip and RAZR. Both phones use the same flip phone-like form factor, but only one of them ended up earning our recommendation as something you should go out and buy.
The Motorola RAZR is filled with a lot of good ideas, but a mixed execution and botched launch resulted in it being one of the most disappointing releases of 2020.
It'll have been a year this November since Motorola took the wraps off the RAZR for the first time, and as such, expectations for a Motorola RAZR 2 are building. We don't know when the phone will be announced, how much it'll cost, or anything along those lines. When that day comes, though, there are a few things we hope to see. Because, if Motorola makes a few smart tweaks for its gen two model, it could create one of the best foldables yet.
Don't make it a Verizon exclusive
Hands down, one of the most irritating things about the first RAZR, at least in the U.S., is its exclusivity to Verizon. Carrier exclusives are never something we like to see, as they greatly limit who's able to buy a certain phone. Motorola has a long history with Verizon and has been no stranger to doing these deals with it, but we really hope this is something that doesn't come back for the RAZR 2.
If Motorola wants to turn the RAZR into its next big phone series, it needs to sell the RAZR 2 on all major carriers and, more importantly, offer an unlocked model for people that want to buy it outright and use it wherever they want.
The Galaxy Z Flip only has carrier versions for AT&T and Sprint, but if you don't use either carrier, you can buy an unlocked variant of the phone directly from Samsung's website. It's incredibly user-friendly, and it's something Motorola can't afford to ignore for its next iteration of the RAZR.
Use a Snapdragon 765 processor
While the Motorola RAZR touts a super futuristic design, it doesn't come with the appropriate specs to back it up. Motorola decided to equip the phone with a Snapdragon 710 processor and 6GB of RAM, and while the second half of that equation is fine, the 710 was an odd choice to say the least. It's a chipset that was first announced back in May 2018, making it incredibly outdated by the time the RAZR went on sale in February 2020. Not only that, it offered performance you'd expect to find in a mid-range smartphone and not a $1,500 flagship.
Rumor has it that the RAZR 2 will step up to a Snapdragon 765 chipset, and while it's still a 700-series processor, the 765 is considerably better in just about every way. It's essentially a slightly scaled-back version of the top-tier 865, and we've already seen it in phones like the LG Velvet, Motorola Edge, and rumor has it that it's the chip we'll get in the Pixel 5.
The 765 delivers excellent performance in just about every regard, and it even allows for 5G connectivity. Plus, since it's less costly for companies to use compared to the 865, Motorola would be able to deliver that upgraded performance without jacking up the price tag.
Deliver a reliable camera system
Similar to how Motorola cut costs with the RAZR's processor, we also saw the company offer the bare essentials with its camera. The 16MP camera on the RAZR is a flop by every measure, kicking out images that lack detail, struggle in low-light settings, and are plagued by annoying focusing issues.
Cameras have always been a weak point for Motorola, but following the RAZR's release, it turned the conversation around with the Edge+. The Edge+ takes legitimately great photos, coming equipped with a 108MP primary camera, 16MP ultra-wide camera, an 8MP telephoto camera. It's not the absolute best camera offering you can get in an Android phone, but it's easily the best we've ever seen from Motorola.
Given that Motorola seems to have figured out how to offer a reliable camera setup, the company needs to bring that expertise to the RAZR 2. It doesn't have to be perfect, but Motorola can't give us another year of potato cameras for its high-end foldable.
Iron out the durability quirks
Every folding phone is subject to lesser durability compared to non-folding ones, but the RAZR seemed especially faulty in these regards. Shortly after the phone was released, early adopters began complaining about random creaking from the hinge and bumps in the display.
Samsung's Galaxy Z Flip has proven to be a shockingly durable foldable, seeming to be able to withstand a lot more abuse than the RAZR can. Part of this is because of the RAZR's entirely plastic display and the fact that it physically moves up when opening and closing the hinge.
We'd love to see Motorola adopt the thin glass screen found on the Galaxy Z Flip, along with a new hinge mechanism that's more reliable and doesn't put the display at such a great risk of getting severely damaged. These are not easy things to overcome, but now that Motorola knows how its first design withstands real-world use, it can hopefully put that towards making something a little less fragile.
Support it with long-term software updates
Software updates and Motorola are two things that usually go together like oil and water, but thankfully, this is something it's slowly starting to get better about. The RAZR was updated to Android 10 back in May, and the same day the update was released, Motorola also confirmed that the phone would get Android 11.
Users should be able to expect long-term software support when spending over $1,000 on their phone. While that's a concept Motorola initially struggled with as it eased its way back into the flagship space this year, the company is coming around to understand this.
Motorola still has a lot of work left to do in this department, but the fact that we're seeing any growth is encouraging. If the company is willing to invest time and money into creating another high-end foldable, we can only hope the RAZR 2 will come out of the gate with promised software updates for years to come.
What do you want to see?
That's what we want to see in the Motorola RAZR 2, and now we pass the question on to you — what's on your RAZR 2 wishlist? Whether we already mentioned it or it's something we missed, drop a comment down below and let us know!
Motorola RAZR 2: News, Leaks, Release Date, Specs, and Rumors!
Get the Android Central Newsletter
Instant access to breaking news, the hottest reviews, great deals and helpful tips.
Joe Maring was a Senior Editor for Android Central between 2017 and 2021. You can reach him on Twitter at @JoeMaring1.
U nailed it. I'm pretty sure it will be a Verizon exclusive though, which is some stupid. The camera definitely needs to be better especially since people will be spending 1500 on a phone. And durability is a must cuz I'm sure lots of people will not use a case for the Razr.

I am not a big fan of carrier exclusives, but this one may have worked out for Motorola. Fewer people bought the phone and experienced the pain of the few who bought this phone. I hope they give the first few early adopters a major discount to buy the RAZR 2.

I hope what we see is that the gen 1 razr was really mostly just a public prototype. Motorola has been my favorite phone brand for a while. I would love to see them get the razr right. But if I could add a wish list item, I wish Moto would roll out the Z Mods to ask of their phones. It's legitimately a useful feature.