Radio Shack flyer pegs EVO 3D launch on June 24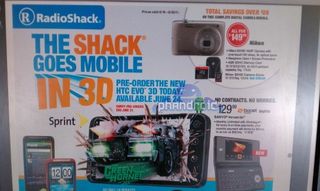 OK, so this is the same Radio Shack that had that "rough launch date" of June 4 (which from the beginning looked like it was never going to happen). But a Radio Shack flyer is at least a little more official, insofar as these unofficial things go. And the flyer you see here says the HTC EVO 3D will be available June 24, which matches up with that not-before-June 23 vibe we've had going.
But to play devil's advocate, it could also be a Canary Trap on Radio Shack's part, or an early version that's subject to change -- you know how these things go. News at 11, folks.
Source: Phandroid; More: EVO 3D forums
Android Central Newsletter
Get instant access to breaking news, the hottest reviews, great deals and helpful tips
Seems like a realistic date. I was hoping for 20 days prior to that, but it is what it is.

I wonder will Best Buy's launch the same day?

I think they will. I already filled out my time off request! ;)

By the way, good shit Phil.

That date doesn't surprise me since Sprint's $125 credit offer for switching from another carrier expires on 6/23. I'm thinking about switching from Verizon for this or the Photon 4G.

6/23 is the end date for instant rebates as well... you can switch before that day... say ON the 23rd and be locked into getting the port in credit AND the instant rebates (in case they don't continue) and then just exchange the device... you may have to pay a restocking fee, but that would be a pretty good trade off to get the $125 credit and avoid the $100 MIR

That's a good idea. I'll have to look into that. I want the $125 credit to offset the $80 or so ETF I'll owe Verizon. Thanks for the tip.

Phil says folks too much, folks :)

This definitely seems a lot more realistic then the previous date.

I heard a rumor that the date was pushed back from early June in order to unlock the bootloader.

That would only take a simple OTA software update & wouldn't require a delay of weeks to do. After all, it isn't like they have to manually turn a key on every single device already produced. :-)

Isn't it still possible to switch providers 2 days before and get a nexus S 4g, then come back 2 days later say you don't like the phone you want a EVO3d and pay the difference? I know it's a lot of hassle but doesn't seem to deter anyone from doing that.

I have Green Hornet 3d bluray, it basically sucks. There's little to no 3d action. They should of picked something better...

I just hope sprint, radio Shack and best buy have plenty in stock this time. What's the point of all this if there isn't any in stock.

If you want it on the 24th you better preorder! Last year we ran out of EVO 4G in 1 hour.

WOW. Get ready to stand in line for the Evo 3D. Are there any more 3D phones out there, or is this the only one?

I can't wait for this bad boy, If it really has gorilla glass then I'm going to be so happy. My Evo 4G has scratches on the screen but not enough to be seen while playing games, movies or using it for daily use. HTC has the best build quality I have ever seen.

I hope you are aware that the Evo 4G also has gorilla glass.

Not to be argumentative but quite a while ago HTC confirmed that (at the time of release) Evo and no other HTC Phone from that period had Gorilla glass. It was however a very comparable quality but at that time they had no contracted rights to use Gorilla Glass.

Look here: http://www.corninggorillaglass.com/#featured-products Maybe not at the time of release, but right now, it shows on Corning's website that the EVO 4G is among HTC phones that come with Gorilla Glass: HTC: 7 Mozart, 7 Surround T8788, Aria, ChaCha, Desire, Desire HD, Desire S, Desire Z, Dopod A6388, Dopod T8388, Dragon, Droid ERIS, Droid Incredible, EVO 4G, EVO Shift 4G, G1, G2, HD2, HD7, HD mini, Hero, Incredible S, Inspire 4G, Legend, myTouch 3G, myTouch 3G Slide, myTouch 4G, T9199, Thunder Bolt, Tianxi T9188, Salsa, Trophy, Wildfire, Wildfire S

You guys do know that these links have been considered suspect for a while now right? I mean come on the HERO? lol the Hero never has and never will have Gorilla Glass. The Hero couldn't stand up to the 33 cents in change i had in my pocket the week I got it. Drop a quick line to HTC and you'll get the same replies I got. There is no Gorilla glass in quite a few of those devices listed. I'm sure if there was it would have been touted as a feature in advertising. Bottom line is that whatever it is,it's very durable and comparable. Seriously I'm not TRYING to argue but that list has been floating around and while the source is legit, the facts are not so much (come on AC has taught us one thing or two about "official" things right?) I will admit HTC has not yet responded to me about latter editions of the EVO 4G as to whether or not there was a change in glass... will keep you posted.

Not sure how your statement about no other phone from that period had Gorilla Glass is accurate. Even the Droid eris had it. http://www.corninggorillaglass.com/featured-products

Were are the iPhones that have Gorilla?

People judging whether to buy a phone based on a video file that comes on the microsd card LOL

Is Gorilla Glass the reason why the EVO 4G screen is not readable out doors? If that's the case, I'm no longer bitching about screen readability out doors. I'll take that trade off. I didn't however see the EVO 3D listed among HTC phones listed that have Gorilla Glass.

No... Any LCD screen is pretty much unreadable in heavy sunlight, unless you have a filter or shade of some sort on it.

Whether this date is true or not, it's going to be nice seeing Best Buy and Sprint suddenly step their game up as a result of Radio Shack's ad.

My first handheld was an HP55 "pocket calculator" back in 1975. Back in those days there were a few "enthusiast newsletters" (in print; remember those?) that sometimes had a little pre-release information. By and large, though, you found out about the new releases when they showed up on the shelves.
I've watched as the Internet has changed all that. Nowadays, we know about coming devices half a year or more before they're released. It messes with your head. With all the pictures, reviews, specifications, etc., if feels as though the device has been our for six months when you first lay your hands on it (and you're already looking at rumors about the device you might get in another year.)
I'm not saying that this is a bad thing; only that you have to understand how it's changed our perceptions. One of the best things that comes out of all the pre-release data is I don't make those annoying "missed that when I read the box" types of mistakes anymore. By the time I make my purchase, I already know full well the pros and cons of what I'm getting.

Now that's good preaching.

Bottomline androidcentral has been all over Evo 3d information from day that's been very helpful for us I'm grateful for that. Time appears to be winding down and that day will come where the Evo 3d will make its appearance regardless of that day I will be front and center on day one. The Evo 3d as well as the HTC Sensation will be the best devices on the market when launched YES BETTER THAN THE GALAXY S2 ALSO. I will also be front and center on the launch day for the very close cousin of the Evo 3d at t-mobile this June 15th that will give me a chance to pass away the time of waiting for my Evo 3d and getting better acquainted with exactly how both devices work plus also play with the Gx2. Clearly both the Evo 3d and Sensation will be the best android devices for the summer of 2011 and into 2012 the best future proff devices as well. HTC/Sprint both have done there homework on innovation this is totally great for all current Evo 4G owners

Spoke to a Best Buy mobile rep tonight and was told that the Evo 3D would release on June 6th. Anyone think that holds any weight?

I don't think that's accurate @ all. But time shall tell. The end of June seems more realistic, considering all of the information leaked

In the bottom left corner of the ad... is that a red case or a some mythical red EVO 3D?

the red one in the corner is the HTC Inspire 4G for AT&T

Im looking for some input or opinions. I currently use a palm pre phone on sprint and actually like the phone but want android. I have been waiting for the evo 3d (for too long now) since my rebate maxed out at 150 in June of 2010. I know the reg evo 4g is pretty bulky compared to my pre and was wondering what people thought of the size. BUt my question for everyone is that I dont really care about the 3d part of it, I just want the faster processor (Im a computer nut that loves speed). so he is my question... does anyone know of a phone equal to the evo that has a large screen and fast processor? looking for any input.
Android Central Newsletter
Get instant access to breaking news, the hottest reviews, great deals and helpful tips
Thank you for signing up to Android Central. You will receive a verification email shortly.
There was a problem. Please refresh the page and try again.