Radio Shack EVO 3D launch party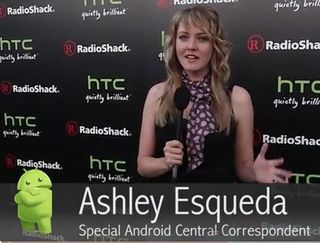 Youtube link for mobile viewing
Hi everyone, I'm Ashley Esqueda; you might know me from Twitter (@androidashley) or my show Techfoolery. In a stroke of awesome luck, Phil and the guys here at Android Central asked me to cover the Radio Shack launch party for the HTC EVO 3D in Hollywood, Calif. I'm a huge EVO fan, so I packed up my video equipment, put on a hip outfit, and headed to the green carpet!
It was a star-studded event, with celebs like "Chuck" actor Zachary Levi and socialite Paris Hilton making appearances, so it made for a fun night of merriment and technology. Black Beauty (the sweet ride featured in the Green Hornet) made an appearance to promote the 3D version of the movie and its availability on the EVO 3D, and club favorite LMFAO performed for attendees.
Overall, it was a pretty sweet event. Check it out!
EVO 3D Specs | EVO 3D Forums | EVO 3D Accessories
Android Central Newsletter
Get instant access to breaking news, the hottest reviews, great deals and helpful tips
Great piece. She should do more reporting for android central.

Good lord where did you find her?
And where have you been keeping her? As for the air-heads she interviews, well, not so much....

Hey its the actor from big time rush....lol

Great report, get her to do this more, she's awesome at it.

I got my evo 3D today and it is awesome. I love it. I highly recommend anyone who wants a fast and awesome device. The 3d is only a bonus.

I gree with you it`s awesome handset, and the camera too.I bought two Evo 3D today, I love the EVO line.

Love her she does a great job with this stuff

Android Ashley!! Love your techfoolery show, now your doing editorials on AC. Awesome.

She needs to drop the geeks she works with on her YouTube show and join permanently with AC. This kind of reporting could boost AC exposure. Kudos guys!

Is it just me or is she cute? Anyway Sprint is bringing it in terms of revolution but T Mobile brings out all in all the most phones and the most best once. I have the LG G2X the HD2 The Sensation and the hd 7. Those are all great phones and that doesn't even cover half of what T Mobile brings. Don't get me wrong i love sprint And when i had my Evo it was awesome. But T Mobile in terms of what phones to choose from has the most. We are not even gonna talk about Verizon or att. We know that said story. Anyway i gonna go to Sprint and check this sucker out. Evo is great on a great network. Enjoy ur Evo and the Evo 3D. You won't regret getting it. Peace out.

Got my Evo 4G today!! Yay! So far so good.... FAST! As I suspected, the 3D stuff makes my eyes hurt, so I will just ignore the 3D stuff and be very happy.

Evo 4G is last year tech, I agree the 3D might make your eyes hurt, but speed wise and battery life the evo 3D is much better than evo 4G

Battery life it`s better than the old Evo.

Why don't you just wait for the Galaxy S II or something equally nice instead of settling for last year's tech (no offense, but the Evo is a year old).

Well due to eye issues I have I am not able to view 3D TV/Video so I would actually be giving up a 8mp cam for the 3D capabel double 5mp cams.

guys, dunno what you're thinking, but you DEFINETLY have to hire this girl... like forever!!

Kudos! Excellent job for sure! Android Central what the @#$% are you waiting for, sign a contract!

the only person there that knew what he was talking about was kevin pereira ... which honestly, i only watched the video because i'm a fan of his and he was on the preview screen. it was kind of painful watching the other people respond.

that playboy girl is so hot

"hey yea totally...whats a EVO 3D?"

Even the Kevin guy was pathetic, who here gets excited for Sense bloat? I can't stand seeing all these people think the 3d is any good... and.. who the hell is Ashley, why couldn't Phil be there? Oh right he would just go on a frenzy stating that Sprint and T-Mobile are out to get him >:D or maybe he just doesn't live in Hollywood... that too.

"It's like a Blackberry!" ... LMAO

Well, that does it for myself and AC. From the typos, terrible writing, seemingly no proofreading, poor reviews and hands-on of devices which seem to dazzle the reviewer with only the UI. And now this. Some uninformed person that uses twitter does a job that could be handled a million times better by someone that knows about the technologies. You are pathetic, AC. And the people loving this article are just as unintelligent as the anchor. Good riddance. P.S also the best buy ads that pop open a new tab even though Ive clicked the 'x' to close it.

I brought my HTC EVO a year ago. I'm reading a lot of people are jumping from Evo to EVO 3d. I'm guessing they are paying $450 or more to do so since this phone has only been out one year and in most cases people signed two year deals to get into the EVO. Its (EVO 3d)clearly a better phone, but its not $400 plus better. I'll wait until I'm eligible for a full discount before I go phone hoping. Lets face it. The HTC EVO is not exactly chop liver.
Android Central Newsletter
Get instant access to breaking news, the hottest reviews, great deals and helpful tips
Thank you for signing up to Android Central. You will receive a verification email shortly.
There was a problem. Please refresh the page and try again.