Quick Comparison: Droid Maxx 2 versus Nexus 5X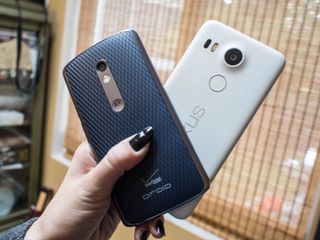 Motorola just unveiled its newest offerings of smartphones and among them is the Droid Maxx 2, with a similar size and display to the Google Nexus 5X that premiered in September. That means it's a great time to take a side by side comparison at these shiny new phones.
Both have a beautiful screen, awesome cameras, and plenty of features to catch your eye. Neither of them have been around for long, so read on to see our comparison of the newest budget-conscious offerings from Motorola and LG.
Similar Look, with design differences
The style and design implementations are fairly similar here. both opt for a traditional button placements with volume and power buttons hanging out on the side of the phone. The Maxx 2 has a textured power button so that it's easy to find by touch, without accidentally hitting the volume rocker. With that textured feel, it's really easy to find both buttons on the side and they protrude from the right side of the phone just enough. The Nexus 5X also has its plastic power and volume rocker located on the right side of the phone, just where you would expect to find them.
While these are both smaller than the superphones we see released all day, they have a strikingly different feel in your hand. The Maxx 2 is slightly larger, and feels significantly heavier in your hand. The back is ribbed, making it very easy to keep a decent grip on it. The camera is set into a panel in the middle of the back, and for anyone who had been using an LG G4 will recognize the feel of this back plate, even if there are no buttons there.
In juxtaposition the Nexus 5X is noticeably lighter in your hand, and while it's barely smaller than the Maxx 2 it has a better overall feel. The soft touch coating means that it doesn't feel slippery in your hand, and helps you to keep your grip. The camera on the Nexus 5X curves up noticeably, and placed underneath it is the fingerprint sensor so you're unlikely to accidentally touch your camera. There's a slight difference in the placement of the ports as well, since the Maxx 2 has it's headphone jack at the top of the phone, while the Nexus 5X sticks to the bottom.
Image 1 of 3
Image 2 of 3
Image 3 of 3
While these two both have a similar look, they have some larger difference when it comes to the hardware. Both have similar enough 5.5 and 5.2 inch displays, and have 2GB of RAM powering their respective processors. The Nexus 5X has a much more powerful processor making it easier to multitask with a Snapdragon 808 hexa-core over the Maxx 2's Snapdragon 615. The battery is where you'll see the biggest big difference, as the Maxx 2 is rocking a 3630 mAh battery that will keep you going far longer than the 2700 mAh that the Nexus 5X is packing.
When it comes to the camera, don't let just the specs fool you. The Maxx 2 is loaded with a 21MP rear camera that you might think would outstripe the 12.3MP on the Nexus 5X. That just isn't the case though. The Nexus 5X camera is extremely capable whether you are dealing with full daylight, lowlight, and even performs admirably in the full blanket of darkness. While the Maxx 2 can catch some incredible detail especially zooming in, it does tend to struggle a bit in low light, and there are some small problems when shooting in HDR. That means that if an awesome camera is a must have, then you should definitely keep your eye on the Nexus 5X.
Category
Droid Maxx 2
Nexus 5X
Operating System
Android 5.1.1 Lollipop
Android 6.0 Marshmallow
Display
5.5-inch 1920x1080
5.2-inch 1920x1080
Processor
Qualcomm Snapdragon 615
Adreno 405 GPU
Qualcomm Snapdragon 808 hexa-core
Adreno 418 GPU
Storage
16GB
MicroSD card slot
16GB or 32GB
Non-expandable
RAM
2GB
2GB
Rear Camera
21MP, f/2.9, OIS, phase detection auto focus, dual LED flash
12.3MP, f/2.0, laser auto focus
4K video
Front Camera
5MP
5MP, f/2.2
Battery
3630 mAh
Non-removable
2700 mAh
Non-removable
Charging
Turbo Charging
USB-C rapid charging
Dimensions
148 x 75 x 10.9 mm
147 x 72.6 x 7.9 mm
Weight
169 g
155 g
Generational differences in Software
When it comes to software, there are once again a few stark differences here. The most easily noticeable is that the Nexus 5X is running on Android 6.0, while the Maxx 2 has Android 5.1.1 and will probably remain here for a while. They each also have their own array of software offerings. The Droid Maxx 2 has Moto Display and Moto Voice with gesture functions, which all focus on contextual information to make using your phone easier. The Nexus software gets to show off Marshmallow 6.0 which means there are some slick animations, and new performance features that you won't find on phones running older software.
These are both solid phones, but with alternative features you should stick to the one that best fits your user style. Whether that means the Droid Maxx 2 with it's larger display and battery, or the Nexus 5X running Android 6.0, a more powerful processor, and a killer camera, you'll get fantastic results.
Jen is a staff writer who spends her time researching the products you didn't know you needed. She's also a fantasy novelist and has a serious Civ VI addiction. You can follow her on Twitter.
Why do you guys even bother comparing two phones if your conclusion is always going to be, "get whichever one suits your needs best, they're both fine"? Short, individual looks would make more sense, since you're not really comparing anything in terms of which is better and which is worse.

Because that sounds good. And they don't like to go out on a limb. They only wrote the article (IMO) for the sake of how popular the phones are and the more you talk about them, the more web traffic you will get. Clearly, this article was never meant to really inform anyone. If you take no sides, no one can disagree with you.

I kinda doubt anyone would cross-shop these two phones. Posted via Nexus 7 2013

Seriously. The number of 5X users that actively choose to use Verizon must be a very small percentage. These users are enthusiasts who know phones.
A Maxx user, however, is more likely just someone stumbling into Verizon store.

The 5X could have been a much nicer size if they had used a bottom facing speaker. Too bad the front facing speaker doesn't really add anything of value like was once thought. Are the speakers of the Maxx at least stereo or did they do the same thing?

The winner here is the Moto X Pure / Style.

Man, that Maxx is as chunky as I thought! 148 x 75 x 78.9-10.9mm

Ha! Well it certainly feels that thick sometimes ;)

The camera nipple on the 5X turns me off from the phone.

Oh. You guys. Stahp. Lololol Posted via the Android Central App

Nipple is not so bad actually. on a flat surface the phone does not really wobble as you type. cant say the same for phones like the ones from Moto or LG

There's a difference. You can get a Nexus 5X without a contract for use on any carrier. The Maxx 2 is bound to Verizon

Coincidentally, these are the two phones I'm looking at. If the Nexus didn't have the "nipple" and had a bigger battery it'd be a no-brainer. The Maxx has a nice screen to body ratio so isn't noticeably bigger than the Nexus so size isn't a factor. The better processor and timely updates, being unlocked have me leaning towards Nexus. I do, however, think that the the Nexus should be standard with 32GB storage so the additonal price is a bit off-putting. Any recommendations? Posted via the Android Central App

The 5x is more future proof. Yes, 16 gb sucks, but you're probably better off paying for the 32 gig 5x with the timely updates and better specs besides battery. Who knows how long Motorola will support the Maxx 2. Plus, if you ever decide to leave verizon, you don't have to buy a new phone. Nothing bad on the Maxx 2, its a fine phone, but the nexus would be a better buy IMO Posted via the Android Central App

Thanks, like the logic. How about the LG G4 vs the 5X? Seems like a good value assuming it is not heavily skinned. Posted via the Android Central App

If you're looking strictly at specs, the G4 to me is the better buy. Display, battery, microSD, and slightly better camera. However, the 5X is more future-proof OS and security-wise, while the G4 has a like-it-or-hate-it skinned OS. From my Nexus 6P or 5 via the cooler than cool Android Central App

Battery has always been an issue on nexus phones. Huawei nexus 6p is the first nexus with a decent battery.

It's is different from its. It's unbelievable. Its larger display...

Just one thing to note - on Google's website, it lists the weight of a 5X as 136g - not 155g as stated above (http://www.google.com/nexus/5x/ ). So that's over a full ounce of difference. Put another way: 1) The 5X is an ounce lighter than the Maxx 2
2) The Maxx 2 has a battery that's 930mAH larger
3) However, you can find lipstick-size chargers that weigh about 2 oz (say, 70g), that have about a 2400mAH capacity. So essentially, if you're willing to put up with about an extra ounce over the weight of the Maxx 2, you can carry a small battery pack for your 5X. You can leave it in a jacket/coat pocket when you take your phone with you.

@ JEN KARNER. For once, Will you ever have the balls and say whatever your opinion is? Saying "Buy whatever makes you happy is pointless", What's the point of this write up then?
Android Central Newsletter
Get the best of Android Central in in your inbox, every day!
Thank you for signing up to Android Central. You will receive a verification email shortly.
There was a problem. Please refresh the page and try again.