Quick car mounting with iBOLT's magDock 360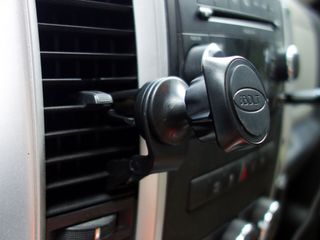 I've used my fair share of car mounts, and all of them eventually end up back in their box and packed away where they'll most likely never be used again. Things I look for in a car mount: Low profile design, no extra cables to clutter up my dash, and a secure hold that doesn't leave my phone flying when I take a sharp turn. The iBOLT magDock has surprisingly met my criteria, and is even case-friendly.
Everyone has their preference on where they want to mount their device in car — mine being one that doesn't block the air vents. It gets hot here in Florida, and nothing should stand in the way of my AC doing its job. Luckily, the magDock includes a 3M self-adhesive mounting solution as well as a vent clasp option. If you're going the vent-route, it doesn't matter whether your vents are vertical or horizontal, because the mount can rotate a complete 360°. That also means you can keep your device in portrait or landscape positions. There's a strong clip that you attach to a single vent on top, while the stabilizing arm on the bottom keeps everything in place. I used the vent mount for a few days to see it in action, and it performed great — easy to install and remove, too.
If you have the open space on your dash, you can also use the 3M adhesive mount on any relatively flat surface. I currently have mine between my stereo controls and emergency lights — leaving enough space that I can still access either if and when I need to. With this mounting method, there's even less to get in the way, and the self-adhesive that's included has proved itself strong enough to hold up to the heat inside along with my cased Galaxy S6 edge attached.
The magnet provided can be used a few different ways, depending whether or not you rock a case, and how bulky said case is. If you're going naked, you'd attach the magnet to the back of your device — admittedly not ideal unless you don't mind it always sticking around. For standard cases, place the magnet facing outwards between the back of your device and the case. This is how I'm using it with my Cover-Up Woodback Snap Case, and is great since it stays in place — sans adhesive — while between the two. Keep in mind that with the magnet behind your device, wireless charging will not work — requiring you to pop off your case each time you want to use your charging pad. Finally, if your case packs enough layers that the magnet won't hold up underneath, you'll need to adhere it directly to the back of the case.
Image 1 of 2
The verdict
The iBOLT magDock suits my needs for a standard car mounting solution without all the extra fuss other car mounts come with. If you're in a state that frowns upon windshield mounting, the magDock would also be a safe bet worth considering. While it's probably more suited for those of us with slimmer cases — without permanently attaching a magnet to the back of our device — it's still a solid car mount for $24.95.
Get the Android Central Newsletter
Instant access to breaking news, the hottest reviews, great deals and helpful tips.