Project Fi officially rebranded as 'Google Fi', now supports most Android phones and iPhones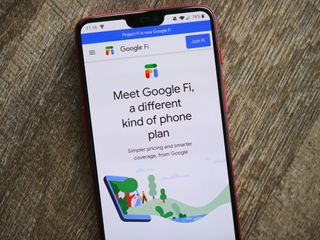 (Image credit: Android Central)
Google's Project Fi wireless service, one of the most capable phone plans around, just got a huge facelift. Gone is the Project Fi branding and in its place is a new name and new look. Ladies and gentlemen, say hello to "Google Fi."
Google Fi ditches the old yellow and green color scheme in favor of a combo of Google's iconic green, blue, red, and yellow hues and now has plenty of the fancy Google Sans font everywhere you look. The website has been completely redesigned, as has the mobile app.
As for the service itself, everything looks to be mostly unchanged. The service still starts at $20/month for unlimited calls and texts and $15/month for each additional person you add to an account. Data costs $10 per each GB that you use, but once you hit 6GB (or more if you're on a family plan), Bill Protection kicks in and you aren't charged for additional data use until your next bill.
You can buy phones that are "designed for Fi" right from the Google Fi website, including the Pixel 3 + 3 XL, Pixel 2 XL, Moto G6, LG V35, LG G7, and Moto X4 with Android One. That's nothing new, but what is is the ability to finally bring over any other Android phone and iPhones. You can use the compatibility checker to see if your handset will work, but just keep in mind that phones that aren't officially sold through Google Fi won't have access to every available feature.
You'll still get access to 4G LTE speeds, unlimited calls + texts, and no roaming fees in 170+ destinations. What you won't get, unfortunately, is the ability to switch back and forth between multiple networks, automatic connections to public Wi-Fi, Wi-Fi calling, and access to Google Fi's VPN service. If you're on an iPhone, regular SMS texting requires you to update your settings in order to work and visual voicemails won't appear in the Phone app.
It's great to see Google Fi finally expanding to so many more devices, but the heap of limitations does sour the deal quite a bit.
In celebration of all of these changes, Google Fi is offering a mix of gift cards from Airbnb, Delta Air Lines, Hotels.com, and Southwest Airlines. The dollar amount you get in gift cards is exactly what you pay for your phone, so if you buy a $799 Pixel 3, you'll get $799 in gift cards. This deal is only available for today only (November 28), so you'll need to act fast.
If you've been holding off on Project Fi/Google Fi, will the new look and bring-your-own-phone support intrigue you to give it a shot? Let us know in the comments below!
Joe Maring was a Senior Editor for Android Central between 2017 and 2021. You can reach him on Twitter at @JoeMaring1.
Would love to see Google Fi beat my current T-Mobile ONE Unlimited 55+ with 2-lines for a flat $60. I left Project Fi for this plan.

Wasn't the switching of providers the biggest sale for Project Fi?

$10 for 1GB is just way too expensive when I consider my plan on Simple Mobile that gives me at the moment 12GB for $40. (compared to 6GB for the same price without the current promotion). With all those great deals on data that the other carriers have, Google must rethink its pricing strategy in order to be a must-have.

Does simple mobile credit you back at the end of your billing cycle for the data you didn't use? That's a big selling point for Fi. Especially if you're mostly on WiFi throughout the day.

I don't need that, because I'm using at least 5GB of data each month, and with Google Fi that would mean $50 minimum without call and text. Adding the latter would be about $70 a month.

If I can't get the carrier switching with my OP6, why would I want this? Is there something I'm missing?

For a family/group of four, T-Mo's pricing easily beats Fi once total data usage exceeds about 7 GB. My family's typical total average data usage/mo (11 GB) would cost me an additional $47/mo (plus another $11+ tax for Netflix Standard, for a total of about $60/mo more) with Fi vs. TMo's ONE Plan.

Great news that Google has opened Fi up to iPhones and other Android phones as well. I've been using the service for 2 years now and it's been great. Traveling overseas and not having to worry about massive roaming charges or having to buy a local sim card has been awesome. I've also been able to call my cousin and brother who both live abroad and it only costs $0.01/min. Definitely happy I switched! If anyone is looking to sign up and wants to save $20, use this referral code:
URL: https://fi.google.com/about/?rc=EHC6VC&utm_source=Website&utm_campaign=R...
Code: EHC6VC

It's still too expensive. I logged my data usage for the last year and based upon the cost for my wife and I and what we pay for our Sprint unlimited plan, we would end up paying just little bit more for Google Fi with no worry of how much data I'm using. Though when I went back 2 years I was saving money (looks like our mobile data usage increased 25% over the last year). Not sure if that's a sign of the times or if that's us doing something differently. BRING DOWN THE UNLIMITED TO 8GB FOR 2 PEOPLE AND YOUR SUBSCRIBER BASE WILL EXPLODE
Android Central Newsletter
Get the best of Android Central in in your inbox, every day!
Thank you for signing up to Android Central. You will receive a verification email shortly.
There was a problem. Please refresh the page and try again.