Poll: What aspect of smartphone cameras do you care about most?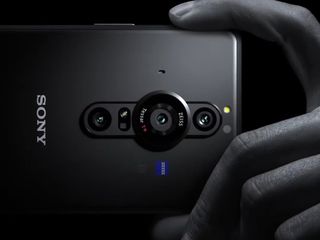 (Image credit: Sony)
Smartphone cameras have come a long way. We've gone from having one camera on every phone to multiple lenses on even the best budget Android phones. And despite what any iPhone user would say, Android phones can churn out some great images. But a lot goes into making a good camera experience on a smartphone.
In this weekend's poll, we want to know what you care about the most when it comes to your smartphone's camera.
Image quality is definitely an essential aspect of a smartphone camera. It's nice to have the ability to whip out your phone and snap a shot, knowing it'll come out good. But some people prefer to put in a little more work to get the image just right, almost like having a pocket DSLR. Many of the best Android phones have manual modes. However, Sony arguably has the most comprehensive offering thanks to phones like the Xperia Pro-I, borrowing the UI from its Alpha lineup of cameras.
One often underappreciated aspect of a smartphone camera is video capture and features. This was something that LG photos heavily on with past smartphones like the V30, and these days it's being put more into focus, with phones like the Pixel 6 enabling per-frame HDR with AI, or the iPhone 13 introducing Cinematic Mode.
Samsung seems to aim for the kitchen sink with its phones. The Galaxy S21 Ultra, for example, has multiple lenses for different focal lengths, a huge 108MP sensor, manual controls, and many different modes you can download. Whether or not that's a winning combination is entirely up to the user, but we consider the S21 Ultra one of the best Android camera phones.
Let us know in the comments what's most important to you.
Camera upgrade
(opens in new tab)
Let AI do the work
The new Pixel 6 Pro is Google's best smartphone to date, thanks to its smooth 120Hz display, powerful Tensor chip, and versatile triple camera setup that gets you really close to the action without sacrificing quality. Plus, you can shoot impressive videos with HDR.
Derrek is a long-time Nokia and LG fanboy who loves astronomy, videography, and sci-fi movies. When he's not working, he's most likely working out or smoldering at the camera.
Forgot one option……CONSISTENCY. Basically, all lenses have similar color grading profile. Consistency in shots after shots. It never have you guessing if that photo you just took will turn out OK or not.

I have zero interest in photography. I don't want to take a course in photography just to take the occasional photo. I just need a great point and shoot camera. I want the cam to do all the heavy lifting for me. The pics don't need to be world class just good and clear without effort on my part.

EXACTLY!!!!!!!!!!!!!!!!!!!!!! I agree wholeheartedly.

A good UI is as important as the image quality.
Samsung Galaxy S21 Ultra has one of the best camera solutions out there, if not the best, but the camera app is not really the best. Especially the Pro mode needs work. Sony's app is far better. I still prefer my DSLR :-)

Samsung is changing the Pro mode, substantially. You can try it all out in the Expert Raw beta app. It's a fairly limited access beta, but you can download the APK through XDA.

None, enough with the cameras. What matters to me is the screen, I hate skinny 20:9 screens. Bring back 16:9 !

Yes that's one of my pet hates on modern screens. 16x9 was way better.

I am indifferent to the camera. Back in 2010 my ZTE Blade had a poor camera. And this was noticeable.
Roll forward to 2013 and the camera on the LG G2 was great. Plenty good enough for all the crap photos I need. Every single improvement to phone cameras since then has been lost on me.

Point and shoot! Nothing more to say.

Most of the main cameras on smartphones are very wide, with 35mm equivalent lenses of 25-28mm. This introduces center distortion with any subject closer than 30 feet or so, exaggerating noses on portraits of people, for instance. So, an optical telephoto lens with a 35mm equivalent of at least 70mm is important to me. My old S20FE, and now my new S21FE, have a 76mm equivalent telephoto that makes for extremely clean portraits and closeups. Can't fix that kind of issue in Lightroom.

I usually end up with what ppl consider good cameras on phones since the only way to get the high end internals I care about, is to be coupled with those cameras. I only use camera for QR codes and occasional snapshot of a document or something to remember to buy later. Samsung should make a high end phone with a single crappy low-end camera lens and pass-on the camera savings to those of us that care about phone performance, but don't care about taking "awesome" pictures.
I wonder how much they could lower the price if they did that.
Or at least allocate the cost of that fancy camera towards other areas (storage, including a charger, RAM, ear buds, higher end materials or whatever accessories). Would never happen, but one can only dream lol.

I left Samsung because of their silly oversaturated hyped up color processing. Their reds are WAY to red. Blues are WAY to blue. Got a Pixel 4a 5G and love the natural colours. Amazing camera!

I left the Pixel hype because I got fed up with always having to lie about Google's camera chi. I am so much happier with my honest Samsung camera app.

Excellent point and shoot experience in all modes (ex, night mode, portrait mode and so on).
The usage of the camera should be and "easy peasy" experience.

Google AI... Voted other.
Android Central Newsletter
Thank you for signing up to Android Central. You will receive a verification email shortly.
There was a problem. Please refresh the page and try again.