Poll: Does the Galaxy Z Fold 3 or Z Flip 3 make you want a foldable?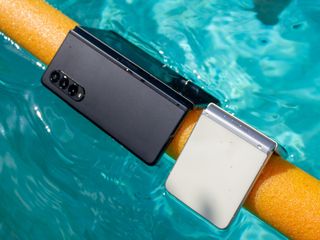 (Image credit: Nick Sutrich / Android Central)
This week, Samsung launched its latest foldable smartphones at its Galaxy Unpacked event. The Galaxy Z Fold 3 and Z Flip 3 come packed with upgrades and refinements that push Samsung's foldable efforts closer to the "mainstream." However, the company hasn't been shy about its goals to get foldables into the hands of more consumers, which is why successors to the best foldable phones are launching at lower prices.
However, we want to know if this is enough to entice you to buy a foldable or if you'd prefer to stick to more traditional smartphone slabs.
Analysts at Counterpoint Research predict that the foldable market is set to grow 3X this year compared to 2020, thanks mostly to Samsung, which could hold as much as 75% of the market until 2023. But more players are also expected to enter the foldable market within the next couple of years, making them more ubiquitous than they are now.
Right now, Samsung isn't the only company with foldable smartphones. Motorola hit the nostalgia button with the new Razr, although we may not see a follow-up this year. Huawei and Xiaomi also have their own tablet-style phones.
Meanwhile, as Google prepares for the launch of the Pixel 6 and 6 Pro, rumors have been swirling about a potential Pixel Fold in the works. Not much is known about the device, but it would further prove how serious Google is about hardware and expanding the Android ecosystem.
For the Apple fans out there, Cupertino is also rumored to be looking into the foldable space. Rumors point to the company launching its own take sometime in 2023. It's unclear if Apple will shoot for a fold-out smartphone/tablet hybrid or the smaller flip phone style, although it's more likely to be the former option.
As more foldables enter the market, they're bound to get cheaper and more mainstream, which is Samsung's goal. But is that enough to make them worth it right now?
Foldable gone mainstream
Two-in-one
The Galaxy Z Fold 3 represents the best that Samsung offers, with a more durable, refined design, a new Under Display Camera for uninterrupted viewing, and S Pen support for better productivity.
Nostalgia at its best
The flip gets even better
The new Galaxy Z Flip 3 is perfect for anyone who misses the good old days when hanging up was as dramatic as slamming your phone shut. And with the larger outer display, it's perfect for controlling music, checking messages, or taking selfies with the dual-camera setup.
Derrek is a long-time Nokia and LG fanboy who loves astronomy, videography, and sci-fi movies. When he's not working, he's most likely working out or smoldering at the camera.
I'd like the fold 3. But it's still too much for me. I can't justify it since I have the S7+

I want a Z Fold 3, but I'm not spending $1,800 for one.

Option 4 "I wish the answers to these polls were better written".

Agreed. My answer is very simple, no.

Currently no desire. They do seem to be getting better though.

Not at any price. If I wanted a tablet I'd choose something else. For a phone I just wouldn't want to carry that thing around with me.

Right now Samsmug is desperate. They're faking massive pre-orders by limiting stock. Just wait. You'll see. This is nothing new. Par for the course of all companies that realize too late that they screwed the pooch. They're just seeing the results of the S21 failure but it's simply too late to pull back...so they go forward with their brave faces to the wind only to have them pelted with hail stones. Big companies doesn't necessarily mean "smart" companies.

Yawn...all you do is complain.

I don't think the S21 series has been a failure at all, it broke records for pre-orders which is not bad for a supposed "failure".

I was torn between getting the Note 20 ultra or the Z Fold 3. Coming from the Note 9, the Z Fold 3 has a lot more potential for multitasking. The price tag did seem steep until I actually built my order. The pre-order incentives were great - $200 over the value of my Note 9, same price for the 512GB model, $100 credit for accessories so the case and s-pen and a dual charging pad were free, and they were giving out discount codes after watching the unpacked event. Plus 4 months of YouTube premium, 3 months of Spotify premium, and 6 months of SiriusXM. So all in all I got the 512gb Z Fold 3 in black, case with s-pen, charging pad, and the freebies for $1240ish before tax. And if I don't love it, I can just get a Note 20 Ultra instead.

Lol option 4 should be ... No thinks Samsung makes nothing of interest to me.

I have one on the order the $850 trade in and getting the new watch for under a $100 enticed me. I went to Best Buy and used the display unit and I am really impressed with it, it's not as big and bulky as I thought it was I compared it to my note 20 ultra it will fit in my pocket just fine. The inside screen is excellent, so the answer to the pole is yes.

The flip intrigues me, currently on a Pixel 5. But the fold seems more like a productivity unit, which is really my need. Then again, the Pixel 6 Pro seems awesome, not to mention the surface duo. So many choices 😭

I still do not like the line down the screen. Just give me the Note at 7 inches (is is not that far away as it is.. at 6.9. I am holding out for the New Note in 2022..

Agreed...that line down the middle of the screen is a definite deal breaker. I'll wait for the new Note in 2022.

The only way to get people to care about foldable phones is to wait for Apple to invent one.

🤣🤣🤣. Right? They will revolutionize the market by stating: "We've created the best Apple foldable ever seen" 🤣🤣🤣. And sheeps will fall in line. Dude, you crack me up.

Actually, Apple is the industry leader. What ever they do, the rest of the industry will follow.

More ways for Apple to spy on you...

Foldables are a pointless gimmick that only some tech nerds care about.
Besides the BASIC features they still lack (expandable storage, headphone jack, a screen that isn't made of plastic...) they don't solve any problem.
As a phone they remain oversized. As a tablet, they remain undersized.
Why would I spend thousands of Euros in something that does less than my current phone and is still an oversized, unpocketable, unusable-one-handedly device that unfolds into a tiny tablet with an aspect ratio of dubious usability?

That's what they said about the first note phones. Yet here we are :)

Usual suspects with the same ole axe to grind...😅

Not at the moment as I own a S21 ultra and Tab S7+ tablet, if the price drops low enough and decent trade ins etc arrive later in the year then maybe.

I like the look of the Z Fold 3, but I think everyone on here knows by now which foldable I'm waiting to see but in all honesty, I'm not ready for foldables yet.

I haven't updated since the S10 because it's the last phone I could get 512gb on. If the the Flip gets upgraded to 512gb I might consider it. I use my phone for my main job and a hobby job and they both require audio video and photo space. Samsung software takes great audio and video, but the file size takes up too much space. I know I can choose a more compact format HEIF, but some of my work apps don't accept that format 🤷🏽‍♂️
Android Central Newsletter
Thank you for signing up to Android Central. You will receive a verification email shortly.
There was a problem. Please refresh the page and try again.