Poll: Are you still interested in the Galaxy Watch 4 with Wear OS 3 making its way to other smartwatches?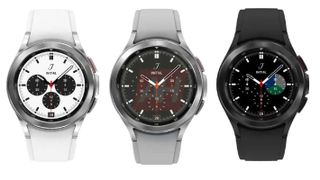 (Image credit: Android Headlines)
Wear OS 3 was in a weird state of limbo for a while, which only the upcoming Samsung Galaxy Watch 4 confirmed to be released with the upgrade. Now, Google has confirmed other smartwatches, current and upcoming, will eventually be updated as well. The last time we asked about upcoming Wear OS watches, our readers leaned toward the Galaxy Watch 4. So now we want to know if the recent Wear OS update news has changed anything.
As it stands, it seems that the Galaxy Watch 4 may be the only smartwatch with Wear OS 3 for a while, at least officially. There are rumors of a Google Pixel Watch, but nothing is official, and rumors are scarce. Fitbit has also indicated that it will launch a Wear OS device, but we don't know when it's expected.
Fossil has been a bit more forthcoming about its plans. The company currently makes some of the best Android smartwatches, but it seems none of them will be updated to the new version. Instead, the company will launch its Gen 6 devices later this year, hinting at "premium" models. However, they may not come with the new update at launch, as Google has indicated that its partners will "roll out the system update starting in mid to second half of 2022."
That goes for smartwatches like the Mobvoi TicWatch Pro 3 GPS, which is among the only current smartwatches eligible for the update. And while mid to H2 2022 sounds like a long way, Mobvoi's current smartwatches powered by the Snapdragon Wear 4100 run very smoothly and should likely see more performance and battery life gains with the new update.
It's unclear why it'll take so long to get Wear OS 3 onto other smartwatches. Still, given the more customizable nature of the update, it may give other OEMs time to adjust things to their liking while giving Samsung enough headroom for its new smartwatch. Whatever the case may be, it's good to know that you technically don't have to wait to buy a new smartwatch if you want the Wear OS 3 update.
Wear OS 3.0 confirmed
(opens in new tab)
Mobvoi TicWatch Pro 3 GPS
The best of Wear OS
Thanks to its dual-layer display, great battery life, and super-fast chipset, the Mobvoi's TicWatch Pro 3 GPS is perhaps the best Wear OS smartwatch you can buy right now. And TicWatch Pro 3 owners can rejoice knowing that the watch will receive the upcoming Wear OS 3.0 update.
Derrek is a long-time Nokia and LG fanboy who loves astronomy, videography, and sci-fi movies. When he's not working, he's most likely working out or smoldering at the camera.
I've used WearOS.
I've also used the custom software from other brands (Tizen, whatever Huawei's name it...). Never EVER was WearOS the best option. In fact, I think I'd rather use an iWatch than to have to put up with the absolute dumpster-fire that is the artist formerly known as Android Wear again. The Galaxy Watch 4 ditching Tizen for it is one of those mistakes Samsung will regret dearly. I will stick with the Galaxy Watch and when a replacement is needed, I'll look at literally anything else other than the Watch 4.

You do know this is wear os and tizen together, so it's not going to be just wear os, I personally can't wait.

Waiting for a Pixel Watch and will get an Apple Watch (only because of my sister).

Love my Ticwatch 3 Pro GPS and the fact it's life has been extended significantly just gets better. I actually hope wear os 3 doesn't lose many of the mobvoi features

As long as it uses Google services like Google pay I'll get one. If it doesn't I don't really see the point of upgrading. Also I didn't answer the poll because none of the answers were applicable.

I picked no wear os for me cause I'm gonna rock my Galaxy watch till it dies. That being said, I have always liked Wear OS, and I still have my o.g.LG watch urbane kicking around. Tizen, though it lacked for app options nailed the basics of battery life and ease of use. I am interested in what Samsung and Google come up with, but I don't wanna be the first ones to find out what's wrong with it. I will let you all convince me otherwise and maybe I will swing back for the watch 5.

So wearos 3 then, as tizen will no longer exist moving forward

My Galaxy watch three will be with me until it dies. My favourite feature is goggle maps navigation to my watch. Otherwise, counting steps and measuring heartrate... Who the heck cares?

some people don't understand my post, the Pixel Watch is the ONE that I really want not the Apple Watch, the only reason I'm getting an Apple Watch is due to a pact with my sister as she has one and wants me to get one. I can't stand Apple and only have my iPhone because of our pact nothing more, nothing less. I want to make myself clear, I only have Apple products to keep my sister Happy that's it, some idiots in here think oh I'm changing my mind again, how I feel about Apple has not changed just to be crystal clear.

Seems like alot of money to spend just cause your sister has a iPhone, and that's your only reason for owning one and buying a Apple watch, but its your money.

It is but I made a promise to her that I'd get the Apple Watch and that's the only reason I'm getting it, she has the current series 6, it's the same reason I'm keeping my iPhone because of our pact. It's the Pixel Watch I'm really holding out for but I'll have both.

Yes Iam interested in the galaxy watch 4. I'm very interested in the classic. But for me it all comes down to the price.

I hope this watch combines the best of Wear OS and Tizen... Hoping the classic version of the Galaxy Watch 4 can match the battery life of my Galaxy Watch...

Some people on here are so immature and pathetic saddos but I'll continue to ignore them, they know who they are and I hope their mother is ashamed at their pathetic attempt at bullying. But then I expect nothing less from Samsung Knights.

The main reason I'm sticking with the galaxy watch is for the rotating bezel. This really should be a standard on smartwatch, it's so much more intuitive for navigation. Having wearos on it will make the watch way more useful, with things like Google pay, keep and maps

I have a Galaxy Watch 3 and I am very intrigued by the new WearOS. I really like Tizen so I really hope they did a proper rebuild of WearOS and made it more like Tizen. The current WearOS blows compared to Tizen.

I hate to admit it but eb Apple Watch is really impressive having seen my sister's one, still not enough to make it my main Smartwatch though, the fanboys on here won't like me saying this and I don't give a ****, the Apple Watch is the benchmark on how to do a Smartwatch right, Samsung is Apple's only real rival but I'll be rooting for Google when they bring out the Pixel Watch, I know I'm biased, bite me.

I'm guessing this may be too personal, but curious what this pact is about with your sister, thanks for all your honesty and I respect all your decisions

Basically we were supposed to be all in with Apple but then I told her I didn't want to be with Apple anymore and that I was happy with my S20 FE (when we first got it), I was going to ditch Apple which I will eventually but to cut a long story short I messed her around and feel I owe it to her to stick with Apple for her sake but I've made it clear that the iPhone and Apple watch (I'm buying her current Apple watch from her) won't be my main devices and she accepts that because I'm sticking with Apple as secondary devices she's agreed to get a Pixel (my next phone) so before the end of the year we're both getting a Pixel 4a 5G. I hope that explains the situation. With that said I intend to stick with Google for my Android phones as I've always loved the Pixel software experience which is my favourite and I simply wasn't being true to myself by getting Samsung and she associates my Pixel 2 XL with what I put her through 3 years ago when I sold it to finance my drug addiction that's why she's didn't want to get a Pixel at first and the 4a 5G was my first choice over the S20 FE but I was impressed with the S20 FE and wanted to at least try Samsung.

I have a Galaxy Watch Active 2 and Apple Watch 6. Since I bought the AW6 last November I've worn it 99% of the time. The Galaxy Watch 4 doesn't interest me.

Some people are trying to bait me but I won't bite, the bully is wasting their time.

my next watch will need to be able to use google pay in case I move away from samsung phones. maybe the wear os3 will offer both google and samsung pay

Wear OS 2.29 works well for me; lag free and stable.
I don't like that Samsung gets it early and other have to wait, but I prefer a more mature release anyways.

Interested to see what's in store.

I am holding out hope for the blood glucose monitor rumor to not be such a rumor. If this isn't a feature then it'll probably be a hard pass. If it's there but not enabled in the US I will hawk xda and when unlocked I will hop on board happily. I never used Wear OS in the past but for how I use the device (Samsung pay, weather, tracking workouts, music, pedometer, and knowing what time it is) I don't think I will notice a huge difference switching from Tizen. I just hope they let us retain our faces and reintroduce the bubbles face from the release of the Galaxy Watch 3.
Android Central Newsletter
Thank you for signing up to Android Central. You will receive a verification email shortly.
There was a problem. Please refresh the page and try again.