We know which Wear OS watch our readers want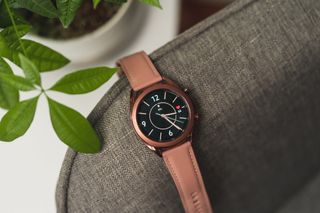 (Image credit: Hayato Huseman / Android Central)
What you need to know
We recently polled our readers about which upcoming Wear OS watch they were most excited about.
The Samsung Galaxy Watch 4 had a strong showing in first place, followed closely by the Google Pixel Watch.
Offerings by Fossil and Fitbit came in at a distant third and fourth place, respectively.
Over the weekend, we polled our readers to see which prospective Wear OS watch they were most excited about. There are already a ton of great smartwatches on the market to choose from, but ever since Google announced the major changes coming to its Wear OS platform back at its I/O developer conference a few months ago, many of you (and us too) have been chomping at the bit to get our hands on the exciting new hardware that will run this slick new software.
Out of over 500 respondents, almost 50% said they'd opt to pick up a Samsung Galaxy Watch 4. Just over a third said they're looking forward to the first Google Pixel Watch, while slightly over 10% said they would get the next-generation Fossil Wear OS device. Interestingly, fewer than 10% said they'd want a Fitbit Wear OS watch. This is perhaps because there is still some confusion about whether or not there will even be a Google Pixel Watch or if the next Fitbit smartwatch will be the Pixel Watch.
A possible Pixel Watch is exciting, but most folks said they'd trust Samsung to handle the hardware.
Reader beno51079, who is firmly on team Google, told us that "The Pixel Watch is the one I'm looking to get for the new and revamped Wear OS platform to go with my Pixel 4a 5G as I feel that Google has the clout to really challenge Apple in the ecosystem front..."
However, Starfleet Captain echoed the majority sentiment when they said they'd pick "the Samsung watch for 2 reasons: 1) that rotating bezel, and 2) looking forward to seeing what that new 5nm chip can do."
Our poll is now closed, but we'd still love to hear what you think. If you didn't get a chance to comment before, go ahead and let us know in the comments which Wear OS watch you'd want to get.
Jeramy is proud to help *Keep Austin Weird* and loves hiking in the hill country of central Texas with a breakfast taco in each hand. When he's not writing about smart home gadgets and wearables, he's defending his relationship with his smart voice assistants to his family. You can follow him on Twitter at @jeramyutgw.
"I feel that Google has the clout to really challenge Apple in the ecosystem front" AHAHAHAHAHAHAHAHAH Dream on, mate.
Google is an advertising company and their hardware efforts have been nothing but flop after flop. Because their software is garbage and so is their hardware. Google couldn't design good devices if their lives depended on it.

Google has already built a pretty widespread ecosystem. Consider the number of people that use Chromebooks now. The pandemic increased their popularity a great deal. They pretty much already control the internet. And Google's document apps are a very popular alternative to Microsoft. ChromeOS + ANDROID OS + cloud services = a pretty strong ecosystem to me. Sure, they screw up a lot. And they tend to waste potential by spreading themselves too thin. But they hit a lot of home runs too, or they wouldn't be in the position they're in within the marketplace.

The Pixel a series has been pretty successful so their hardware hasn't been a total "flop after flop" and their software is not "garbage" in my eyes but everyone's entitled to their opinion. And their ecosystem does not rely solely on hardware, three is their services as well which I mostly use as well.

Ironically when you said "garbage" I assumed you were talking about Apple.

Will be reserving judgement until we know what battery life will be like... If battery life matches my first generation Galaxy Watch then I will be upgrading the the Galaxy Watch 4 classic... Just got to have that rotating bezel...

I recently bought the ticwatch pro 3 gps with the snapdragon 4100 chip. I'm hoping that I didn't buy too soon as it's been slated to get the new Wear OS software. At least that's what I read.
Android Central Newsletter
Thank you for signing up to Android Central. You will receive a verification email shortly.
There was a problem. Please refresh the page and try again.