Pokémon Go will soon get sponsored PokéStops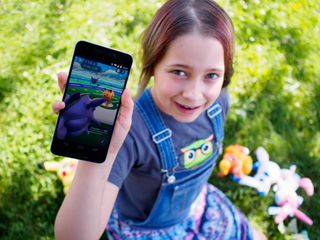 Pokémon Go players may soon find supply runs to local PokéStops sponsored by real-world companies. Developer Niantic will be bringing sponsored PokéStops to the game at some point down the road, a new way for the game to make money outside of the in-game items it already sells.
From The New York Times:
Given how well Pokémon Go has done in its first week, it's likely that a number of companies will sign up to have their retail locations turned into PokéStops, hoping to get a piece of that success.
Yes first think about how to monetize the app, then when your user base is disappeared, think about how to improve the playability of the game.

It is possible to do both at the same time... Posted via the Android Central App

Holy hell! Let's see how many Pokemon articles for today we get... S7 edge...Soon to be Note 7 edge

Eh this kinda sucks. I'm sure people are spending plenty on lucky eggs and lures.

They do this in Ingress, makes sense to do it in Pokémon also. Posted via the Android Central App

I think this will hasten the end of its mega popularity. Not right away of course, but if lots of stops are at places where people are expecting you to buy their wares, its rather less fun for the players. I would urge them to go easy on this Posted via the Android Central App

Can any one recommend a site with up to the minute pokemon news? This place cant seem to keep up. Posted via the Android Central App

Very funny Posted via the Pokémon Central App

The thing is, once the Pokémon fad ends, you've still lost your regulars forever. At the very least, you've lost a lot of your reputation. But they don't seem to care about that. Posted via the Android Central App from my S7 edge

"But they don't seem to care about that."

Mostly because it's never been proven to happen. While I personally can't stand pokemon it's the masses driving this product, not the regulars who are always the one percenters. Loud, vocal, but always in the minority. The regulars don't sustain anyone on any site.

The negative comments are getting as annoying as the overload of pokemon articles. At least some of the articles are a little interesting and useful for a lot of people, while the negative comments don't add anything useful at all. I understand a crap-ton of pokemon articles on an Android site is out of the norm and they may be overdoing it, but is it so hard to not open a link if it's not of interest to you?? Posted via the Android Central App

So when your not happy with a service a product a meal ect... You just shut up and keep it to your self?? ;) Posted via the Android Central App

On the contrary, I come here JUST to read the comments. Posted from my Galaxy S6 while playing Pokémon

The negative comments about the negative comments are getting annoying....and so on and so on

Keep preaching. Posted via the Android Central App

Enough with the ******* Pokemon articles!!!!!! Posted via the Android Central App

Yet you clicked on the blog post and commented.

So did you, what's your point? Posted via the Pokémon Central App

I think the suggestion is to skip stuff you don't like - but I think people are having problems finding the stuff they want to read in the sea of pokemons. Luckily for everyone, this will die down soon.

Wow. This recently became the Pokémon site. Can they get their own site please? It's bad enough that they have taken over my Facebook feed. Posted via the Android Central App

Interesting point... there are many more Pokemon Go players than HTC 10 owners. Both in the wild and on our site.

LMAO Posted via the Pokemon Central App

Very smart. Love the idea, actually. Helps shift some of the costs, drives local business, everyone wins.

WELL when this occurs I will not play anymore. Maybe improve the game, and add features. #TeamFrosty Nexus 6P

Too many Pokemon go articles Posted via the Android Central App

That's one of the first things that came to mind. No wonder Nintendo stock rose. This game has potential as a huge monetizing engine. Genius!
Android Central Newsletter
Get the best of Android Central in in your inbox, every day!
Thank you for signing up to Android Central. You will receive a verification email shortly.
There was a problem. Please refresh the page and try again.