Plex is releasing its redesigned UNO UI across all TV platforms this week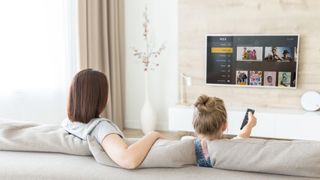 What you need to know
Plex will begin rolling out its new "UNO" user-interface across all TV platforms this week.
The streamlined UI is now available on the Plex Web app as well and is slated to be available on iOS and Android soon.
It was first rolled out for Roku users and as a beta for Apple TV in April.
Plex had announced its new big-screen interface in April this year. Initially, the new UI was rolled out to Roku users and as a beta for Apple TV. Internally codenamed "UNO", the new UI has now been released for the Plex Web app and will be rolling out across all TV platforms this week. It will be available on iOS as well very soon but it will take slightly longer to arrive on Android.
Here's how Plex explained its new "UNO" interface in a blog post:
Image 1 of 5
Image 2 of 5
Image 3 of 5
Image 4 of 5
Image 5 of 5
One of the key highlights of the new interface is that it happens to be highly customizable. In case you aren't happy with the experience Plex builds for you, UNO lets you rearrange sources, add or remove rows from the screen, and even hide sources. A new sidebar is included as well, which makes it easier to choose which source you wish to view, especially if you have access to several sources. You can even move a source up or down in the list depending on your preference.
Plex: Everything you need to know!
This is pretty outdated information. UNO for android tv was released weeks ago. Further, its NOT being released across all TV platforms. Tivo and older HTML5 based Samsung TVs are not being updated. They are at least a year out of date at the moment.

Feels like a big backwards step especially on Android TV, the sidebar and customisation bars waste a lot of screen space. For the most part, I just want it to work, not have to faff around setting up every single device, the old interface was similar on most platforms and made it accessible for nontechnical users, the customisation options now change that.
I for one detest the new interface and am assessing new options.
Any recommendations?

For some reason they've only publicly announced it today despite releasing it a week or so ago. I was totally confused when I first accessed it as I wasn't expecting it and by default it didn't have anything showing. Pretty clunky to customise and move things round, TBH I'm not impressed at all. Plex on my Sony Android TV worked fine before.

PS it also appears that Plex are also not approving negative comments in their blog post 🙄

Yup, I asked yesterday if they had a fix in the near future for their showstopper broken TV timeshifting, Never showed up. Their forums are howling with irate Plex Pass users who have had to switch to Emby so their wives don't divorce them. In other news, if you ever wanna get rid of the ol' lady, simply interfere with her TV habits. :-)

I've had this for at least a week on my LG TV and I hate it.
It's clunky and takes much longer to navigate.
Android Central Newsletter
Get the best of Android Central in in your inbox, every day!
Thank you for signing up to Android Central. You will receive a verification email shortly.
There was a problem. Please refresh the page and try again.