The Pixelbook Go makes me wish Google would release a Pixelbook 2 already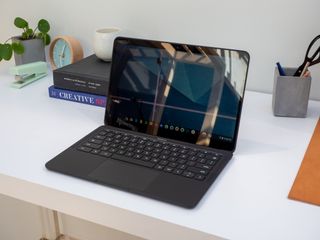 (Image credit: Android Central)
As with years past, the 2019 Made by Google hardware event was filled with announcement after announcement. The Pixel 4 was the star of the show, but Google also introduced us to its truly wireless Pixel Buds, a new Nest Mini speaker, Nest Wifi, and the Pixelbook Go.
The Pixelbook Go isn't something I was especially looking forward to, but after seeing Google unveil it and reading through our hands-on impressions, I have to admit that it seems like a darn-good machine. Google's attention-to-detail for its hardware is unmatched, the specs are more than capable for day-to-day tasks, and for someone that just wants a basic Chromebook for working on the go, the Pixelbook Go looks to be a perfect companion.
That's all fine and dandy, but the more I look at the Pixelbook Go, the more it makes me wish Google had used this year to also release a Pixelbook 2.
Google launched the Pixelbook back in 2017 alongside the Pixel 2, and it was incredible. The hardware was top-notch, it had an outstanding display, and the 2-in-1 form factor paired with the Pixelbook Pen allowed the Pixelbook to exist as a makeshift tablet with Android apps whenever you wanted it. Sure, it was expensive, but it was hands-down the best Chromebook you could buy.
Image 1 of 4
Over those two years, however, the Pixelbook is definitely showing signs of its old age. The bezels surrounding the display are hilariously big by 2019 standards, the lack of a fingerprint sensor or face unlock is no longer acceptable, and we're still being asked to spend at least $900 for a two-year-old Intel processor.
Even more annoying is the fact that the Pixelbook Go is being sold alongside the OG Pixelbook. Google wants the two products to co-exist, but when the flagship offering has two years senior over the "lower-end" model, it's an odd product lineup.
There's a lot that goes into making a laptop, and it does seem like Google really took its time with the Pixelbook Go to craft something that users will thoroughly enjoy. However, the Pixelbook was already so well-done that it wouldn't have taken much to push out an updated gen-two. Slim the bezels down, add some sort of biometric authentication, update the internals, and you're good to go.
I know that's grossly over-simplifying things, but the fact is that the Pixelbook has an incredibly strong foundation. It wouldn't take much for Google to revamp it to be a more sensible purchase in 2019, but for whatever reason, that didn't happen.
Google's want to appeal to the mid-range market is perfectly reasonable, but especially in a year where Microsoft is aiming to dominate the market with the Surface Laptop 3, Surface Pro 7, and Surface Pro X, not offering a new flagship laptop alongside the Pixelbook Go is dumbfounding.
2020 has to be the year of the Pixelbook 2, but as far as missed opportunities go, this is a pretty big one if you ask me.
Pixelbook Go hands-on: The back to basics Chromebook you've been waiting for Google to make
Premium mid-ranger
Google's take on a mid-range Chromebook has arrived.
The Pixelbook Go is the most affordable Chrome OS machine Google's ever released, and while it's still not "cheap," it offers a compelling package for the price range. You get 12 hours of battery life, a unique textured bottom, and a 13.3-inch display that goes up to 4K.
Get the Android Central Newsletter
Instant access to breaking news, the hottest reviews, great deals and helpful tips.
Joe Maring was a Senior Editor for Android Central between 2017 and 2021. You can reach him on Twitter at @JoeMaring1.