Pixel Buds updated with gestures for skipping tracks and power controls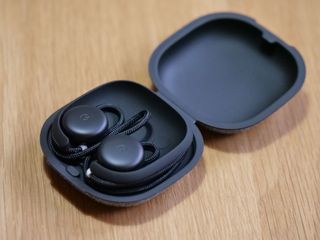 Google's Pixel Buds may not be as elegant or seamless as AirPods, but they're a solid first attempt and have us excited for what we'll see with version two later this year. Before that, however, Google's updating the current model with three highly-requested features that are rolling out to users now.
The first new addition is the ability to manually turn Pixel Buds on/off with a triple tap on the right earbud. Triple-tapping while the Pixel Buds are on will shut them off, and doing the same gesture while they're off will boot them up.
Also new is the ability to double-tap on the right earbud to skip the song you're listening to. This double-tap gesture currently prompts your notifications to be read aloud, but you can switch this to skip songs via your Pixel Buds' settings in the Google Assistant app on your phone.
Last but certainly not least, Google's making it much easier to switch the Pixel Buds back and forth between devices it's already been paired with. Following this update, you can simply select the Pixel Buds from the Bluetooth menu on a paired device to have them disconnect from whatever else they're connected to.
This is how most all Bluetooth devices work, but for whatever reason, Google didn't have this in place with Pixel Buds. I'm still not sure why a system like this wasn't available from Day One, but in any case, it's here now.
See at Best Buy (opens in new tab)
Joe Maring was a Senior Editor for Android Central between 2017 and 2021. You can reach him on Twitter at @JoeMaring1.
Really basic stuff that should have been in order from launch. Some of the things Google does just baffles me. I guess I like it though. I keep coming back. Does anyone have these buds, and would you recommend them? I have the Bose Soundsport Frees and I really don't like the fully wireless thing.

I did have them but they weren't full featured enough for me to justify keeping them. I would recommend waiting for what might be a better Buds 2 product.

Go with Airpods. I love them even though they don't do anything special. Can't beat the minimalist nature or comfort.

Thanks for the reply, I might just wait for the buds 2. Unfortunately, I am one of only 7 human beings who can't wear airpods. They cause me extreme discomfort and pain after a couple wears. I tried them though and would have been ok if my ears cooperated.

I've had my Pixel Buds since early December of last year. I have many different types of headphones and earbuds for many different use cases, but I didn't have any that allowed outside noise in. I ignored all the bad press and got them anyway to pair with my Pixel 2 XL. IMO they sound great, they're comfortable, have decent battery life, and as you can see by this article, features can be added with software updates. I've had no issues with mine.

Still not worth it. Really a very poor product. Not worth even half the price.

How is it a poor product? I see many positive reviews on this item.

I love mine. Don't understand the hate people give them. They do everything as advertised. The carrying case is a little awkward sometimes, bu that's the extent of it.

I'm with ActualMichael, I've had mine for 6 months and they've been great with my Pixel 2 XL. Carrying/charging case could be made a bit better, but they connect and work flawlessly every time I want to use them. I've used them at home, in the office, and at the gym. Definitely feel like I got my money's worth.

Yeasssss! "Gugo" bring them on gestures 🐴

If they looked like the Earpods I'd be interested in the Pixel buds but these are the only Google and Pixel products that I have no interest in, as they look kinda meh
Android Central Newsletter
Get the best of Android Central in in your inbox, every day!
Thank you for signing up to Android Central. You will receive a verification email shortly.
There was a problem. Please refresh the page and try again.