Pixel 4 and 4 XL have already been discontinued by Google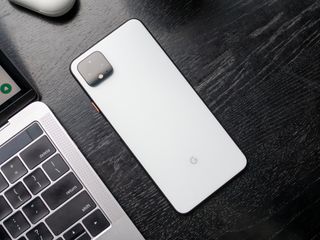 (Image credit: Andrew Martonik / Android Central)
What you need to know
Google has reportedly discontinued its flagship Pixel 4 and 4 XL phones.
The two phones are now out of stock in Google's U.S. store, although some variants are still available in select markets.
This is the first time that Google has discontinued a Pixel phone less than a year after its unveiling.
Just days after unveiling the Pixel 4a and confirming the existence of the Pixel 5 and Pixel 4a 5G, Google has discontinued its Pixel 4 series phones. Both the Pixel 4 and Pixel 4 XL are no longer available to purchase in Google's store in the U.S.
In a statement sent to The Verge, a Google spokesperson said:
What is particularly unusual is that the Pixel 4 and Pixel 4 XL have been discontinued by Google just less than a year after their launch. Both phones were announced at Google's 2019 'Made by Google' event on October 15. As noted by The Verge, both the Pixel 2 and Pixel 3 series phones were discontinued roughly 18 months after their unveiling. They were also discontinued after their successors had been launched.
Google's next flagship phone, the Pixel 5, won't arrive until October. Alongside the Pixel 5, the company will also launch the Pixel 4a 5G, which is expected to have a larger display and a more powerful chipset compared to the 4G-only Pixel 4a.
Android Central Newsletter
Get instant access to breaking news, the hottest reviews, great deals and helpful tips
I wonder if they purposely had less stock and the pandemic only accelerated the sell out

I doubt they were selling well. Who in the right mind would buy a Pixel - let's face it, a poor phone in many respects - whilst OnePlus' (and some others) are at half the price.
I have owned almost every Nexus and Pixel phone. Though not a bad phone, Pixel 4 has help convince me that maybe it's a good time to try OnePlus.

Go ahead and give them a try, but I bet you wont be happy.
OnePlus has lots of hardware issues. Its highly annoying to see so many tech sites and reviewers push this brand like its the best thing out there. They get a phone for a week or two then hype it up.

I was all excited to try the OnePlus 7 pro, hated it. Battery life is terrible.

They sold through all 50 of their stock for this phone. Good riddance.

I guess I don't understand the hate from people who probably didn't even buy this phone and have no real idea of how it works day to day. I bought this phone at lunch Yes I probably paid too much for it All things considered but it has been a very solid performer and I'm pleased overall with its offering. And will probably buy the Pixel 6 at launch as well.

Probably for the best that they discontinued the Pixel series and the should cancel the flagship Pixel series permanently as the Pixel 4 series was garbage not just against it's Android competitors but, especially against the iPhone 11 Pro Max.
Android Central Newsletter
Get instant access to breaking news, the hottest reviews, great deals and helpful tips
Thank you for signing up to Android Central. You will receive a verification email shortly.
There was a problem. Please refresh the page and try again.