Pixel 2 live wallpapers are now available to download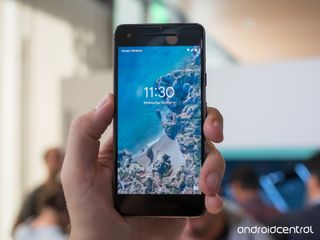 Google's Pixel 2 is shaping up to be one of the year's best phones, and while the non-XL model might not have the most attractive hardware, both variants will ship with some of the best Android software around. One of the many features shown off at the October 4 announcement event was the Pixel 2's updated live wallpapers, and thanks to a developer by the name of Pranav Pandey, you can now download these on any Android phone running 6.0 Marshmallow or above.
Last year's Pixel introduced "live earth" wallpapers that moved with your home screen to create for some added depth, and the Pixel 2's "live wallpapers" take things a step further by introducing even more moving and interactive parts. One wallpaper shows Lagos, Portugal with crashing waves on a rocky shore, while another showcases hot air balloons flying over Monument Valley, Utah.
There are also Glimmer wallpapers that brighten up when touching your home screen, Gooey ones with virtual goo that responds and reshapes itself based on your taps and swipes, and even real-time views of Mars and the Moon.
If it seems like a lot of Pixel 2 features have been ported over to other phones recently, that's because they have been. Static Pixel 2 wallpapers were made available to download prior to these live ones, and along with that, the Pixel 2's launcher and camera app were released as well.
The Pixel 2 is an expensive phone, and while these apps and wallpapers won't give you the exact same experience found on Google's latest and greatest, they sure can get you close.
You can download the Pixel 2 live wallpapers here.
Joe Maring was a Senior Editor for Android Central between 2017 and 2021. You can reach him on Twitter at @JoeMaring1.
Using the new Pixel 2 Launcher on an ATT Samsung Galaxy S7 Edge....downloaded and installed this. Have no idea how to select or bring up any of these. They don't show up in the "Wallpapers" app from Google that I get by long pressing the home screen......

I skipped the Pixel 2 launcher app so my process is different. Long-pressing the desktop brings up Samsung's theme app on my own phone. Download and install Google's Wallpapers app instead (via Play Store) and you should see a section for live wallpapers. These ones you installed via the apk should be there. Hope it works for you...

They show up for me and the Google wallpaper app look in live wallpapers.

Work fine on my pixel XL. I am using the waves. Very cool looking! I need a vaca!

I'm running Action Launcher and I downloaded the APK above before noticing that they're on Google wallpapers already. But when I long click on my desktop and click on Wallpapers, I get a msg that Action Launcher has stopped or is restarting. How do I uninstall this APK file?

Do these wallpapers drain much more battery then still wallpapers?

I have had one on all day, I haven't seen anything difference.

Uninstalled, crashing my OnePlus 5.

Uninstalled and reinstalled and it works fine.

How did you uninstall it?

I installed them on my Moto Z Play and it slows down response time on scrolling and tapping. This happens on every launcher I use. Uninstalling.

Installed this on my Huawei P8 Lite 2017 and it actually improved the performance of my phone.

Is it just me or are these wallpapers killing the battery? Same happened last year with the Pixel wallpapers. I usually have pretty good battery with Mate 9 Pro, but when installing these live wallpapers my overnight battery drain is close to 20%

I'm David who is a part of the mobile app promotion company BuyAppRatings. I suggest to visit our site and we will help you make your marketing better.
Android Central Newsletter
Get the best of Android Central in in your inbox, every day!
Thank you for signing up to Android Central. You will receive a verification email shortly.
There was a problem. Please refresh the page and try again.