The Pixel Fold and Pixel Tablet aren't launching in India, and I'm pissed
Hey Google, why can't we have nice things?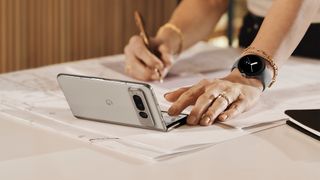 (Image credit: Google)
Google just unveiled its latest hardware products, and the Pixel 7a builds on the strengths of its predecessor and is in contention for one of the best mid-range phones of the year. The Pixel Tablet is also intriguing, and the ability to dock it and use the tablet as a smart home control hub makes it that much more alluring for my own use case.
But the device that caught my attention the most was the Pixel Fold. Google finally launched its foldable device, and it looks amazing — it has the hardware and the design to go up against the Galaxy Z Fold 4. There's only one problem: the Pixel Fold isn't coming to India. In fact, it's only launching in the U.S., U.K., Germany, and Japan, and that is a letdown considering what's on offer. Similarly, Google has stated that it will not bring the Pixel Tablet to India, with the Pixel 7a the only launch on the cards for this cycle.
I don't understand Google's thinking here; the brand said last year that it wants to be taken seriously as a hardware player, but that's hard to do when its products are available in just a few countries. Google's hardware efforts have started to gain momentum over the last 18 months — mostly on the back of the Pixel 6a and Pixel 7 series — but the biggest issue is that these devices are still only sold in a dozen countries.
It's understandable that Google is being cautious about what markets it launches its products in — it doesn't want to overcommit and underdeliver — so it's being strategic and bringing devices to countries where it thinks it has the best potential for sales. That said, Google has been making hardware for nearly a decade now, and it needs to figure out a more coherent strategy.
A lot of friends and family members bought the Pixel 6a and Pixel 7 Pro on my recommendation last year, and when they wanted to pick up a smartwatch, I had to suggest the Galaxy Watch 5 because in its infinite wisdom, Google decided to not launch the Pixel Watch in India.
This piecemeal approach is definitely hurting the perception of Google as a major hardware brand, and it's annoying to see that it doesn't sell all of its products in all regions where it has a presence. I can't think of any other brand that does this; Samsung has the same portfolio of devices for sale globally, as does Apple. While Xiaomi and OPPO tend to limit a few flagships to China, an overwhelming majority of their products are launched globally, and that's just not the case with Google.
One of the factors affecting Google's decision to launch the Pixel Fold and Pixel Tablet in India could be local duties. Google doesn't have local manufacturing facilities in India, so the devices it sells in the country attract hefty import duties that are passed on to consumers. With the Pixel Fold coming in at $1,799 in the U.S., it would be sold at a significant premium in India. But Google cannot use this excuse as a crutch and limit what it brings to India, as that would significantly limit its presence as a hardware brand in the country.
While India is a value-conscious market, that doesn't really come into the equation for halo products like the Pixel Fold. I see a lot of Galaxy Z Fold and iPhone 14 Pro Max devices in the wild, and these cost anywhere between $200 to $500 more than their U.S. siblings. Google needs to show that it cares about India when it comes to its hardware efforts, and up to this point, it hasn't done that at all.
And even if duties were the excuse for not bringing the Pixel Fold to India, that doesn't explain why the Pixel Watch didn't launch in the subcontinent last year, and why the Pixel Tablet isn't being introduced this time around. These two products have the potential to sell in decent numbers in India, and it's frustrating to see that Google isn't offering them in the country.
More than anything else, this lackadaisical attitude towards launching products makes it hard to recommend Google's hardware. I'm not even going to talk about Google's smart home efforts in India, as they're nonexistent — other than the Nest Hub, the brand hasn't bothered to launch any of its Nest-branded devices in the country.
At a time when other brands are bringing their flagships to India and focusing more on the region, Google is content to just ply the bare minimum of hardware. The Pixel 6a sold remarkably well in India, and I have no doubt that the Pixel 7a will do the same, but this attitude of launching only a few products in the country combined with Google's history — it didn't bother launching the Pixel 4, 5, and 6 in India — means I won't be recommending its products as freely as before.
This isn't the first time Google has done something like this. The brand's fledgling efforts with the initial wave of Android One devices failed to take off, and it tried to course-correct a few years later and launched the second wave of Android One devices, this time collaborating with the likes of Xiaomi and Nokia.
And while Nokia still continues to release phones running Android One, it's safe to say that Google failed with Android One. Then there's the story of Pixel hardware; I was excited when Google started selling the Pixel series in India, and was keen to see the brand bring all of its ecosystem products to the region.
Things were good until the Pixel 3 series, but Google encountered its first hurdle with the Pixel 4; the Soli face unlock tech that was used in the device wouldn't work in India because of local restrictions around frequency use, so Google decided to not launch the device at all. I figured that was an anomaly and things would get back to normal with the Pixel 5, but the device never showed up in India, and neither did the Pixel 6 — Google didn't share any coherent reason as to why that was the case.
Remember how I said I recommended Pixels widely? Well, when those friends and family members eventually wanted to upgrade their phones, I had to tell them to switch to Samsung because Google wasn't in the business of selling phones in India anymore. Then the brand announced it would release the Pixel 7 series in the country, and I was once again excited — I thought Google had realized its mistake, and it would take the country seriously when it came to its hardware efforts.
I was wrong. The Pixel Watch never showed up in India, and now Google isn't bringing its marquee devices — the Pixel Fold and Pixel Tablet — to the country. Every time I got excited about Google's hardware efforts in India, the brand found a way to let me down, and ultimately made me look the fool.
So the next time when someone asks me for a phone recommendation, I'll do what I should have always done and ask them to pick up the current Samsung flagship. It's clear to me that Google doesn't think of India as a market that deserves its best devices, so I'm going to do the same and suggest other brands that actually care about the region.
Get the Android Central Newsletter
Instant access to breaking news, the hottest reviews, great deals and helpful tips.
Harish Jonnalagadda is a Senior Editor overseeing Asia at Android Central. He leads the site's coverage of Chinese phone brands, contributing to reviews, features, and buying guides. He also writes about storage servers, audio products, and the semiconductor industry. Contact him on Twitter at @chunkynerd.