The Outer Worlds gets field of view slider and other tweaks on consoles soon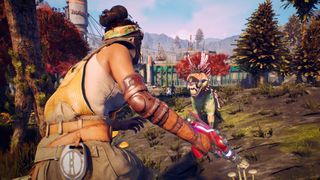 (Image credit: Private Division)
What you need to know
The Outer Worlds is a first-person adventure game from Obsidian Entertainment.
The title is also available on PlayStation 4 due to past publishing agreements.
The developer is going to issue a patch next week which brings a Field of View option to consoles.
The Outer Worlds is an upcoming first-person role-playing game (RPG) from Obsidian Entertainment. Despite the fact that the team is now a part of Xbox Game Studios, this game is available on PlayStation 4 — and will be coming to Nintendo Switch down the line.
Just like any game, it has a number of odd bugs on consoles and PC. Luckily, a patch is in the works which should be available next week, maybe Monday or Tuesday. The team said the following on the Obsidian forums.
You can take a look at the important changes below. The biggest addition has to be the Field of View setting on Xbox One and PlayStation 4.
Updated the Large Text Mode setting to apply to Examinables.
Added Chromatic Aberration setting to all platforms.
Added Controller Aiming Sensitivity setting to all platforms.
Added Head Bobbing setting to all platforms.
Added Field of View setting to Xbox One and PlayStation 4.
Fixed weapons unholstering when interacting with the environment.
Fixed additional cases of companion quests being marked as Botched incorrectly.
Fixed audio cutting out when scrolling on the map.
Added a notification for when companions gain Perks from quests.
Fixed companions calling the player's attacks ineffective even if they were dealing damage.
Fixed the Prismatic Hammer not benefiting from several melee Skills and Perks.
Fixed the Prismatic Hammer not benefiting from Critical Hits.
Increased damage of Handguns.
Fixed Dr. Chartrand attacking the player after she agrees to help them.
Fixed the Look Up and Look Down keybindings being swapped.
Added Foliage graphics setting to PC.
Added Enable Cinematic Kill Camera setting.
Updated Vendor interface to show carry weight and encumbrance limit.
Updated item tooltips to better indicate Pristine items.
Added item sorting options to the Companion and Workbench screens.
Added SuperNova survival meters to the Consumables screen.
What did you think of The Outer Worlds? Let us know. We can't wait to get our hands on the update to check out how far the field of view can be changed.
In Windows Central's review, Jez Corden wrote, "The Outer Worlds is a tremendous RPG that feels like the culmination of Obsidian's efforts with similar franchises over the years. As a fan of classic Bioware and Bethesda RPGs, The Outer Worlds not only scratches the itch, but exceeds the legacy of the titles it draws inspiration from in some ways."
Galactic exploration
(opens in new tab)
New adventures and horizons
The Outer Worlds is looking to be Obsidian Entertainment at its best, a tightly-focused role-playing game where your choices matter. Will it make good on that promise? Only time will tell, but it looks damn good so far.
Android Central Newsletter
Get the best of Android Central in in your inbox, every day!
Thank you for signing up to Android Central. You will receive a verification email shortly.
There was a problem. Please refresh the page and try again.