This is what the OnePlus 6 could look like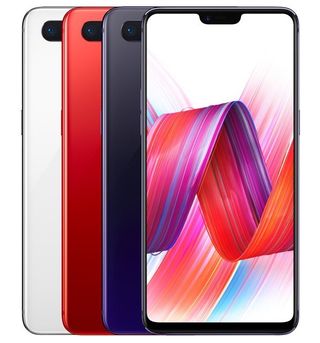 Earlier this month, we revealed that the OnePlus 6 will offer a 19:9 notched display. With the OPPO R15 now official, we have a clearer idea of what the OnePlus 6 will look like, as both devices are expected to share the same design aesthetic.
That was the case last year, with the OPPO R11 sharing its design language with the OnePlus 5. OPPO and OnePlus are sister companies controlled by China's BBK Electronics, and seeing as how the former doesn't have a presence outside Asian markets, it makes sense from an R&D standpoint to share resources.
Therefore, with the R15 sporting a notch akin to that of the iPhone X, it's a high possibility that the OnePlus 6 will follow suit. As for the device itself, the R15 features a 6.28-inch OLED panel with a 19:9 FHD+ resolution and 90% screen-to-body ratio, and the device is powered by a 12nm MediaTek Helio P60. OPPO has also launched a Dream Mirror Edition variant with a ceramic body that's powered by the Snapdragon 660.
Both variants come with 6GB of RAM and 128GB of storage, along with a 20MP front camera, 3450mAh battery, and Android 8.1 Oreo out of the box. The standard R15 has a dual 12MP + 5MP camera configuration at the back, with the Dream Mirror Edition offering a 16MP + 20MP setup.
The standard R15 will go on sale from April 1 for ¥2,999, which comes out to $475. The Dream Mirror Edition, meanwhile, will cost ¥3,499 ($550). What do you guys think of the possibility of a notch on the OnePlus 6?
OnePlus 6: All the rumors in one place
Android Central Newsletter
Get instant access to breaking news, the hottest reviews, great deals and helpful tips
Harish Jonnalagadda is a Senior Editor overseeing Asia at Android Central. He leads the site's coverage of Chinese phone brands, contributing to reviews, features, and buying guides. He also writes about storage servers, audio products, and the semiconductor industry. Contact him on Twitter at @chunkynerd.
Wow another inspired iPhone X clone with the notch and iphone 7 /8 Plus inspired dual camera design. And why have a "notch" if you still have a bottom bezel on the bottom? Oh yeah, just want to cash in on the notch design hype!

Huawei were doing the dual cameras and Portrait Mode way before Apple LG were doing Dual Cameras probably even earlier

I know that. But, let's be realistic no one was really adding them until Apple popularized with their debute on the iPhone 7 Plus. I meant how all of them were doing separate cameras until Apple added their dual cameras but housed them in one design. Now almost everyone is doing that look. Just like now with the iPhone X vertical camera that looks like a terrific light you already have a few of them doing the same design.

Well bec it's so obvious and ridiculous how some companies can't be original and try to mimic another products look /design so badly. Especially if one manufacturer changes it's design another has to follow? What they can't have their own sense of direction?

and you just know as soon as all the android flagships have the notch, apple will drop it and send them all scrambling to get rid if it. i think both samsung and lg did a nice job in 2017 having a very small chin and forehead bezel. really donnot need the notch as long as the top and bottom bezels are small like on the current sammy and lg phones.

Completely agree with your take on the minimum bezels of Samsung and LG. Why have a stupid notch in the display when you can have symmetry with smallish bezels top and bottom? More grateful for my excellent LG6 everyday.

Are you serious? This isn't even a ******* clone- it's inspired but not a clone. the notch is only a big as the sensors it houses. a clone would copy the notch size despite not having the sensors. There's just a small chin at the bottom too. hardly a copy cat. it smart use of screen space.

Everyone is hopping on the iPhone notch train. As long as Samsung doesn't do it I'm fine.

Still too early. Their s10 or X is next year marking their 10th anniversary so who knows if they ll come out with a notch. If they do just shows how unoriginal they are like everyone else. However, for next year rumors are already saying they ll be including a 3D camera to match Apple's Face ID.

Thank you Samsung, no notch. If you want to sell your phone do not include the ridiculous notch. Monkey see, monkey do!

It looks better than the X

Yeah, and a kick in the guts is better than a kick in the balls... Both suck though.

Touche! Lol Wholeheartedly agree! Lol

OnePlus has now become nothing but a totally generic Chinese copycat company. Such good foundations, led down the wrong path.

Quite unattractive. I don't think there will be any incentive for me to upgrade this year... I'll keep my 16:9, front fingerprint sensor, notchless 5. And if the release preview doesn't change, I'll keep it on Oreo. I feel antsy already.

Ironically, the OnePlus 5, with it's front-facing fingerprint scanner, is a copycat of the iPhone that was current at the time of the OP5's release. :| Edit: this is not to refute your original point.. I agree the notch is unattractive and I'm rather annoyed that so many Android OEMs are shamelessly copying such an incredible eyesore that was created for branding at the expense of usability and app compatibility. To see so many others introduce the same hassle is irritating.. I avoid Apple to get away from their design flaws and this really feels like a middle finger sent directly in response.

It was more the back that copied the iPhone on the 5, the front was a standard layout for years. I didn't really care, I would've designed it differently, but I don't look at the back of my phone. When they start replacing what I consider good design with had on parts i have to interact with though I have issues. The 3/3t was their best looking device, minus the camera bump.

OP1 was a fantastic looking phone with its attractive shape, velvety back cover and metal surround. A great example of a phone that actually had some effort put into its design.

Fingerprint sensors belong on the back.

Yes absolutely, the iPhone clone. Go notch yourself!

Well that rules it out for me. The pixel 3 better stick to regular bezals !

Sadly, I have to agree. I had planned on the Pixel 2 XL but didn't care for the look of the screen when I first saw it and went with the 5T which is by far, my favorite phone to date. Great performance with a light skin including USEFUL tweaks. BUT...this "notch" design isn't attractive to me so the 5T may have been a one-and-done for my switch to OnePlus. Oh, and that glass back...hideous! We'll see what the next Pixel go 'round brings.

I don't have a issue with the notch but if companies are going to start using them I do feel like it needs to be done like the essential phone.

Y the notch ....Guys stop copying apple...Be innovative...See LG and Samsung....Even brands like huawei and all....

Everybody copies from every body only difference is ppl only say companies are copying apple or Samsung even tho alot of times they are not the first but because those two brands are mostly everybodys favorite we say they are copying them

But if the news on the apparent number of iPhone X sales are anything to go by, is isn't such a favourite.
I won't say the notch is the only reason, but it is certainly one of the more public reasons why someone will say they dislike it.
And for Apple, something is very wrong if a very design-centric feature and visible feature is why someone won't buy it.
That is normally what sells their devices, rather than killing sales.

Look less at numbers sold, and more at money made. iPhine X is selling fine and Apple is still raking in the cash.

Thanks for not notching Samsung!

No issue with the notch as long as it can be hidden with software.
I'm sure Android P will have this feature as part of its "notch support"

The only way to "hide" it is to turn the entire top edge black, which is exactly what a top bezel is anyway.
So no, you can't hide it, you can only disguise it with graphics that blend it in smoother.

Yea, hidden.
Yes it would appear to have a small Bessel.
Your point?

As Android P is having default support for a notch, it is looking increasingly like that the Pixel will follow the same sad trend.
All about some marketing number of the "ratio", instead of actual function.
It is a section of the screen that is crippled and forced into very limited functionality.
Normally such trends follow form over function, but this one is failing on both.
It is ugly, and having less functionality.

How do these companies think the notch is a good idea. It is almost universally disliked. Hell the iPhone X isnt even outselling the 8/8+.

I would not like OP6 to have that cutout, but apparently, it will have one. Skipping new flagships up to OP7T, anyway, so let's just hope it is a temporary measure before we get the retractable cameras and the rest.

The iPhone x is not selling over the 8 because of the size of it and the price of the x not because of the notch lol

No need for a notch and a design feature I will gladly give a miss. It's not needed at all IMO. No need for near 100% screen real estate just reduced upper and lower bezels. Looks like I will wait for the OnePlus 7

I think the whole notch thing sucks but with players like Samsung, Google, Lg, and Apple charging 1K or more for phones almost anyone is going to be preferred..
I bought a Pixel 2XL, I love it but would never have it without my now depleted BB gift card collection.
I'll keep it until it dies, hopefully by then we will have android phone implants in our brains..
Android Central Newsletter
Get instant access to breaking news, the hottest reviews, great deals and helpful tips
Thank you for signing up to Android Central. You will receive a verification email shortly.
There was a problem. Please refresh the page and try again.