The OnePlus 9 is amazing — so why am I dumping it for a $350 phone?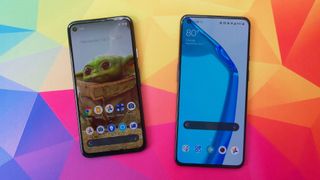 (Image credit: Jeramy Johnson / Android Central)
A few weeks ago, I was lucky enough to spend some time with the latest value flagship from OnePlus when I got to write our OnePlus 9 review. I liked it so much that I dubbed it "Android's new value flagship champ," and I've been using it continuously to this day. Even though many would argue that the Samsung Galaxy S20 FE still holds that crown, there's no denying that the OnePlus 9 is a better option than previous OnePlus devices like the 8 or 8T.
I praised the 9's Hasselblad-tuned cameras, its beautiful 120Hz AMOLED display, and its improved haptics, and even though I was a little let down by the color options in the U.S., I was suitably impressed with the availability of cases that can add a little flair and protection to the device.
But as much fun as I've been having with the OnePlus 9, I have to admit that I've been giving a couple of my other devices some serious side-eye of late, most notably the Google Pixel 4a. You probably think I'm crazy for wanting to "downgrade" from a premium $700+ phone for a lower-end budget phone at half the price. Maybe you're right, but I do have my reasons.
As a longtime iPhone user (I still have and often use an iPhone 12 mini), I appreciate things like simple software and first-party extras and exclusives. Still, I also just really prefer the option of a smaller form factor. I thought I could get past this hangup of mine after using an arguably superior device in the OnePlus 9, but I just don't think that I can shake this feeling any longer. The more time I spend with the larger phone (particularly in the hefty tank-like Spigen Tough Armor case that I'm currently rocking), the more it feels like a brick to me.
I don't game (like, at all), and I don't really watch videos or video chat on my phone, so I have found that I don't actually gain that much from having a larger or technologically superior screen in my hands. For those activities, I much prefer to use my Chromebook or desktop. With phones, I value portability, being able to use them one-handed, and pocketability (yes, even with the massive pockets of my dad jeans).
I regularly use Pixel-exclusive or Pixel-first features on the 4a like Google's Personal Safety app to let my wife know where I am when I'm on a long hike and to alert her and authorities in the event I get into an unfortunate automobile accident. My big fingers are always making mistakes while typing, so I've enjoyed the new Smart Reply enhancements to the Pixel's keyboard, and I always appreciate getting the jump on new Google Photos, Google Assistant, and camera features.
Really, there are only two things that I wish the Pixel 4a had that larger flagship and value flagship phones have — official IP ratings (which technically my OP9 doesn't have) and wireless charging. The IP ratings I like for when I'm out running or hiking and don't want to ruin my phone with excessive flop sweat or a random rain shower, though to be honest, I usually put my phones in a protective running armband during these times anyway.
I don't really miss the wireless charging, although it is nice to have at night when I'm too tired or groggy to fiddle with a cord. But I've found the battery on the 4a holds up well, and I can top it up quickly enough with a good 18W charger.
And finally, let's not gloss over the most obvious benefit of the Pixel 4a — its price. I appreciate being able to get a good phone without spending an arm and a leg, and it's clear to me that the 4a is the best cheap Android phone that you can buy right now.
I still love me some OnePlus, and I'm sure that I'll go back to my 9 now and again, but what I'd really love to see is the return of a next-generation OnePlus X, especially if it was close(r) to that original form factor.
One thing's for sure — if the rumors of a larger Pixel 5a are true, I'll have some tough decisions to make regarding my next upgrade. But since the 4a will get major platform updates through 2023 and security patches through 2024, I might just be spared that painful decision for another year.
What do you think? Am I crazy to want to go back to the Pixel 4a? Has the Pixel 4a ruined me for bigger, fancier phones?
Get the Android Central Newsletter
Instant access to breaking news, the hottest reviews, great deals and helpful tips.
Jeramy is the Editor-in-Chief of Android Central. He is proud to help *Keep Austin Weird* and loves hiking in the hill country of central Texas with a breakfast taco in each hand. You can follow him on Twitter at @jeramyutgw.
I had some discounts coming to me so I picked up the 20FE for the same price. Otherwise I was taking a hard look at the 4a.
I had a nokia 7.1 which was serviceable but the speakerphone was weak. How is the speakerphone on the 4a?
I agree wireless charging is something that I have used in the past and now that I have it again, I don't think I would want a device without it. That being said, the A series from Google is a lot of phone for the money and I see this segment as being the most competitive for the next few years.

The speaker phone function works just fine; had a convo with my 94 year old grandmother yesterday though it and she heard every word :)

I'm with you on this. I bought the Pixel 4A brand new for $310 and since I've been using it I decided to sell my tw other flagship devices. I have no need for wireless charging (never used it) or care much for the water resistance (I baby my phones). I don't need the strongest chipset as I don't game. All I use my phone for are email, text, calls, and occasional browsing on reddit. This little phone is a beast and the camera far outperforms the two flagship devices I owned.

Just stopped using the 4a as my driver. I have used it over my Pixel 5.
Have switched to the 5 after last update amid reports it fixed some bugs and improved some functions 50%. Will stay with the 5 as I don't notice any janks, if they appear will go with 4a again.
4a is a good phone.

The 4a may not be the biggest, baddest, strongest etc. but it just works and adequately handles everything I need it to do. Great phone, especially at the price of $299 I paid for it!

You got it for under $300? That's awesome.

I bought a Pixel 4a, returned it because it felt like a cheap toy. Also tried buying a 4a 5G, returned it because the screen was dim as hell and once again, felt like a cheap toy. I don't know when the market became okay with mediocre specs and nasty plastic again.

The size is what keep me from upgrading my Pixel 3. It would be great if Samsung updated the 10e or Oneplus refreshed the X. The bought the 4a for a couple family members already, but I'm not quite ready to give up wireless charging for my own use.

Pixel phones are well known for their poor quality. Try to avoid Google phones. It is better to buy a Samsung FE edition.

I obviously don't agree that Pixels have poor quality, but you are right that the FE is a damn good phone.

My first Pixel was the 2 , then I got the 3a to replace it then the 4a last November. I have no reason to ever buy a flagship again as long as Google has the 'a' series.

Definitely not for me, flagships phones are the only ones I care. Even one or two compromise I'm not fine with and ok to pay premium prices.

I've definitely found that the older I get, the less I care about flagship specs. I'm quite satisfied with my pixel 5. It does what I need, camera is obviously top notch still, and battery life is great. Don't get me wrong, I'm still hoping for good things from the pixel 6 though...

Thank Google bug fixes for keeping your 4A alive.

I believe most these days are realizing "flagship" prices are completely unnecessary. They ruined so much in the escalation of pricing for of all things a fancy mobile phone. This market is the only area where one sees prices increasing for technology and a form factor that is now so mature. A rectangle screen for almost all cases. Consider flat panel tv's and how pricing has gone for that technology (ever decreasing). I believe the smartphone market is trending that way. If you removed US carrier deals the bottom would fall out of the smartphone market immediately! Support now will determine loyalty and adoption. Pretty much going to be "Galaxy" vs "iPhone" except for various form factors or specialty type devices for gaming and even then Samsung and Apple will ensure they have that covered. Could see Microsoft jumping in with something to align with Xbox but will probably just partner with Samsung and Apple to ensure functionality.

The whole carrier contract thing is what's called a market loophole, oh yeah. Plus people are dumb enough to actually get a new phone with those every year.

Okay one, Google doesn't know how to make hardware. Two, flagship phones have been pure marketing hype for 15 years, and have never been impressive to anyone with a brain. Just pointing out some important factors.

I was flexible on all phone options prior to purchasing my 4a. I figured small size, security updates and an OLED screen were my main priorities. Since I hardly game on a phone, a high end chip wasn't a priority, and when I thought about all the uses I perform on a phone, a $1000 phone would have been way overkill, so I purchased my 4a, and from the money I was going to originally spend on a high end phone, bought my galaxy s7 256gb tablet and its keyboard, and along with the 4a, got everything under a $1000. Couldn't be happier with my decision.

Not crazy at all. I have an S21 and keep going back to my 4a and since I have enjoyed it so much I bought a 4a 5g yesterday. Nothing comes close to these two phones for the money and I love that they don't have glass backs and how light they are. I have yet to see a performance difference between the 4a 5g and my S21, but like you I don't game at all.