OnePlus 8 Pro could be the brand's first phone to support wireless charging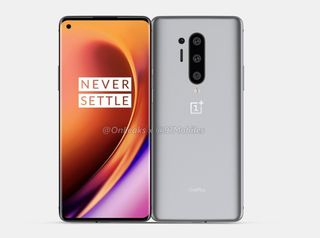 (Image credit: @OnLeaks / 91Mobiles)
What you need to know
A new rumor suggests OnePlus may finally launch a phone with wireless charging support this year.
The feature is expected to be exclusive to the OnePlus 8 Pro.
OnePlus has so far stayed away from wireless charging, as it feels the technology is "too slow."
If a new rumor is to be believed, OnePlus may finally launch its first phone with wireless charging built-in later this year. A tweet posted by tipster Max J. suggests the upcoming OnePlus 8 Pro will include support for wireless charging.
Even though the tweet does not explicitly mention the OnePlus 8 Pro, the caption "Charge like a pro" hints at the feature being exclusive to the 8 Pro. The standard OnePlus 8, on the other hand, will likely lack wireless charging support.
This is actually not the first time that the OnePlus 8 Pro has been rumored to offer wireless charging support. When the first renders of the OnePlus 8 were shared online by leaker @OnLeaks last year, he had suggested the phone will offer wireless charging.
OnePlus has so far refrained from adding wireless charging support to its phones as it feels the technology is "far inferior" compared to its Warp Charge wired charging solution. During an interview on The Vergecast recently, OnePlus CEO Pete Lau said that he finds wireless charging to be "too slow" and that "it's just not worth it" compared to the fast charging experience provided by Warp Charge.
OnePlus is expected to unveil the OnePlus 8 and 8 Pro phones in May this year. As confirmed by the company recently, the OnePlus 8 Pro will feature a 120Hz fluid display, with a tiny hole-punch cutout for the selfie camera. A new mid-range phone called the OnePlus 8 Lite is also expected to debut alongside the flagship OnePlus 8 and 8 Pro.
Android Central Newsletter
Get instant access to breaking news, the hottest reviews, great deals and helpful tips
If it does, I will seriously consider upgrading to 1+.

Don't do it OnePlus, otherwise I'll just stick to the regular OnePlus 8, I don't care about wireless charging. It's always the minority that are the most vocal.

Who cares what YOU want. You will get something else in a few months and think that is the second coming of Christ. Don't use a ******* wireless charger on it. Simple. Because it's in your phone don't mean you have to use it numb nuts.

Your opinion don't matter to me, what matters is what I want, I don't care about wireless charging and the majority of OnePlus users don't, and don't assume I will buy another phone"on a few months" as you don't know me or anything about me, so get lost, loser.

Ha ha. I know you better than you think. Pixel 2xl was the bomb and the ****** screen was just overblown. But stoxk android was awesome. Then the Nokia was the bomb becuase it has a way better screen than the pixel and their version of Android was awesome. Then the Oneplus is the bomb because it has no wireless charging and its version of Android is better. Your a typical fanboy of whatever you have. There are literally ten times as many people staying away from Oneplus because of no wireless charging than people like yourself. I bet your next phone will have qi charging and you will be here jerking off over it like you always do with whatever you have. Youre like a 4year old. Mines best and yours suck. LOSER. Typical ********.

You know nothing about me yes I had all these phones and yes I was impressed by them, so what? ******* I e had my 7T for 3 months now and I intend to keep it, not that it's any of your ******* business retard, and my experience with it is better than all the phones I've used since and I don't give a **** about what you or anyone else thinks you and you know nothing about about how many people don't use OnePlus because of wireless charging which is no use to me and I will never use it wether my phone has it or not, you American cretin, go back to sucking Donald Trump's you know what you ******* loser and leave me alone.

Ha ha. You are so predicable. I am far from a trump lover nimrod. You are going to keep that phone no longer than any other one. And the new phone will be the fifth coming of Christ. Read the comments ******** about how many people don't use OnePlus because of no Qi charging. Btw. I'm not American, asshat.
Android Central Newsletter
Get instant access to breaking news, the hottest reviews, great deals and helpful tips
Thank you for signing up to Android Central. You will receive a verification email shortly.
There was a problem. Please refresh the page and try again.