OnePlus 6 vs. OnePlus 5: Should you upgrade?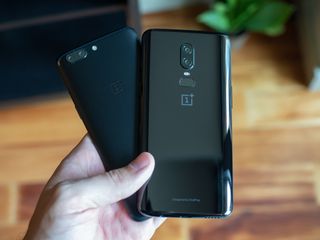 OnePlus has a rapid release cycle for its phones, iterating roughly every six months to get the latest specs and features in your hands if you're willing to pay the price. But if you're locked in on a once-yearly refresh, then you've likely held onto your OnePlus 5 — and now, just shy of a year on, the OnePlus 6 is here to entice you once again.
Holding off from getting a OnePlus 5T, the OnePlus 6 is your opportunity to move to a new form factor with a larger display and rear-mounted fingerprint sensor, plus refreshed specs and new configuration options. But considering that the OnePlus 5 is still a fine phone today and there's so much shared in the new phone, is it worth the upgrade? We're here to help you make that decision.
What's the same
Image 1 of 3
Image 2 of 3
Image 3 of 3
OnePlus has been fantastically consistent with the features and experience it offers in its phones from generation to generation. A year on from the OnePlus 5, not a whole lot has changed at the core of the OnePlus 6. You'll find the same complement of buttons in the usual places, the great Alert Slider, and a normal set of ports on the bottom including a headphone jack. The USB-C port supports Dash Charge at the same charging rate as before, and the battery inside is even the same 3300mAh capacity. You'll find the same base 6GB of RAM with an option for 8GB, and the same base 64GB of storage with optional 128GB — but the OnePlus 6 has a new 256GB tier as well.
The OnePlus consistency carries over particularly well in the software, where OxygenOS has very few differences on the new phone that weren't already brought to the OnePlus 5 in an update or at least in beta release for a future public launch. Aside from a few little changes, OnePlus has been very good about keeping OxygenOS similar between its phones, so you don't have to feel like you're missing out on any new features by not getting the newer phone. The OnePlus 5 also easily has another round of major software updates in its future, so you don't have to be worried about being stranded on Android Oreo.
Along the same lines, you'd be hard-pressed to find someone who could identify where the OnePlus 5 is slower than the OnePlus 6 in anything but synthetic benchmarks. Yes, the new Snapdragon 845 is more powerful, but a year on the Snapdragon 835 is still a great platform and when paired with 6 or 8GB of RAM it makes the OnePlus 5 fly. There are marginal improvements to be found, particularly in power consumption by the processor itself, but this small bump to the new generation of processor isn't enough in itself to justify a move considering how well the OnePlus 5 still performs today. Battery life is great on the OnePlus 6, but of course it was strong on the OnePlus 5 as well.
What's different
Image 1 of 3
Image 2 of 3
Image 3 of 3
Even though the core of these phones doesn't differ much, there are several improvements that come from another year of development, design and technological advancements. The biggest differentiation is the design — moving from metal to glass transforms the look and feel of the phone, and I'd say the OnePlus 6 is more modern in both respects. There's a bit more style and flair at play here, particularly compared to the OnePlus 5's very generic look.
The new design also incorporates a considerable change to the screen, now 6.3 inches in a much taller 19:9 aspect ratio. Paired with smaller bezels, you're getting more screen in a package that's only marginally larger. Yes there's a notch at the top of the display, but the OnePlus 5 has huge bezels on both ends — this is undeniably a positive move. On that note, the fingerprint sensor moved to the back of the OnePlus 6, but is just as easy to use every day.
The only other change to note is in the camera, and it's worth talking about extensively. Specs-wise things look the same sticking with 16MP resolution and f/1.7 aperture, but this is a new larger sensor that's also supported by OIS — both critical additions for every type of photography, but particularly low light. The OnePlus 6 also introduces 1080p video at 240 fps or 720p video at 480 fps, which are both fun to shoot with — there's also improved video stabilization for even smoother shots.
The secondary camera is no longer "telephoto," and instead just has the same focal length and aperture as the primary camera. So you lose out on the zoom, but if you've used the OnePlus 5 for any length of time you know that secondary camera's small pixels, high aperture and lack of OIS makes it unusable in anything but fantastic lighting anyway.
The OnePlus 6 undoubtedly takes better photos across the board, but the biggest difference is in low-light and mixed-light shots where the processing and clarity is dramatically improved. Daylight photos can be a toss-up, but whenever there are adverse conditions the OnePlus 6 wins — and by a large margin in many cases. Here are a handful of samples comparing the two:
OnePlus 6 (left) vs. OnePlus 5 (right) — click images to view larger.
The camera improvement isn't big enough in itself to make you upgrade, but when you add it to all of the other design improvements you see how the OnePlus 6 is a big step in a positive direction compared to the last-generation phone.
Should you upgrade?
In some ways, OnePlus is its own worst enemy when it comes to getting its customers to upgrade to the next generation. It fills its phones with great specs and clean software from the start, so even a year on they don't feel old or sluggish. If you're using a OnePlus 5 today you know it still performs well and is capable of doing just about anything you need it to do.
So, then, we have to focus on a few of the finer points where OnePlus can influence an upgrade. Most of that comes down to the design, display, and camera. Compared to the OnePlus 6 the OnePlus 5 looks old and generic, and that shiny new glass certainly feels more modern across the board. Pair that up with the new extra-tall display and tiny bezels, and you get a really handsome phone that also makes better use of its size to deliver more usable screen space. The camera has also inarguably improved, making important spec improvements of pixel size and optical stabilization, leading to better photos in every situation — even if it did mean losing telephoto zoom from the second camera.
As we've seen for a few generations now, the biggest thing helping you upgrade to a new OnePlus phone is the high resale value of the old models. A used OnePlus 5 will sell on the open market for around $350, depending on its condition and configuration. That gets you well over halfway to a new OnePlus 6, which makes this a pretty enticing option if you have no need for your current phone once you upgrade. The OnePlus 6 isn't a dramatic improvement in most ways over the OnePlus 5, but it is better in key areas and critically isn't worse in any. If you can sell your old device and drop a couple hundred dollars for a new phone, this is definitely a smart move if you like what OnePlus phones offer.
Update, May 30, 2018: This article has been updated with new more detailed battery and camera comparisons between the OnePlus 5 and OnePlus 6.
Andrew was an Executive Editor, U.S. at Android Central between 2012 and 2020.
Short answer, no. They didn't add anything of value.

Newer processor, complete external redesign, more screen for the same size phone, new camera setup ... Nothing?

Of value no. It won't change your day to day usage. If you were buying a new phone and had to pick one, sure the 6 is better. But if you have the 5, it's not enough of an upgrade to worry about this year. Unless you care about numbers. JMO naturally.

They did take out the top speaker so now you can listen to music through only one speaker. That's improvement!

They took nothing out, every Oneplus phone has had a single bottom firing speaker... Since the 2 at least, I don't remember the one.

Being honest... If you are going to burn $700 annually on a one plus phone... Maybe spend more and upgrade a better phone every two years. The foolish question posed by Android Central ignores reality. Reality is the OnePlus phones are purchased by Budget conscious consumers... Who can't afford to upgrade annually... This will be their phone for several years... Being sarcastic... I'd rather spend$1350 🇨🇦 dollars and upgrade a Note from Samsung annually. In fact... There is no better value I can think of than spending $13,500 for the next ten years, in annual phone upgrades.

OP is literally on par or better than the current flagships. Not sure what you mean by better phone

One that has the Samsung brand on it. Makes it better automatically

There is no rational case to be made for an annual mobile upgrade from any manufacturer. If you don't perceive a difference between a OnePlus phone and either a Note 8 or S9+, I'd agree your vision or phone needs are limited. The OnePlus isn't offered by any carriers. I can't see anyone upgrading a lower priced, less premium phone annually (for the same average cost as an alternative choice). The concession I will make is that the apps we all use run identically on any phone. Apps are designed for the lowest common denominator. The user experience is the same. The differences that exist are things like storage options, highest display settings, small camera differences, bezels, and size of the display. I don't envision making a mobile upgrade for 5 years. Present phone size & quality is outstanding, and upgrades are very expensive. Some simple math: A $1000 annual phone upgrade is $10,000 in ten years. An semi-annual upgrade is $5000 over ten years... The size of the worldwide market upgrading that quickly is tiny. Manufacturers are still updating phones annually because the number of people in North America & Western Europe who own smartphones only recently surpassed 60%... Doubling in about 7 years. Manufactures are still making the case for buying a smartphone to a significant amount of new, first time buyers.

Most of us are here because we like technology. We upgrade every year, or every few months in some cases, because we like the new phones. Buying something because you like and want it is entirely rational. No one needs a BMW, fillet steak, jewelry or even mundane things like a piece of cake after dinner or a shirt with a design versus one is plain. From an entirely utilitarian standpoint we should all sit around in our grey overalls eating brown rice, broccoli and a skinless chicken breast washed down with a nice refreshing glass of room temperature water...

They've never released a phone that costs $700... This may not make sense to you, but there are people who can afford a Note and just don't want one. I buy Oneplus devices because they are the best phone for me. I'm not saying I don't care about the price, it's a good selling point. But it's far from the only one.

I made the 🇨🇦 price clear. Cheers

To be honest, you seem more 🏴󠁧󠁢󠁳󠁣󠁴󠁿 than 🇨🇦 lol.

I'm still on a OP3 and don't feel the need to upgrade. I just don't get it with these incremental upgrades my OP3 still works like a champ with no lags, no random restarts and no weird behaviour. My only complaint would be that the sandstone case is wearing off. I don't use a screen protector but the glass is still in mint condition.
I have nothing but praise for the OP3 but OnePlus seems to be entering the "me too" flagship territory with a 2018 notch and price spike. If they can't be a budget flagship killer anymore they're just any other and there are better options with just a bit more benajamins.

Absolutely the same here. My OnePlus 3 still works brilliantly.

Yes, OP3 forever (or until the battery goes). If onplus could sell a OP3 equivalent today for $400 OP6 would be questionable value. Many who consider OP6 will also look at Pixels and price is becoming less of a difference -- especially if camera remains average.

Currently using the OnePlus 5T which I bought in January after using a Samsung Note 3 for about four years. My answer is no, I'm not upgrading. My phone performs just fine. OnePlus should be targeting new customers and not looking for its current users to upgrade. OnePlus manufactures perfect phones which come with high-end specs hence no need to upgrade often. Targeting new customers should be their priority.

As a One Plus 5 user, I will more than likely upgrade to the OP6. Reasons? The better camera, OIS, and screen resolution. I can get about $300+ for the OP5, which will pay for a little over half and move to the 256GB model. The photos on my OP5 are good in the daytime, but the telephoto zoom sucks, EIS is horrible, and low light photos are way too noisy at any ISO setting. One Plus really did an awful job on the OP5's camera hardware wise. At the end of the day, it's about what you want out of the phone and budget. I was considering the S9+, but at $250 more gives me pause moving to it. A lot of pause at that.
The notch craze that Essential kicked off I really don't get though.

My A1 with Snapdragon 625 performs really well and runs anything and everything I throw at it. I can only imagine how good 835 would be. Aside from design upgrades, do yearly upgrades hold any significance anymore?!..

I'm very happy with my OnePlus 5 and will not be upgrading anytime soon. 8GB ram, 128 GB storage & 835 processor are certainly adequate for most users. Sure maybe the camera's a little better but the majority of my pictures are great.

I'm not a fan, but for 529.00 this phone is worth it's weight. The 845, dash charging which is probably the best. Oxygen OS, OIS with the camera, the ridiculous notch but at least you can hide it. Plus it performs just as well as the top dogs!

I haven't. Too many (of what I consider) compromises for not enough upgrades I actually care about. I'll probably get a 6T because I'm seriously considering sticking to 8.1 and not upgrading to 9. P sucks.

The 3T still works great, never mind the 5 or 5T
Android Central Newsletter
Get the best of Android Central in in your inbox, every day!
Thank you for signing up to Android Central. You will receive a verification email shortly.
There was a problem. Please refresh the page and try again.