OnePlus 6 vs. OnePlus 5: Should you upgrade?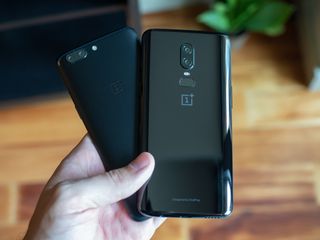 OnePlus has a rapid release cycle for its phones, iterating roughly every six months to get the latest specs and features in your hands if you're willing to pay the price. But if you're locked in on a once-yearly refresh, then you've likely held onto your OnePlus 5 — and now, just shy of a year on, the OnePlus 6 is here to entice you once again.
Holding off from getting a OnePlus 5T, the OnePlus 6 is your opportunity to move to a new form factor with a larger display and rear-mounted fingerprint sensor, plus refreshed specs and new configuration options. But considering that the OnePlus 5 is still a fine phone today and there's so much shared in the new phone, is it worth the upgrade? We're here to help you make that decision.
What's the same
Image 1 of 3
OnePlus has been fantastically consistent with the features and experience it offers in its phones from generation to generation. A year on from the OnePlus 5, not a whole lot has changed at the core of the OnePlus 6. You'll find the same complement of buttons in the usual places, the great Alert Slider, and a normal set of ports on the bottom including a headphone jack. The USB-C port supports Dash Charge at the same charging rate as before, and the battery inside is even the same 3300mAh capacity. You'll find the same base 6GB of RAM with an option for 8GB, and the same base 64GB of storage with optional 128GB — but the OnePlus 6 has a new 256GB tier as well.
The OnePlus consistency carries over particularly well in the software, where OxygenOS has very few differences on the new phone that weren't already brought to the OnePlus 5 in an update or at least in beta release for a future public launch. Aside from a few little changes, OnePlus has been very good about keeping OxygenOS similar between its phones, so you don't have to feel like you're missing out on any new features by not getting the newer phone. The OnePlus 5 also easily has another round of major software updates in its future, so you don't have to be worried about being stranded on Android Oreo.
Along the same lines, you'd be hard-pressed to find someone who could identify where the OnePlus 5 is slower than the OnePlus 6 in anything but synthetic benchmarks. Yes, the new Snapdragon 845 is more powerful, but a year on the Snapdragon 835 is still a great platform and when paired with 6 or 8GB of RAM it makes the OnePlus 5 fly. There are marginal improvements to be found, particularly in power consumption by the processor itself, but this small bump to the new generation of processor isn't enough in itself to justify a move considering how well the OnePlus 5 still performs today. Battery life is great on the OnePlus 6, but of course it was strong on the OnePlus 5 as well.
What's different
Image 1 of 3
Even though the core of these phones doesn't differ much, there are several improvements that come from another year of development, design and technological advancements. The biggest differentiation is the design — moving from metal to glass transforms the look and feel of the phone, and I'd say the OnePlus 6 is more modern in both respects. There's a bit more style and flair at play here, particularly compared to the OnePlus 5's very generic look.
The new design also incorporates a considerable change to the screen, now 6.3 inches in a much taller 19:9 aspect ratio. Paired with smaller bezels, you're getting more screen in a package that's only marginally larger. Yes there's a notch at the top of the display, but the OnePlus 5 has huge bezels on both ends — this is undeniably a positive move. On that note, the fingerprint sensor moved to the back of the OnePlus 6, but is just as easy to use every day.
The only other change to note is in the camera, and it's worth talking about extensively. Specs-wise things look the same sticking with 16MP resolution and f/1.7 aperture, but this is a new larger sensor that's also supported by OIS — both critical additions for every type of photography, but particularly low light. The OnePlus 6 also introduces 1080p video at 240 fps or 720p video at 480 fps, which are both fun to shoot with — there's also improved video stabilization for even smoother shots.
The secondary camera is no longer "telephoto," and instead just has the same focal length and aperture as the primary camera. So you lose out on the zoom, but if you've used the OnePlus 5 for any length of time you know that secondary camera's small pixels, high aperture and lack of OIS makes it unusable in anything but fantastic lighting anyway.
The OnePlus 6 undoubtedly takes better photos across the board, but the biggest difference is in low-light and mixed-light shots where the processing and clarity is dramatically improved. Daylight photos can be a toss-up, but whenever there are adverse conditions the OnePlus 6 wins — and by a large margin in many cases. Here are a handful of samples comparing the two:
OnePlus 6 (left) vs. OnePlus 5 (right) — click images to view larger.
The camera improvement isn't big enough in itself to make you upgrade, but when you add it to all of the other design improvements you see how the OnePlus 6 is a big step in a positive direction compared to the last-generation phone.
Should you upgrade?
In some ways, OnePlus is its own worst enemy when it comes to getting its customers to upgrade to the next generation. It fills its phones with great specs and clean software from the start, so even a year on they don't feel old or sluggish. If you're using a OnePlus 5 today you know it still performs well and is capable of doing just about anything you need it to do.
So, then, we have to focus on a few of the finer points where OnePlus can influence an upgrade. Most of that comes down to the design, display, and camera. Compared to the OnePlus 6 the OnePlus 5 looks old and generic, and that shiny new glass certainly feels more modern across the board. Pair that up with the new extra-tall display and tiny bezels, and you get a really handsome phone that also makes better use of its size to deliver more usable screen space. The camera has also inarguably improved, making important spec improvements of pixel size and optical stabilization, leading to better photos in every situation — even if it did mean losing telephoto zoom from the second camera.
As we've seen for a few generations now, the biggest thing helping you upgrade to a new OnePlus phone is the high resale value of the old models. A used OnePlus 5 will sell on the open market for around $350, depending on its condition and configuration. That gets you well over halfway to a new OnePlus 6, which makes this a pretty enticing option if you have no need for your current phone once you upgrade. The OnePlus 6 isn't a dramatic improvement in most ways over the OnePlus 5, but it is better in key areas and critically isn't worse in any. If you can sell your old device and drop a couple hundred dollars for a new phone, this is definitely a smart move if you like what OnePlus phones offer.
Update, May 30, 2018: This article has been updated with new more detailed battery and camera comparisons between the OnePlus 5 and OnePlus 6.
Get the Android Central Newsletter
Instant access to breaking news, the hottest reviews, great deals and helpful tips.
Andrew was an Executive Editor, U.S. at Android Central between 2012 and 2020.