OnePlus 5 specs: Snapdragon 835, 3300mAh battery, optional 8GB RAM and 128GB storage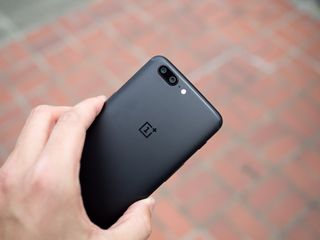 OnePlus has always played the spec game, and with the OnePlus 5, it's offering just about everything inside that people are asking for. That starts with the top-end Snapdragon 835 processor and continues to an optional 8GB of RAM and 128GB of storage. The 3,300mAh battery is right around the industry average, and you're missing a couple things like waterproofing and an SD card slot, but on the whole OnePlus set another high bar for the specs you can fit in a single phone and not have it cost a fortune.
Perhaps most impressive of all, from a smartphone nerd standpoint, is that OnePlus has just one model for the entire world — including radio bands to be used in dozens of countries. Combine that with its dual SIM capability and you have a true world phone.
Swipe to scroll horizontally
Category
Spec
Operating System
Android 7.1.1 Nougat
Display
5.5-inch AMOLED, 1920x1080 (401 ppi)
Gorilla Glass 5
Processor
Qualcomm Snapdragon 835 octa-core 2.45GHz
GPU
Adreno 540
RAM
6/8GB LPDDR4X
Storage
64/128GB UFS 2.1
Expandable
No
Battery
3300mAh
Charging
USB-C
Dash Charge
Water resistance
No
Rear Camera 1
16MP (IMX398), f/1.7, 1.12-micron pixels, EIS
Dual LED flash, 4K 30 fps / 720p 120 fps video
Rear Camera 2
20MP (IMX350), f/2.6, 1-micron pixels
Front Camera
16MP (IMX371), f/2.0, 1-micron pixels, EIS
1080p 30 fps video
Connectivity
LTE 3xCA, 256QAM, Cat 12
Wi-Fi 802.11 ac, dual band, 2x2 MIMO
Bluetooth 5.0, aptX HD
GPS, GLONASS, BeiDou, NFC
USB 2.0, USB OTG
Security
One-touch fingerprint sensor
SIM
Dual Nano SIM
Network
FDD-LTE: Band 1/2/3/4/5/7/8/12/17/18/19/20/25/26/28/29/30/66
TDD-LTE: Band 38/39/40/41
HSPA: Band 1/2/4/5/8
TD-SCDMA: Band 34/39
GSM 850/900/1800/1900 MHz
CDMA: BC0
Dimensions
154.2 x 74.1 x 7.25 mm
153 g
Colors
Slate grey, Midnight black
Android Central Newsletter
Get instant access to breaking news, the hottest reviews, great deals and helpful tips
Andrew was an Executive Editor, U.S. at Android Central between 2012 and 2020.
Shame if this had IP68 certification I'd have gone for it. Loved my time with the 3T but like the peace of mind the added protection gives me.

You guys talk as if you live underwater, never have being able to get this , I have "never" in about 15 years that I've own a smartphone had any issues when it comes to water , maybe a splash here and there witch I'm pretty sure this will able to handle,this will never be a deal breaker for me.

Better to have it and not need it than to need it and not have it.

Then you gonna have to pay more,simple as that , that's why I'm okay without it.

That's true, but when these devices continually increase in price and those features are still left out, it kind of removes that argument. Example: The Google Pixel. I'm not saying this is in the same category as the pixel, but i'm just saying that pixel fans defend Google for leaving water resistance out, even though that device was $1000. I would argue that a fingerprint scanner is in the same category as water resistance in terms of how necessary it is (or isn't). The difference to me, is water resistance makes the device that much more durable in a wider variety of situations. I've never had water issues with my phone either, but that's because I just know I can't use it if it's raining hard. And my daughter did put my old ipod in the toilet when she was 2, and a phone with water resistance would have survived that mishap. I just don't understand why people defend companies for leaving options out, as if it's their job. And if a device is in the mid-500 range, you're starting to creep into that upper tier of devices.

THIS!! I would never buy a phone specifically because it just has waterproof. Yes it's a really nice bonus to have it but in no ways mandatory. Unless you live under water of course

I've jumped in a pool on holiday with my phone in my swimming shorts pocket. A long time ago granted but if there are other options with IP68 I'll take them.

I love that someone had down-voted this. The android community used to be so passionate about the idea that if the option is available, we wanted it. Throw the kitchen sink at us and let us disable what we don't want, but have it all just in case. It was the Apple people who defended the company for leaving features out. Now people on the Android side are down-voting people who say they tend to go for the devices with those options.

Android officially has sheep like apple now.

It's always had it's sheep.

OMG! just take any damn phone to any mall and get it nano-sealed. waterproof for life after that.

I live on a island in Florida I don't need a waterproof phone you shouldn't either.

Good for you on your isalnd. Nobody needs a mobile phone full stop but as long as I'm spending hundreds on one I want it to be as durable as possible. I've got three kids one could easily spill a drink on it for instance. It's not about having to pay more either. The moto g 3rd generation offered some waterproofing and it's far cheaper than the OnePlus.

Yes it's pretty great 350+ days a year of sunshine, flip flops, and mojito's .

Ha ha sounds great. I might visit. I'll bring my S8 though, just in case

"Nobody needs a mobile phone"...right, you must not work for a living.

Of course because everybody needs a mobile for work.....What did the people in these jobs do 20+ years ago? It's a luxury and one I personally wouldn't want to be without but the world would still turn without the smartphone in it.

But do you bench press 205lbs?

Lol, I agree. I too live near these islands on the beach in florida, I have never felt the need for a water proof phone either.

Now it not only acts like an iPhone, it looks like one too! Yay!

iPhones have 8GB of RAM, headphone jacks, and run Android? On which planet does this happen?

I had hoped for water resistance, but not a deal breaker.

Boo hoo my phone isn't water proof..what ever..

Was in the middle of a water balloon fight Sunday... I did wish my phone was more water resistant so it wasn't a liability.

Saturday my wife and I were both carrying a pretty heavy large bucket full of water as we were doing some work in our yard, and we each had a nylon rope handle on each side to carry it. The bucket bounced off my thigh and splashed a decent amount of water down my leg, and I worried about my phone. Luckily it was in my other pocket. With water resistance, those little odd moments are not cause for concern. That's what's nice about water resistance. It's not a deal breaker, but it's sure nice to have when possible.

My phone is, I wouldn't buy one without it now. I don't see why there's so many people who don't see it as a nice thing to have.

Because they have to defend massive corporations at all costs, as if it's their job. Regardless of the logic behind it all.

It's a nice thing to have but not a necessity.

What an odd post given that nobody is exactly ranting about it not being waterproof. I'm not one of them but to some people having a waterproof phone is important. What's important to you or I may be irrelevant to someone else. Isn't that the beauty of Android, that we can find a phone pretty well tailored to our individual needs?

Super odd to see "Sprint only" LTE bands 25/26/41 on any phone that doesn't support Sprint. I don't think I've ever seen another phone except the Axion 7 which was planned to support Sprint but didn't go through all the certifications needed.

i see "world phone" and several countries supported but not the billion dollar question/answer of, "Does it work with the Evil Empire: VZW"

It does not support Verizon.

No other colours than these black-ish ones?

Grey and black, that's it.

Bluetooth 5.0 ,yes! Already order mine.

Apparently the 2Mbps speed isn't required to be implemented in BT 5.0, so if they didn't do so, it wouldn't actually be any faster. Might want to do your research on this if you haven't already before jumping on the phone for it.

No need for a bigger battery when the ram uses 40% less energy thus making the battery life better than the op3t by a noticeable margin and thats the 8gb compared to the op3t 6gb

This may be true, but I still find it odd the battery isn't bigger. The OP5 is very similar in all dimensions and actually 0.25mm thicker, yet the battery is 210mah smaller. I suppose it's possible the higher-end SOC and the increased RAM take up more space, but it just seems like they should have been able to do a larger battery. A tear down would show if that's the case. All I know is, while I would quite possibly switch to the OP5 from my Z Play if it had a microSD slot, I suspect it would be at the expense of battery life, which would be unfortunate, to say the least. It would be nice to have more capacity, as I love only having to charge my phone every 2-4 days depending on use and not worrying about forgetting to charge it or having to charge it overnight just because if I do it before and leave it unplugged overnight I might not make it through the next day.

No micro SD slot, no sale. Does it have a headphone jack?

Agreed. Was ~95% ready to buy it when I saw this. So max 128GB of storage, and that's if you spend even more ($60) to upgrade. Granted, that also gets you 2GB more RAM but, while nice, that's not really necessary, uses up slightly more power, and for that $60 you can get a 128GB microSD card with money left over. I wonder how many sales they'll lose over this stupid decision, which is especially interesting since they did dual-SIM, which means it would have been easy to just have one of them double as a microSD slot, or insert the microSD facing the other way so it's back to back with the SIM like some phones do.

Would have preferred a taller display 3;2 ratio like the KEYᵒⁿᵉ or 18:9 on the G6 ! I love this RAM! We saw so many more unique looking prototypes they choose the uninspired one faux pas

Andrew what's your thoughts on this? https://www.xda-developers.com/oneplus-5-benchmark-cheating-reviews/

Let me state I could care less about benchmarks but why the need to cheat?

To look good. That's it. I don't understand. The phone already performs well in the real-world. Why bother going through cheating again? On top of that, this is the second time in just a short while that they've been caught.

Nice ram and storage options = solid effort from 1+...for me though, No waterproofing, no SD card, no wireless charging and ho-hum design at a price that is reasonable= No thanks.
Android Central Newsletter
Get instant access to breaking news, the hottest reviews, great deals and helpful tips
Thank you for signing up to Android Central. You will receive a verification email shortly.
There was a problem. Please refresh the page and try again.