Nvidia makes GRID official as GeForce Now, starting at $7.99/month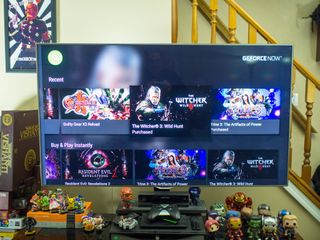 Since the initial launch of the Nvidia Shield TV, one of the big features expected to separate this set top box from the others was a console-like gameplay experience in the form of cloud gaming. Nvidia's GRID gaming system has been impressive in beta form, and now that the company is ready to unveil the feature as an official service it's only going to get better.
First things first, though. A name change is apparently in order for this unveiling. Say goodbye to Nvidia GRID and hello to Nvidia GeForce Now.
Nvidia GeForce Now plans to offer an expanded version of what we've seen already through the beta service, bringing more games that can all be played without installation or update. Titles range from old school console favorites to nearly brand new PC titles, with plans to eventually release AAA games on GeForce Now the same day they are released on everything else. As impressive as it was to play through Brutal Legend without issue, seeing The Witcher 3: Wild Hunt among the list of games available to users in 1080p at 60fps — loading as a new game in under 30 seconds — is fantastic.
We knew GeForce Now wasn't going to be free after it left beta, but surprisingly Nvidia is starting this experience off at $7.99/month. That price gets you unlimited access to most of the games you'll see in the GeForce Now part of the Shield TV, which now has many more titles added from the beta, with some AAA titles available for their full purchase price.
Purchasing these games gets you instant access to the game on your Shield TV, but in most cases it also gets you a download code to play the game on your PC as though you had purchased it from GOG or Steam. The only downside to this purchase experience is your saves from the Shield TV don't carry over to the PC download of the game.
This updated games streaming service is coming to all Nvidia Shield TV owners as part of a system update, which also brings Google's Leanback UI to the store as well as voice search inside GeForce Now and updated support for hardware accelerated codecs and passthrough for DTC Master. If you choose to sign up for GeForce Now after the update, Nvidia is giving you three months free to see how you like the service.
Nvidia has been trumpeting this as one of the big reasons to pick up a Shield TV from the beginning, and with good reason. It's a service that has worked well even in beta form, and if it continues to perform well and Nvidia can keep adding games — especially AAA games alongside their official launches — this is going to be something many people start to look at as the future of the modern game console.
Not a bad deal, a lot of people were speculating it would have been much more expensive. Getting to actually download the games you purchase was definitely the right way to go - as long as the "free" game supply remains at least as high as it is now. Otherwise they need to drop the subscription price to be more in line with Xbox Live and PS+.

PSN+ and Xbox Live are not free. I don't know how XB live works, but on PSN+ is you stop the subscription, the games no longer work until you renew. I've had PSN+ for years, and I have to delete some games to make room for new ones coming up. With nVidia, no install is nice since you'll have access to all the games in under a minute, some of the larger installs have taken several hours to download,

I never said they were free, I said Nvidia should drop the price to be more in line with XBL and PS+ ($60/yr MSRP). XBL is the same with free games - your subscription ends, you don't get to play (unless you subscribe again).

Most impressive. Witcher 3 at 1080p at 60fps while Xbox one only at 900p and 30fps. I'm not ready to bite yet until I see more stats and hear more feedback. If it can consistently provide that resolution and frame rate on newer games this is something I'd love to have. Posted via the Android Central App

And for the record, GRID worked great when I used it. I played 100% through Batman Arkham City and it was flawless most of the time. You do need a 5 GHz WiFi connection and a half-way decent internet connection for 1080p.

How is the software priced that you can buy outright? Pc versions of games are always cheaper than console versions. Posted via the Android Central App

The purchasing wasn't available before this update, so I can't say anything about that. But I can add my experience to all the rest. The streaming has been great. I played Batman: Arkham Origins and Brothers: A tale of two sons, and my wife is playing Lego Harry Potter. It's a great experience and at $8/month, this sounds really good to me.

I'm definitely going to investigate this some more it seems like a great little set up especially if the games are priced lower than console versions. Posted via the Android Central App

For right now, the games are MSRP. Witcher 3 will be $59.95, and Trine 3 will be $21.95 (prices confirmed by an Nvidia employee). However, in addition to being able to "own" these games on the streaming service, you also get a token to redeem on GOG for a DRM-free PC version.

Well that's a bummer. Was hoping to see some lower prices. Still is very interesting and something I'm going to be considering. Thanks for the info. Posted via the Android Central App

Well that's a bummer. Was hoping to see some lower prices. Still is very interesting and something I'm going to be considering. Thanks for the info. Posted via the Android Central App

Because you can link your EXISTING service accounts (Steam, Origin, uPlay, etc.), you can purchase your games as you normally would - you aren't limited to games available through the Shield side of GeForce Now. I have accounts with Steam, Origin, uPlay, and GoG - therefore, every game I have on any of the four would be available - including all of my "games of shame" (the games I own - but can't play because I'm lacking the hardware - especially on my pair of notebooks). For example, recent acquisitions DIRT 2 Showdown and DIRT 3 Complete will be available from the jump merely by adding my Steam account to GeForce Now - which would install as quickly (if not more so) as if it were a new install on a desktop or notebook.. The same would apply to uPlay title Anno 2205 (a title I own outright). Origin? Same deal (along with Mass Effect 2, Titanfall 2, etc.) As long as you install it in the apropos service in the cloud, you can take it with you OUT of the cloud as well - it's how games you install on your desktop can carry over to your notebook(s) - cloud computing has zero difference in this instance.

While this service works surprisingly well, it is worth noting that it's very very dependent on your router and/or Wifi. I wasn't able to get it to run smoothly on my Shield Tablet until I connected it via USB-Ethernet Adapter - but then it worked really nice and smooth. That said, if you have a decent gaming PC, the service as a whole is unfortunately a little unnecessary, but I suppose it is a nice alternative if you use your PC for office-stuff only.

Thanks for the tip. I stream ps4 via a pstv and Xbox one via windows 10 through WiFi and have minimal if any stuttering. I'm very interested in this device. Posted via the Android Central App

If you don't have any issues with the two solutions you mentioned, you'll probably be just fine with this one as well. For me, the main problem is probably in the (crappy) router my ISP provided me with, but if it can keep up, it should work just fine! Besides, the Shield TV comes with an Ethernet port anyway.

This is great if you already have a gaming PC. Mid range video cards are in the $300 range ***EDIT*** I meant "it's great if DON'T already have a gaming PC."

If you're talking about streaming games from your PC to the Shield then yes, but remember that you need an Nvidia Card for that. And most likely, you wouldn't need the Geforce Now service at all because you already have a PC to play and buy the games on (and to stream them from).

I'd have liked to see streaming for PC. It could be great for people with integrated graphics so they can still game on a PC without having to buy a high end graphics card. The laptop gaming crowd is relatively small compared to the average user. Being able to game decently on a low-to-midrange laptop for a monthly fee could be a great revenue stream for Nvidia. It'd tap a market where there's no one.

Can someone explain how this works? If I can't currently play for example the whitcher on my laptop will this allow me to stream it to the shield? Or is this largely dependant on how good your PC is? Posted via the Android Central App

If you have an nVidia graphics card, you can already stream it to the Shield (Gamestream). This basically streams the games from nVidia's servers (and does so surprisingly well). Posted via the Android Central App

Oh sweet! I didn't know that! Thank you Posted via the Android Central App

.....another fantastic reason to have this phenomenal device! Posted via the Android Central App

I don't get it... you pay 8$ a month and then have to pay for the game you want? Doesn't make sense to me. Posted via the Android Central App

What I wanna know is, are we paying the subscription and also paying for the game separately? Or does the subscription give us unlimited access to games as well? (like Netflix for games) Posted via the Android Central App
Android Central Newsletter
Thank you for signing up to Android Central. You will receive a verification email shortly.
There was a problem. Please refresh the page and try again.