NVIDIA and AC are giving away 5 Nexus 7 prize packages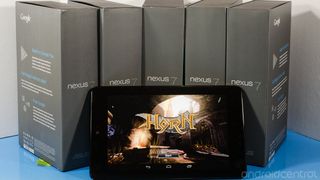 The only thing better than hearing about cool Tegra 3 games like Horn is getting some gear to play them on -- and look good doing it. NVIDIA and AC are giving away five Nexus 7 prize packs to help you out here.
Five lucky winners will each get a 16GB Google Nexus 7, a Lloyd t-shirt from ShopAndroid.com, and a Lloyd Secret Society pin. That's one heck of a combo!
Entering is easy -- hit the Android contest forums and let us know you're interested. We'll pick five winners at random, and contact you via the e-mail address you used to register here at AC. Simple, right? What are you waiing for!
Enter to win a Nexus 7 prize package
Android Central Newsletter
Get instant access to breaking news, the hottest reviews, great deals and helpful tips
Senior Editor — Google Ecosystem
Jerry is an amateur woodworker and struggling shade tree mechanic. There's nothing he can't take apart, but many things he can't reassemble. You'll find him writing and speaking his loud opinion on Android Central and occasionally on Twitter.
What a sweet giveaway I'm interested nvidia and Androidcentral

Please please please. I need this.

Would love to have an adroid tablet and the other swag!!

It'd be blessing if I won this. I recently lost my kid sister's a100 tab, and she's been on a rampage ever since. I know a Nexus 7 would put a smile on her face.

I would love to have one of those shiny new tablets!

Great thanks I desperately need one!

Great Scott!!!! THAT'S one heck of a prize package.

I would love to have the Nexus 7 tablet. Right now I'm rocking an HTC Eris from Verizon which I do most of my quick surfing on but it is very slow now do to its age and out dated software. I have a laptop that I surf the web on as well but it too is old and heavy as all get out. The Nexus 7 would be that perfect medium between the two. Would love, I repeat love to have this device.

Our family would love one! Thanks!

Would really like one of these!

Does anyone know when the contest ends?

Gimme gimme gimme!!! Muhahahaha. Please!? Thank you. Ta. Cheers me dears.

OHHH... SHINEY!!!!! Interested doesn't begin to describe it!!

Great giveaway, way to go AC and NVIDIA!

I'd like to get a Nexus 7, too :) Would be great, thanks *g*

I'd like to be one of the lucky ones.

Oooooooo!!!!! Can I haz teh nexus 7?!?!?!?

You can't beat free I'm in

Way to go Android CentraL....You guys Rock. Please bring the XMAS early for me. Thanks

Please count me in, my little guy (& girl....twins) would love this. Thanks
Dominick

I would love a nexus 7 to go with my CM10 d2vzw!!!!!

Nice package. I will love to have one.

I desperately want to win so please pick me.

Hoooly mother!!! Nice. Count me in please :)!!
I'm going to bring all my friends to the website to participate too XD!
Hope I win

Yes please. I will have one if you are kind enough to.give it away.

I'm dumbfoundingly interested!!!

That is very generous! Thanks for the opportunity!

I don't own any tablet yet. Please help that change!!!

Pick me! I'm poor and can't afford anything for my own birthday.

Hello AC ! hope you pick me ! i was good, very very good :D Have a nice day !

This is very nice , I'm in , hope fully I'm one of the five winners.

Oh boy, would I want one of those!

I would very much like to win one of these Nexus 7 tables.

Man i never win, im sure something like this would change my luck though! so please pick me!

I'm interested. Hope I win.

Very interested! Pick me!

One of the best contests I've seen! Great job guys!

free is a price I like to hear

Nice, I would like one...

I'm defnitley interested!!!

Hellz Yeah! PS Apple SUcks

Too bad it's not 7 Nexus 7's you are giving away jk jk haha But it would make my lifetime to win one of these bad boys. **fingers crossed**

I would love to win a 16GB Google Nexus 7, a Lloyd t-shirt from ShopAndroid.com, and a Lloyd Secret Society pin.!! Although my family would fight over all of it for sure :)

That'd be awesome for school!

WOW!!! Now THAT'S a package! I think I've entered almost every contest you guys have held so I'm trying my luck here again! Can you imagine how my pictures on "Draw Something" would look if I had this 7" awesomeness in my hands? Oooohhhh the possibilities. Thanks again for the opportunity :)

I want one since I saw the last commercial.

Very interested in all of the sob stories this is generating.. and of course the potential prize... :P Should be a fun ride.

Hey random post selector, pick me would ya? ANDROIDMAN AWAY!

Pick me. It'll help offset the "joy" of getting a wisdom tooth extracted today.

Definitly interested in this!

Please and thank you good sir!

OH wow. 5! I hope i win one Please and thank you AC!

First thing I do every morning is check this site for the latest and greatest because we all know who brings it!
Thanks for giving me a shot at a cool tablet,
SALUD!

Dear AC, I have recently been diagnosed with a rare type of cancer. My doctors told me that the only cure is a Lloyd pen and shirt, and a Nexus 7 tablet. Please dont let me die AC.... :(

I am definitely interested!

Very Interested need one for the wife...

OMG!!! I can definitely use a new Nexus 7, especially seeing as I just sent back my 2nd defective Nexus 7 in a matter of 11 days..... it WAS supposed to be my birthday present from my wife and kids.

Pick me...I love tegra 3 games..

I really need a tablet..... :)

Hell yeah, I'm interested!

I'm a teacher so it would definitely go to good use. Thanks.

I'm love free gifts, gimme one!

Hello, Thank for the chance to win a free tablet. Love everything about Android Central and keep up the great JOB!!!

I'd love the Nexus 7 to add to my Android stable!

never win anything , but maybe this time , this should be a sweet start

I'll take one. Thanks in anticipation.

I would love to have Nexus 7 as my 1st tablet.

I'm interested I want a real tablet instead of cheap one I have

I love that all you people posted here when it clearly says to post in the forums area. Reading, gone is the times of people actually doing it once in a while.

I am looking forward to this. :-)

I would love to have a Nexus 7 Tab, however is this an International contest? I see no rules. You guys rock!!!

I almost bought one but if I could get it for free, that'd be awesome! Not to mention the AC gear! :)
I hope this is international too (I'm in Europe). Thanks!

Hope i win this time around ..

Would be great especially for the upcoming school semester

I would love to win a tablet!

Please! This would be so awesome.... Then I wouldn't have to buy one!

Hope I win. Thanks for the chance.

Looking for a nice dev tablet, pick me! :)

Excellent Contest. This wil make a lot of people happy. Good luck to everyone thats entering.

Would love to get one of those. Thanks for giving us all a chance to win a great product.

Great contest I hope I get my hands on the Nexus tablet!

I can definitely use one...

HORN on the Nexus 7 is the right combination for long trips! Hope to win! :)

I don't think I've ever posted so quickly in a contest thread.....lol

I am very interested in winning a Nexus 7! If I do win...it will be my first tablet! Fingers crossed!

Two smart teenagers + challenging school work + one single mom - much needed tablet technology + winning much needed tablet technology = happy household!

Cool I really want this!!

I'm interest. Please sent me one.

I would love to win this fantastic
package!

Let's do this. THROW some goodness this way :)

Please pick me Android Central, I'll love you 4ever :)

i would like one. for free would be very nice.

I need this! I need it so I can feed my android addiction and to get my galaxy nexus' soul mate!!!

My plan: I can't find one at my local store, so I'll win one!

Im in love with the beauty of this nexus tablet..like i just wanted this since the very first comercials..i would love to have one <3

Wow, great giveaway, would love to win. Android Rocks!!

Thanks for the great contest! :)

Would absolutely adore this if won wicked contest !!!!!

Would be nice to get one. Been looking at a tablet that can act as a PDF reader and a magazine viewer for my subscription to The Economist. Other tablets out there are either too slow or have hardware issues(think Canadian technology firm). The Google Nexus seems just right!

I already dropped mine, so I need another,please.

Of course I'm interested - very interested (I alaways want more magic)
Android Central Newsletter
Get instant access to breaking news, the hottest reviews, great deals and helpful tips
Thank you for signing up to Android Central. You will receive a verification email shortly.
There was a problem. Please refresh the page and try again.