A number of HTC devices will receive 'Eye Experience' camera update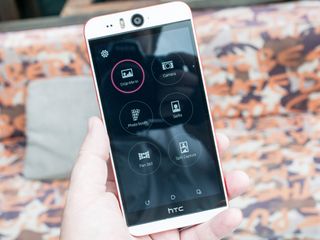 HTC today announced that a number of its current phones will receive an update in the coming months to add in the new "HTC Eye Experience" features that are debuting in the new HTC Desire Eye. Those features include the update camera application with options for Photo Booth, Crop Me In and Split Capture (front-back) modes, as well as advanced face tracking features.
The initial list of phones that will receive the update includes:
HTC One M8
HTC One M7
HTC One E8
HTC One Mini 2
HTC One Max
HTC Desire 816
HTC Desire 820
HTC Butterfly 2
No word on when the updates will drop, but those of us in the U.S. will have to wait patiently for the usual carrier approval.
Being on Verizon, this update will be as timely as their power saver update, lol Posted via the Android Central App

Think it turned out better for us VZW users then it did for AT&T users...

That's not saying much... Magenta is the new Yellow

Is the camera not a stand alone app where it can be updated by HTC themselves? That's too bad if it isn't.

You'd think they would push it through the Play Store like they have done with other Apps.

This is a change in the firmware as well as the software. Framework needs to be implemented through an ota. Posted via Android Central App

Part of me was thinking that the firmware also might need an update so it can access both cameras at the same time. Thanks!

The camera doesn't have to have a full OS update Phil. You need to do more research.

Where did you read it needs a full os update? Posted via Android Central App

The very last line where it says that the update is pending carrier approval.

I didn't realize that is what it meant. Thanks Posted via Android Central App

Couldn't it also mean that is has to be approved to be used on the carriers, kinda like how Sprint blocks FoxFi from the app store?

that is a totally different animal. FoxFi is "stealing" a service, this is just a camera software update.

Really hoping this includes some software tweaks. The camera on my M8 is pretty poor. I understand what they are trying to do with Ultrapixels, but they are failing. I am not about to purchase a 200 dollar accessory to make it better either.

There is no cure for ultrapixels, this seems to be just adding more modes of horrible pictures.

I'm looking forward to the update. HTC already has so many great camera features built-in (face contouring, skin smoothing, eye enhancing, etc.), and these Eye Experience features should be fun additions. Posted via AC App on HTC One

+1 Posted via Android Central App

K White1, your idea like me.

Does this include GPE devices??? Posted via Android Central App on my OnePlus One.

GPE devices use Google's featureless camera I believe. So unless HTC adds their camera app to the play store and allows GPE HTC Ones to use it, then no, your device will not receive the updates. Posted from my HTC One M8 via Android Central App

Pretty cool their updating the m7 as well.
Look at the LG G2 or the Samsung Galaxy s4.. They've basically been abandoned when it comes to new software(new skin and features.. Not android version number) Posted via the Android Central App

That doesn't make a lot of sense. In general, updates don't include such major changes. Motorola got rid of their skin when Google bought them... but other than that and a few other isolated cases, the kind of changes you are talking about are not the norm. HTC also isn't providing a new skin here, just an app update to add in some trivial "features."

I believe HTC has confirmed that Android L is coming to the M7.

Well the m7 is running Sense 6 that was introduced in the m8. It got that update within a few months. It's running latest android plus the latest skin from the manufacturer. Now look at the gs4 and the LG g2.. They may run kitkat but they haven't received the new versions of their skin(touchwiz and LGs skin) that were introduced in the gs5 and the LG g3.. And they more than likely won't receive it either. Posted via the Android Central App

It would be nice if HTC pushed some updates to the M8's camera software, algorithms, whatever the terminology is. When you look at how profoundly better - in some cases near amazing the differences are between normal auto mode and what some people regularly are able to achieve playing with manual settings they MUST have left alot of room on the table for the camera making better choices in auto mode. XDA has a thread that's almost 250 pages long of mostly great shots. http://forum.xda-developers.com/showthread.php?t=2694621&page=249

That's a great thread. I've been there several times. I think HTC could learn a little something if they perused one of those pages. I like the camera on the M8 just fine. I realize that it's not the 16 or 21MP shooter, but I don't crop really and never use digital zoom because it sucks. I also like the fact that my file size is extremely small as I take tons and tons of pictures. And my night shots and low-light shots turn out great. But some of those auto shots in daylight are pretty rough. Posted via Android Central App

You make a great point about file sizes. At some point having files sizes that grow without bound when most people are not going to print or display them makes no sense and are in fact a liability for storage and speed of uploading. I would imaging sending them through MMS or posting to most services involves a fair amount of compression anyway.

I'll have the Note 4 mostly before this update comes around.

Got this already, thanks to XDA My M8 posted this

Does anyone know if this update will be released on the HTC One for Windows phone??? It has the HTC One Camera installed.

Will there be Android 5.0 Lollipop update comin for HTC Desire 820 Dual sim or not? I am an author at www.smartphoneandprice.com
Android Central Newsletter
Get the best of Android Central in in your inbox, every day!
Thank you for signing up to Android Central. You will receive a verification email shortly.
There was a problem. Please refresh the page and try again.