The Nokia 9 PureView debacle needs to be HMD Global's wake-up call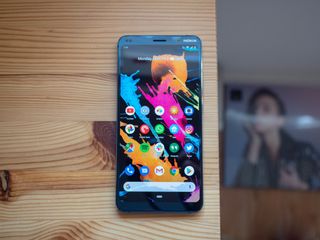 (Image credit: Android Central)
Since HMD Global acquired the Nokia Mobile brand in 2016, its smartphone business has mostly stood on three legs: affordability, clean and secure software, and speedy, reliable updates. If you take away one of those legs, a stiff breeze could send its business tumbling, with budget brands like Motorola — or major OEMs with budget phones like Samsung — eager to fill the gap.
With the news last week that the Nokia 9 PureView wouldn't receive Android 11 — the second of two promised updates for a flagship phone — HMD Global has broken trust with its loyal customers. And it needs to approach 2022 like it has something to prove.
"Smartphone updates have been the cornerstone of HMD's value proposition basing it on the vanilla Google Android experience," says Counterpoint Research's VP of Research, Neil Shah. "Deviating from this core promise especially for the flagship could hurt the brand's mindshare which it has built up."
Last year, we didn't expect Nokia phones to have any issues with updates. It couldn't live up to the promise of Android One and match Pixel speeds, but Nokia did always manage to update phones more quickly to the latest OS than any competitor. Counterpoint noted Nokia was the fastest brand to update all its devices to Android 9, then led its software "trust rankings" in 2020.
But then Android 11 arrived and cut off Nokia's claim to fame at the knees. Its roadmap made promises that the Finnish company couldn't keep. Its 2020 flagship, the Nokia 8.3 5G, didn't roll out until February. Meanwhile, most phones' updates were pushed back several months into the summer and fall of 2021, leaving Nokia well behind every brand except Motorola.
Nokia 9 ≠ Nokia XR20
Then, of course, there's the Nokia 9 PureView. We weren't impressed with it at launch, and in hindsight, you might have questioned whether the 2018 Snapdragon 845 SoC could handle Android 11 in 2021 with reliability. But we certainly didn't expect a $700 phone only to get one OS update like a cheap Motorola phone.
In its explanation (opens in new tab), HMD Global said that "incompatibilities between the camera and the software would have led to a compromised experience that does not meet our high standards." As an apology, it will offer current PureView owners 50% off a Nokia XR20 through late March in 2022. Or you can stick with Android 10 since it'll still receive security updates for the next couple of years.
Look, I reviewed the Nokia XR20 and gave it 4.5 stars. It's a great rugged phone with decent performance and cameras, clean software, and nice intangibles like a 3.5mm jack and Google Assistant button. Plus, it will (supposedly) get updated to Android 14, giving it some longevity.
But even if HMD treats it like a flagship, it isn't one. It has the same Snapdragon 480 5G chipset as the $250 OnePlus Nord N200 5G. Even with 6GB of RAM, it's mid-tier at best; the $500 price is based on its ruggedness more than its performance. And even if the Pureview's five cameras turned out to be a weird gimmick, they still take RAW photos that will trump whatever the XR20 has to offer.
I don't know of another example of an Android OEM failing to deliver on a promised update for a flagship phone, so I don't have a point of comparison on apology gifts. But for die-hard Nokia fans to receive a $250 coupon off a thick phone with slower performance as a consolation prize for a blatantly broken promise is kind of a joke.
Shah agrees that HMD's gesture wasn't an "effective" one. He suggested a better option would be to buy back the Nokia 9 once it released a proper flagship. Of course, this is predicated on a Nokia flagship arriving anytime soon, which isn't a given.
The worst possible time to slip up
The real issue is that Nokia's trademark update reliability is failing while every other OEM is investing heavily in software support. Over the last year, Google released its Tensor chip with five years of security updates, Samsung will give all of its phones three OS updates, and other OEMs like OnePlus and Xiaomi will offer three OS updates on flagship phones.
As OEMs emulate Nokia's speedy software update strategy, with much more distinctive software skins and features, Nokia phones are languishing with old stock software for months.
I want to believe Nokia will course-correct this year. But it's December, and Nokia has yet to release an Android 12 roadmap for its phones. It began testing the developer beta on the Nokia X20 in September, but has yet to launch it publicly on any other Nokia phone.
At the moment, HMD Global seems to be emulating Motorola by releasing a ton of cheap, similar phones while avoiding throwing weight behind a true "flagship" that would have to compete against the big fish. Several Nokia 2021 phones use the same Snapdragon 480 5G chipset; you won't find any flagship Snapdragon 800s, or even mid-range 700s, in these phones.
In theory, it could do worse than emulate the #3 U.S. smartphone vendor. There are some obvious issues with this strategy, though.
Motorola barely updates its phones, so it can afford to go quantity over quality in a way Nokia can't. It has clearer branding, too. You know what you're getting when you buy a Moto G Power vs. a Fast or Stylus; but does anyone outside of HMD know why an X20 has better performance than an X100? Vague numbers don't inspire brand loyalty.
And while Motorola also uses clean Android software, it does add unique gesture controls to open your favorite apps, which makes its phones more distinct to use.
The biggest issue, of course, is that Motorola lucked into a bigger market share after LG's exit from the smartphone industry, rather than benefitting from a genius strategy. So if HMD Global follows the Moto playbook, it may not be thrilled with the result.
How to fix this mess
Nokia Mobile still sells over 40 million feature phones per year. But for smartphone sales, it comprises less than 1% of the current market share, selling about half the smartphones that it did even a couple of years ago.
If HMD Global doesn't want its PureView debacle to be the nail in the coffin for its smartphone relevance, it needs to do more. Since most smartphone brands prioritize flagships and take about six months to update their cheap phones, Nokia could double down on updates and try to push them out on its cheap phones well before the competition. Or, it could try to release another proper flagship to try and drum up some excitement.
Shah believes they should release a "premium" flagship — but it won't be that easy, requiring "differentiation and investment in R&D for the camera, material design, display, battery technologies, etc., which has been elusive and has been heavily dependant on ODMs." Most current Nokia phones have very similar designs; something as unique as the Nokia 9, executed better, could help the brand make an impression.
Otherwise, Shah believes Nokia can "counterbalance this snafu" by the strength of its brand and Finnish team while pushing out more trademark mid-range phones. But it has its "work cut out to pivot" to a new "value proposition" that isn't dependent on fast, boring software updates.
Whatever it does, HMD Global and Nokia Mobile need to find a way to convince people that the PureView's premature end was an isolated incident, not a worrying sign of things to come. Otherwise, there's no way its phones will make a serious dent against the best budget Android phones that offer better software, prices, or speed.
Android Central Newsletter
Get instant access to breaking news, the hottest reviews, great deals and helpful tips
Senior Editor, VR/AR and fitness
Michael spent years freelancing on every tech topic under the sun before settling down on the real exciting stuff: virtual reality, fitness wearables, gaming, and how tech intersects with our world. He's a semi-reformed Apple-to-Android user who loves running, D&D, and Star Wars. Find him on Twitter at @Michael_L_Hicks.
Just wanted to point out, years ago the Moto X Style didn't get its second Android OS update, promised by them at launch. The similarities are on the SoC front too because Style launched on the SD808 instead of 810 as that chip had heating issues.
I remember reaching out to the manufacturer by Twitter and they claiming that commenting on when a phone would recieve and update wasn't part of their policy. I guess this is more of the same, just to put things in context while the 50 pc discount is a hollow promise at best, I got nothing from Moto.
Fed up I moved to the just launched S8+ and have never looked at Moto ever since. Best way to lose customers I guess.

What are you talking about? I had Moto X Style as well back in 2015, it did get 2 promised updates. It was launched with Android 5 (Lollipop) and was updated upto Android 7 (Nougat). I got the Android 7 update 3.5 months after it released.

A few years ago HMD Global advertised they one of the best OEMS in updating their phones. Sad to see they have fallen

I tried to sign up for the discount for my son's Nokia 9, and I couldn't even do that. I contacted Nokia support and they opened a support case for it, saying that they were seeing the same thing....

After the debacle of the Nokia 9 HMD Nokia really need to sort out their firmware / operating system updates. Monthly security patches have gone from good to terrible - the Nokia 8.3 5g I have had to wait 2 months for a security patch which fixed critical Android issues and currently it is December and we still have not received the November security patch. I also not longer trust HMD Nokia to deliver their promise of major Android updates.

I went to Best buy and the Nokia phones were not responsive like it was a 50.00 phone instead of a 300.00 plus phone

They need a true and real flagship device to compete with the likes of Samsung and Apple. It's time for them to pull out all stops and show us what they are capable of doing. I've wanted to ditch my Samsung and Google phones for Nokia but they are not offering anything worth switching to. We get it that you like making budget phones but enough is enough with them. Expand your horizons and give us choices

And yet they call Apple fans iSheeps……..the fact that you still want HMD to make a flagship despite their horrible track record…….

I'd say the number 3 spot in the US is up for grabs. Probably the best selling Moto phone here is the Moto G Power. Unfortunately Moto has crippled the 2022 model. People have always bought that model because it was a dependable hard working phone with incredible battery life at a good price. Looks like thats over and a lot of people are gona be unhappy with Motorola very soon. Looks like more sales for Samsung in the budget and midrange.

All hopes I had in a Nokia legacy device made for Android are gone and have been for a while.

We have quite a few Nokia mobiles and each (late upgrade) version of android brought very nasty bugs. The fixes either took a very long time to get resolved or none at all; we are still waiting for fixes since the last android 11 update. Check their forums, they are full of complains and people is abandoning the brand. We went for the android one but its implementation from Nokia is just bad: they either lack the software development skills, resources or are simple abandoning the devices as soon they release a newer one. With brands offering now 3 years of major releases, it's time to move on to a more reliable brand, most probably Samsung.

Following the TCL playbook.

I wouldn't dismiss TCL as they are a brand new OEM with 2-3 generations of smartphones, TCL 10, and 20 series. Unless you are talking about the BlackBerry Android phones made by TCL?

Is anyone really surprised about this, a phone with experimental camera tech from Light not getting Android 11? If Light refused to provide the drivers and software for the camera setup in Android 11 then HMDs hands are tied. On the subject of updates, HMD are testing Android 12 updates for several phones, including my own 8.3 5G. Are they slow to provide updates, yes. But I would rather have a relatively bug free experience.

I've sort of lost the thread on what a flagship is exactly and when it's (intrinsically) worth spending $1k+ on one, but assuming 'Flagship' starts at the Pixel 6 Pro ($899+) and on up... I'd prefer to see Nokia target the mid to upper mid-tier. That being said, how do they differentiate their mid-tier offerings from the A52 5G, Pixel 6 and S21 5G? It's certainly not with slow or unfulfilled software updates. For one mfg or another, the punching-up wanna-be flagship strategy has failed more oft than not though it seems.

Android One is a fail (take a look at every Device from every Manufacturer - did most of them live up to their guarantees?) Motorola did learn (only guarantee what you can!) - the Motorola G Stylus 5G is a top seller (especially the unlocked variant if you can get it at discount), the 2021 4G LTE (and it's cousin G Power 2021, along with the G Power 2022) are best avoided (I'm still using the 2020 Motorola G Stylus, Nephew the 2020 Power - both work great with a stable OS 11! Motorola failed with dropping 2021 variants that did not live up to specifications!) The Motorola Ace 5G is a nice Device with NFC (especially when compared to others in its same price range on North American store shelves!) I think it's better than the Edge. Motorola G 100 5G looks impressive (I'd be interested if I could get 3 years out of it at discount price). About the only thing I wish Motorola would do is release the same Device under the same name globally (and get those International models that often have better specs on North American store shelves without making them Carrier exclusive). Now that we know the Samsung Galaxy A32 5G isn't going to be updated on par with the A52 5G? You can't brag about having that Device (maybe be humble if you get 1 OS and 3 years of Security updates?) How are those A22 and A12 Devices? Just as low-tier as they are meant to be (on par with a Motorola Play or a Motorola Fast!) Even TCL has a Revvl variant for T-Mobile and Metro that's low-tier (and best avoided!) I will agree Motorola releases a smorgasbord of Devices - but so does Samsung (I see on average four different Motorola devices vs six from Samsung in the low- tier to mid-tier range - I think that makes Samsung more guilty!) Here's where they differ, how many top-tier Devices are available (one or two from Motorola vs four to six from Samsung?) and now I hear rumors that Samsung will not release a Note (but will they offer up S Pen support on their next flagship Devices?) - so guess where that leaves you if you like using a built in Stylus? Motorola (maybe now would be a good time for TCL to work with T-Mobile and come out with a Revvl that has a built in Stylus! maybe Nokia can give it a try!) LG didn't learn (ignore updating your devices at all and they don't sell), ZTE and Huawei didn't learn (play games with the US Government and get 86 from North America stores - which sucks because I was an Honor + a ZTE fan!), and now it's Nokia that didn't learn (reevaluate, maybe follow the Motorola business model and come out with mid-tier that are 1 OS + Security Patch Updates for 2 to 3 years with a generous trade-in discount!) Before anyone cries foul at trade-in discounts, guess what Samsung offers? Trade in discounts! OnePlus / OnePlus Nord are not going to be the same now that Oppo will push more of Color OS onto Oxygen OS (fyi Motorola pushed the update from OS 10 to OS 11 faster on their Devices compared to the Nord). I think this is going to become a bad idea / have a negative impact in the North American Market. Those are my opinions, but in the end? I believe as Consumers we should be guaranteed certain things when we purchase a Device (honestly guarantee at least 1 OS Update - 2 if the chipset and specs will allow it, along with 2 to 3 years of Security Updates minimum every 3 Months, a trade in discount that will guarantee Brand Loyalty). I'm all for innovation and a variety of Devices available on store shelves, so that means at least 3 different Models from every Android Device Manufacturer (top medium low).

Nokia where is that high end phone for 2022!!!
Android Central Newsletter
Get instant access to breaking news, the hottest reviews, great deals and helpful tips
Thank you for signing up to Android Central. You will receive a verification email shortly.
There was a problem. Please refresh the page and try again.