Motorola's 'success' is due to a lack of competition after LG exit, not actual effort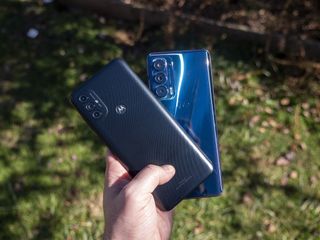 (Image credit: Nick Sutrich / Android Central)
Let me start off by saying that I was a huge LG fan. And I'm still quite bitter that we won't see another LG smartphone. The loss of LG left a void not only in my heart but also in the mobile industry, with Samsung and Apple continuing to rein in their perceived duopoly. At the same time, the smaller guys like Motorola struggle to pick up the scraps of market share in the U.S. But while Motorola has claimed LG's former spot as the third-largest OEM in the U.S., it doesn't feel like the company is really making much of an effort to win over consumers.
Each company seems to be going about it in different ways, with varying results. OnePlus vying to be the alternative to Samsung's Galaxy phones, Sony content to carve out a niche with expensive phones targeting content creators, and Motorola focusing its efforts on the budget segment.
Yet while I respect Motorola's hustle to make a phone for everyone, I can't help being disappointed every time the company announces a new smartphone for the U.S. market. Even on Black Friday, when Motorola's phones are even more affordable than ever, I find it difficult to actually recommend its devices to anyone.
In fact, if you're looking for any good Black Friday Android phone deals, you'll do best to spend a little bit more money on the other guys that appear to be putting effort into their devices.
I say this because it's hard not to feel like Motorola is doing the bare minimum when it comes to the mobile industry. Motorola showed off its 2021 lineup at a recent launch event for the new Moto G Power (2022), and absolutely none of the devices look remotely interesting. You can barely tell that the Motorola Edge (2021) is the more "flagship" device among them.
I recently had the unfortunate pleasure of reviewing the Moto G Pure, and it was purely a dull phone that I struggled to find anything nice to say about. And even with the recently announced Moto G Power (2022), I can't help but feel like it's a downgrade from the 2020 model despite the higher refresh rate. Motorola also missed the opportunity to include 5G, which you're starting to find in more devices at the same price point.
Then there's the horrid update policy, with most of its phones only being promised one major OS upgrade. Even LG, which wasn't known for timely updates, left the mobile industry this year with the promise of three years of updates for its latest smartphones. And sure, we have yet to see this play out in any way, but at least it's there in writing.
Motorola can't even commit to putting NFC in its phones, which is ridiculous to the point that even the Bay Area Metropolitan Transportation Commission (MTC) refused to support its phones for mobile ticketing due to "inconsistent experiences with Motorola phones." That doesn't bode well for the company if it wants to be taken seriously as the new No. 3 Android OEM in the U.S. — and it doesn't seem like Motorola really cares.
According to Counterpoint Research, while Motorola benefited from LG's exit in the market, so did OnePlus. This was largely driven by its affordable OnePlus Nord N200 5G, which is one of the cheapest 5G smartphones you can buy in the U.S., and the only real competition to Motorola. However, with only a handful of models available in the U.S., OnePlus is taking the quality-over-quantity approach to the U.S. market as opposed to Motorola's strategy, which has turned into a massive midrange sludge.
And then there's Sony, which mainly stuck to what it knows by targeting the premium market, so it's not really there to compete with Motorola.
"Sony has refrained from hurting its balance sheet and continues to offer premium devices, which are more parallel to its premium 'quality' maker brand image," says senior analyst at Counterpoint Research, Hanish Bhatia.
Sony doesn't expect to sell a lot, but because it's honed in on its target audience, Sony can ultimately afford to stay under the radar in the smartphone space while iterating and improving on what it does best.
Android Central's Nick Sutrich recently interviewed Doug Michau, executive director of North American business development at Motorola, which made it fairly clear that Motorola merely into third place in the U.S. market. However, this "slow and steady" way of tackling the market risks allowing companies like TCL to catch up and surpass it.
The interview highlighted how Motorola was banking on its long-standing brand name to help drive its sales, a point echoed by Bhatia.
However, he noted that Motorola's attempts at the higher-end tier with devices like the new Motorola Razr series have failed to stick with consumers in a market that is "highly skewed toward Apple and Samsung." This is due to different demographics and a postpaid presence that Motorola just doesn't have.
Perhaps this is why Motorola seems hesitant to throw its full weight behind a proper flagship phone in the U.S., and why we have yet to see a follow-up to the Motorola Razr 5G. Display Supply Chain Consultants (DSCC) reported that the company is pushing the release to the second half of 2022, which could be attributed to the chip shortage but also to the company trying to "re-invent their foldable design."
However, Motorola could risk falling into the same trap as LG. Bhatia explained that before LG's exit, the company was "continuously trying to redefine the brand and find higher share in the premium segment" while putting out passable flagship phones that undercut Samsung's Galaxy devices and also trying to go its own way with foldables.
This led to fairly awkward dual-screen attachments, even more awkward hand gestures, and the interesting but ultimately underwhelming (and underpowered) LG Wing, which drove R&D and marketing costs up. This amount of experimenting made it seem like LG was just throwing things against the wall to see what stuck, which ultimately led to the company's demise.
We've already seen from Samsung that the clamshell design is one that customers like, so there's no reason for Motorola to try and reinvent the wheel, especially if it wants to bank on the Razr moniker. If Motorola plans to release another foldable next year, it needs refine what it already has, give us truly flagship specs, and a price to match or beat the Galaxy Z Flip 3. However, it also needs to provide much better value from not only its flagship offerings, but its budget phones as well, and improve the update policy on all of its smartphones, lest it fall victim to the same criticisms that befell LG. And for Christ's sake, put NFC in your phones.
Get the Android Central Newsletter
Instant access to breaking news, the hottest reviews, great deals and helpful tips.
Derrek is a long-time Nokia and LG fanboy who loves astronomy, videography, and sci-fi movies. When he's not working, he's most likely working out or smoldering at the camera.
Agreed with everything in this article. I have had several Moto phones over the last few years and regret every purchase. For me, the biggest problem was lack of timely updates. Or in some cases, lack of updates at all. The worst problem is a software update with really bad bugs followed by zero updates to actually fix them. My Moto Vision was less than a year old when a major update broke 2.4ghz wireless completely. Waited for over a year for the next OS "upgrade" which was promised to fix this issue and guess what...not fixed. Needless to say Iam done with this company now. Motorola releases so many phones every year and likely doesn't have the resources to keep them updated. Their sales model is "look at how much cheaper we are" but be warned, you do get what you pay for with this company.

Motorola won't do anything in this article. They will instead release 10 Moto g phones in 2022.

Great article and I hadn't thought about Motorola too much but this makes sense. They will release the new phones on Android 11 and it's anyone's guess as to when they will get updated. A promise for Android 12 could come next fall. I'm sure they are fine with this going after the mid-range market with consumers who might not even notice or care. This is certainly a strategy but others like Samsung could crowd them out.

I think it is ridicolous that Motorola won't provide NFC on its phone while most other OEMs do for their phones under $300. The DC Metro subway offers tap and pay to pay your smartrip fares and without NFC Motorola's won't work.
I also don't like they only offer 1 major Android version update. For example, the Moto G Power 202 came with Android 10 is getting upgraded to Android 11 but won't get Android 12

That's not true!I have a Motorola G9 power and I do have NFC mode!

Hmm well that phone was not available in US market.

I agree this guy doesn't know what he is talking about My Moto one 5g Ulta wide has NFC mode and is 5G just another opinion piece by a salty LG fanboy.

This article is largely about Motorola being number 3 in the US. And in the US, Motorola keeps releasing mid-range phones without NFC. A lot of those same models actually do have NFC in foreign markets, but not here.
This is an incredibly stupid move, but like the article says, they just don't seem to care.

My Motorola edge 2021 has nfc....

Ok but he was talking about sub $300 dollar phones. Of course some of the pricier models have NFC.

Im disappointed in Motorola. I recently decided to get the G Power 2022 or even the 2021 model of that phone. Then I found out Motorola doesn't use Gorilla Glass in these lower tier phones anymore. They most likely use NEG glass. Nope I'm not paying over $200 dollars for a phone that doesn't have Gorilla glass and also has a 720p display. Then they have the nerve to switch to a MediaTek chip. They are either over priced or under speced for the money. I need to save money but I'm not that desperate. That upcoming 2022 model should be hanging from a hook at Walmart for $129.

Moto has completely blown anything that was good about their phones . The 2020 edge+ was sooo close to hitting the Mark but LG's last hurrah was enough to beat it soundly . This year?! They dropped stereo speakers from almost every model including the totally pathetic new edge , really moto? Mono speaker ,LCD , plastic fantastic , oh ya , mono speaker ! Then all these pathetic 720p screens and a new found love for LCD everything clad in Fisher Price plastics . You guys were owning the entry and midrange game with stereo speakers everywhere and big batteries with cameras that don't suck. Whoever you hired that is responsible for this needs to be fired at the next incoming asteroid towards earth because that would at least be more useful than the shambles he's left behind at Motorola. Come back Moto. LG handed you the winning ticket and you flushed that big head start you could've had all down the drain . So sad , I'm still using my LG V60 and what did you bring me to ease my suffering? Plastic Fantastic and sadness 🤮

I'm still using my V40 Thinq and was considering getting newer moto now that LG is gone. I think I'll just keep using this one until it quits.

I have the Moto One 5g Ace and it's a heck of a midranger. 6 gb RAM, SD 750g processor, 128 GB storage, NFC, Gorilla glass, good cameras, almost no bloat, and fully compatible with all US wireless carriers. Paid $299 unlocked. Even has sub 6 5g to go along with standard Long/Mid 5g bands. People need to really quit the Moto bashing. If someone wants a G Pure because they need super cheap and unlocked phone, I'd rather they buy a Moto than a ZTE or Tcl....or something of the sort.

Same can be said with my edge 2021. I actually don't want curved edge displays because I have huge hands. And oled burn in is a concern when gaming. My only complaint would be the ****** mono speaker. My old moto one fusion plus sounded better. But then again who uses phone speakers?!

To each their own, you want a particular model and/or features and/or appearance and you're willing to pay for it then by all means. Moto has gotten very good at putting out everyman phones, that fit the bill for most of us very nicely. I won't disagree that Moto needs to improve their devices, but at one time so did Google, Samsung, LG and others. Quite happily using his fourth Moto, Moto G Stylus 2020 edition.

I have to agree. Though I own an LG, I would GLADLY choose Motorola over anything ZTE etc.
Although I have not owned a Motorola in years, I think that when it comes to smartphones, there ar so many different kinds that there is literally a phone for everyone and it's just a matter of finding one that is right per each individual's needs. For example, there are still people out there who prefer simple, bare bones smart phones as well as customers who want it all. Just depends on what a buyer is looking for.

I love my Motorola One Ace! I got it for $299. I refuse to pay installments for a cell phone. It does everything I need it to do. It took awhile to get to it being much larger than my previous Motorola. Additionally, the battery life is outstanding.

I disagree, I came from the 2020 Moto Edge 5g. Which unlocked was $500. It had a 90hz large screen, stereo speakers, large battery, 256gb of storage w/ an SD slot and stock Android. The biggest drawback was knowing that there wouldn't be any OS updates. They are not competing with Samsung, they are competing with the pixel A line (on Motos high end) and with Walmart pre-paids and everything in between. It's also worth mentioning that their always on display, Moto Peek (or whatever) is the best use of AOD out of any brand. LG was trying to hard to compete with Samsung, with gimmicks and high prices. The average customer wants a big screen,good battery life, and to not pay very much. They don't know what version of Android they're on. That's why Moto is doing well.

I liked my 2016 Moto Z2 Force so much I kept it for two years and it worked very well while driving Uber. This was a Verizon phone that I bought and used with mint mobile and the phone got updates and worked beautifully compared to other LG phones I had owned. Very good comments on what's happening with Motorola in the market but I think the same thing is happening with Motorola as with LG the critics far outnumber the fans.

I completely agree with your last paragraph! I am that customer.

Motorola had a solid history of innovation and quality manufacturing with radio and was synonymous with it until the late eighties when the mature family management was sacked by the more contemporary "manage by quarter" paradigm. That new philosophy of keeping the same price point in the high end market but pulling back innovation and SERVICE was a stupid move. Motorola could have jacked its prices 25% and spent half that tuning the OS and catering to the more tech savvy customers and been a competitor embracing Android. They could have had the brand loyalty of Android. But greed and a loss of focus on sevice and Motorola squandered a valuable asset. As former employee, I mourn for what was once a great company. Her radios got us to the moon. The first cell phones were completely developed, manufactured and supported on the back end by Motorola until and after it took off commercially. Such a shame to see a once great collection of people that birthed mobile human communications die without barely a whimper...

After reading your comment I feel like LG failed in some of the same ways you mentioned about Motorola, especially the lack of focus on service. I may have misinterpreted what you meant, but when I think of this issue, what comes to mind is my current LG V40 that has barely been updated in any manner at all and it's been around since 2018.
I think all companies need to understand that people want quality, which is more than just referencing the actual phones, but quality as a company as well. Don't get me wrong, I love my current phone, but I also know that it will never get the updated it perhaps could or even should have.

Author clueless. My Z4 has NFC. The Edge line all have NFC.

As an LG owner I can say that the author is possibly a bitter LG fan. 😆

Their main market is Brazil and LATAM, top 2, heavy marketing, we always have the devices since day 1 launch, they're very trusted popularly as reliable phones and stock like Android.
They simply won't make too much effort on US market where Apple and Samsung are king, they aim other markets.
Their devices are reliable, reasonably-priced, they simply aren't trying to compete with Samsung, many people won't buy Samsung because of One UI, and will buy Motorola instead for the clean software.

Motorola has several Devices with NFC (yes I wish all of them did) I'm fine with my 2020 Motorola G Stylus (I reckon next year to upgrade to a 2nd Gen Motorola G Stylus 5G) Motorola has updated Android OS and Security Patches faster than OnePlus Nord (my Device was updated from Android OS 10 to Android OS 11 back in April - OnePlus Nord couldn't do that until July! I got the October 2021 Security Patch in October!) You can't even call what OnePlus has OxygenOS anymore, it's basically Oppo ColorOS (and everyone that bragged about owning a Samsung Galaxy A32 5G is lamenting the fact that their Device will not receive the same timely updates as the A52 5G!) I wasn't happy when LG's Mobile Division (smartphones, tablets) took a **** and died - that's one less choice for Consumers (it's on par with waiting for a new Nokia to show up on store shelves, or how ZTE had shelf space - but lost it due to their own stupidity!) I welcome TCL / Revvl , along with other Manufacturers getting shelf space in North American Shops (just like I hope we don't suffer with Devices having Mediatek chipsets because Qualcomm Snapdragons weren't available!) I would prefer Motorola to stick to 6 Devices (2 top tier 2 mid tier 2 low tier), but even Samsung outdoes them with how many Devices they put out (if that Motorola 2021 graphic was Samsung? There would be twice as many Devices lined up side by side!) I will agree that no Android Device Manufacturer should be releasing a new 4G LTE (unless it's to a 3rd World Country that won't have a 5G Network for years!) The push for 5G is making 4G LTE Devices obsolete, but I couldn't tell you when Carriers will be demanding Customers to make the switch (2023?) Nuff Said

Brown's comment is full of insight, Oneplus has been fascinating to watch and they make great used phones.
Reading all these comments I am glad I did not spend that much time evaluating Motorola phones. Looks like Amazon is pushing TCL and am inclined to take a look. Thank God Writer ignored Pixel phones even though GOOGLE PUSHES THEM IN EVERY TECH BLOG WORSE THEN AMAZON LINKS EVERWHERE On YouTube there are a lot of, Get a Snapdragon 865 phone videos, and you will be Happy!!! In the past used phones, like certain flagships from Samsung and LG have gotten great reputations for lasting years Why are the Hearts turned off only 24 hours after article is published?

I've had G5+, G7+, G8+ and G9+. All with NFC. Some worked better than others; the G9+ is pretty much instantaneous when placed anywhere near a card reader. I'd love to have a Sammy, but TouchWiz drives me crazy. Stock Android, please.

I own a Mate 20X, Cricket wireless says its not a 4g device, when it is. They say it will not work after February. It's bullcrap. I have been looking fo a replacement, nothing compares to the 20X. The only choice is a skinny Note 20 ultra. I wish someone made a phone for men with big hands, they are getting more narrow, it's hard to type on these small phones. Nothing compares with the 20X.

The worst thing about moto, is their cameras, they don't do enough to make them good. I can take the no update deal, slow security updates, messy unlock code system, but , for the price, they are weak in the camera department, even when the hardware is up to snuff. And what about their marketing, calling a phone with no edges, a edge?

I dunno, I think there is literally a phone for every preference, and maybe Motorola's phones are not on par with the author's needs. My current LG has a ton of feature including NFC and I never use any of them, so, honestly, a Moto without NFC would be fine with me. The smartphone market is very diverse, so is the smartphone customer. Definitely no hate here.

Yes exactly! I won't argue that features are nice, some features are great even... But not everyone is looking for a feature rich and experience extraordinaire device. I work in hospitality so I deal with the public a lot, many folks barely have more than a cursory understanding of their phone's features. Some are simply looking for a nice enough device, inexpensive (cause not everyone has upwards of $1K to drop) and that gets the job done and Moto fits that bill. Yes they need to work on updating their OS more frequently and putting out less variants during the course of a year, but Moto really isn't that bad.

Has anybody here mentioned that the over-arching issue here is Lenovo?

Motorola was bought by Lenovo a while ago,they just pouring out the usual crap everyone should expect from the Chinese?

I think you should not complain as much. Come and live and buy items in Canada. Then we will see how much phones here cost. The top IPhone is around 3000$ paid outright and Samsung flip or fold is 2800$ as for Motorola edge is 1100$ . Let's talk about how expensive phones are. U pay for what you want and you get what they put in the device they made so on and so on...