Nokia 8 specs: Snapdragon 835, dual cameras, and Android 7.1.1 Nougat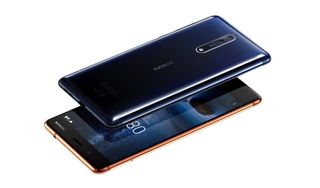 Nokia's long-awaited Android flagship is now official, and there's a lot to like. The phone is powered by the Snapdragon 835 and features 4GB of RAM, along with 64GB of storage and a microSD slot. There are two Zeiss-tuned 13MP cameras at the back — a primary RGB shooter augmented by a secondary monochrome sensor and a 13MP camera up front that can shoot 4K video.
The phone also has a 5.3-inch QHD display, a 3090mAh battery with Quick Charge 3.0, USB 3.1 Gen1 connectivity, a headphone jack, OZO Audio for 360-degree immersive audio capture, and Android 7.1.1 Nougat out of the box.
Here's a detailed look at the specs on offer with the Nokia 8:
Swipe to scroll horizontally
Category
Spec
Operating System
Android 7.1.1 Nougat
Display
5.3-inch IPS LCD 2560 x 1440 (554ppi)
Gorilla Glass 5, 2.5D curved glass
Processor
Qualcomm Snapdragon 835 (MSM8998)
Octa-core up to 2.45GHz
GPU
Adreno 540
RAM
4GB
Storage
64GB UFS 2.1
Expandable
Yes, up to 256GB
Battery
3090mAh
Charging
USB-C (USB 3.1 Gen 1)
Quick Charge 3.0
Water resistance
IP54 splashproof
Rear Camera 1
13MP RGB, Carl Zeiss optics, f/2.0, 1.12-micron pixels, OIS
Dual tone flash, PDAF, laser autofocus
4K 30 fps
Rear Camera 2
13MP monochrome, Carl Zeiss optics, f/2.0, 1.12-micron pixels
Front Camera
13MP, f/2.0, 1.12-micron pixels, display flash
4K 30 fps
Connectivity
LTE 3xCA, Cat 9
Wi-Fi 802.11 ac MIMO
Bluetooth 5.0, NFC, ANT+
GPS/AGPS, GLONASS, BeiDou
Sensors
Ambient light sensor, Proximity sensor, Accelerometer, E-compass, Gyroscope, Fingerprint Sensor, Hall sensor, Barometer
Audio
3.5mm headphone jack
Three microphones, 360-degree sound capture
Security
One-touch fingerprint sensor at the front
SIM
Dual SIM slot
Network
LTE: Band 1/2/3/4/5/7/8/20/28/38/39/40/41
WCDMA: Band 1/2/4/5/8
TD-SCDMA: Band 34/39
GSM 850/900/1800/1900MHz
Dimensions
151.5 x 73.7 x 7.9mm
160g
Colors
Polished Blue, Polished Copper, Tempered Blue, Tempered Steel
The Nokia 8 will go up for sale from September 6 for €599. Who's interested in buying Nokia's first Android flagship?
Android Central Newsletter
Get instant access to breaking news, the hottest reviews, great deals and helpful tips
Harish Jonnalagadda is a Senior Editor overseeing Asia at Android Central. He leads the site's coverage of Chinese phone brands, contributing to reviews, features, and buying guides. He also writes about storage servers, audio products, and the semiconductor industry. Contact him on Twitter at @chunkynerd.
Those 3,000mAh batteries are killing me man. They need to move away form that already. This phone would be amazing with at least a 3,500-4,000mAh battery. It would be a force to be reckoned with. Especially if it was priced appropriately.

4000 mAh would be great except that it would be a centimetre thick or more. Bear in mind it's "only" a 5.3 inch screen.

Which is the main reason I won't be buying it along with the fact that my next phone is going to have 6GB RAM

Why do you need 6 gb of ram?

Because my Nexus 6P is very sluggish and I want to be able to easily discount the hardware this time, sometimes I get low memory warnings (from Tasker I think) but in any case more is better than less. Lots of phones are coming out with 6GB, I'll buy one of them.

Man, what the heck are you guys doing with your phones? My Nexus 6 still runs like a champ and I don't need more.

They can easily fit at the very least a 3'500mAh battery in there. Look at the Moto Z Play. That device is ridiculously thin and has a beefy battery.

Exactly, just look at asus new phone. 3600mah battery along with a nice camera and 835 processor.

Correction: the first Nokia overpriced mid-ranger. There's nothing worthy of a flagship in this crap apart from the processor. Everything else is mid-ranger at best. This would be a flagship in 2014. Not in 2017. And for 600€? I can buy an S8 for 600€. And it smashes this to smithereens.

Not even those. Camera2api still closed and overexposure galore. Also, real Nokia flagships have camera buttons.

I've yet to see an Android phone with a dedicated camera button, maybe it's an Android thing? I mean you can use the volume buttons for the shutter, basically the same thing on a phone IMO. I view this as a flagship, I used to sell the Nokia windows 8 flagships so I know what they were like. Only thing really missing for me is the wireless charging. Then the camera set up is a bit lacking, I'd rather see two different sensor/lens combos instead of a monochrome set up.

Off the top of my head, Sony seems to be the only OEM who does that anymore.

Correct. Sony Xperias have camera buttons.

And here I thought we'd see an actual positive comment from you. I guess we'll have to wait until after the eclipse...

If you thought I'd pander to HMD while they release crap just because Nokia sanctions it, you haven't been paying attention.

Also, the 21/08/2017 eclipse isn't really anything special in Europe. Dunno where DJCBS is from, but here in the Kingdom of United, were looking at about 4% solar coverage... Slightly less impressive than an average days cloud cover lol.

This is America's baby. 100% in the central region.

😁😁😁😁😂😃😅😆 dudes from wincentral very funny

what do you consider mid-range??? Specs are like U11 and S8

The S8? Are you drunk? See my comment below.

Ah ok, you're a Sammy fan, I can understand now, don't worry, keep thinkin that

Are you stupid? Or are you just new here? I'll let anyone who has been on this site long enough correct your absolutely misfired attempt at counter-arguing by calling me a Samsung fanboy.

He lambasted those of us who bought a Samsung Ativ S back in earlier Windows Phone days. Sammy fan? Nope.

Well...look how well that worked out for us! ha ha...no updates...no way forward...again.....

Ohhhh lmao I'm a Samsung user and I would not even make that comment lol, He is simply saying spec for spec /price for price he is disappointed in Nokia, im no Samsung fan boy, I have used every platform and brand since 1997 before anything existed, and forced to use Blackberrys for my entire military career or sat com, from palm treos to palm Pre's (never touched a sidekick lol) sounds to me like you eat a lot of apples...

You would be terribly mistaken

Yeah you couldn't be more wrong haha. He has high standards for Nokia because he knows what greatness they're capable of, thus his disappointment in their hmd releases.

Wth? Which spec is not of flagship level? I know the lines are blurring, but Nokia isn't really in position this round to invent the future. This stands up to any flagship mobile that doesn't wear a Samsung stamp.

- No Qi charging
- No AMOLED
- No camera button
- No great camera
- No IP rating
- Huge bezels The first 4 items have been standard in Nokia flagships since 2012 (2013 for AMOLED). The others are all present in the competition with Samsung checking all boxes and other OEMs checking at least some.
HMD failed across all of them. This doesn't compete with the almost 2 year old S7 let alone 2017 flagships. Even the OnePlus 5 beats it and the OnePlus 5 is not a mind-blowing device.

The one plus 5 doesn't check off any of those either so how does it beat it? Also the galaxy s7 is nowhere near 2 years old.

The OnePlus 5 has an AMOLED screen. Also... You know what "almost" means? 'cause I wrote that before "2 years old".

I know that 17 months and 24 months aren't almost the same. But okie dokes.

Which will show burn in within a year. I'll take IPS every day over AMOLED.

I've used AMOLED phones since 2013. NOT ONE has burn in. ONE. And that includes the S7. So...there's that...

Same. You need to have the same pixels lit literally for hours for burn in to take effect.

All 4 of my Moto phone's ( X, X 2014, Z, Z) show noticeable color difference between the space where the navigation buttons are and the rest of the screen. Not necessarily but in, but definitely it's a effect over time that builds up.

Weird, never had an issue with any amoleds.

Or any of my Motorola phones.

It's almost 1 1/2 years old...I wouldn't call that almost 2 years.

As the former owner of a OP3 I can assure you it's nothing to brag about. Absolutely nothing like a Galaxy display. I recently picked a Mate 9 and it's LCD display changed my mind about displays. I still love my S8 + to look at but I could enjoy the Mate 9's without missing AMOLED, it's that good. Unfortunately the Mates software is crap and I returned it.

Yes, but one plus ticks a very important box. The price.

And that's why OnePlus 5 costs less then other flagships, around 30% cheaper...

-I dunno...I've never seen anyone outside of a tiny niche set of consumers use wireless charging.
-AMOLED is fine to be sure, but I bet you dollars to donuts that most people won't throw up when they see it in action. In fact, they'll think it looks great.
-Camera buttons are nice if they're there, and no one notices when they're gone. Seriously, your average person doesn't even kind of think it's an issue.
-No comment...I think it would be prudent to wait until someone has done an actual camera review to make any judgment on camera quality.
-IP rating is another niche feature. I think it's cool and I've owned phones with it, and I've also owned phones without and I can't say it's ever come up as a problem for me.
-Everyone whines about bezels. It's not a problem, and honestly has nothing to do with the argument of whether or not this is flagship. No one in their right mind says "It's the best phone in the world! But it's not a flagship because there are 3mm of bezels just staring at me with their evil, baleful bezely eyes!" I understand this is why YOU don't like the phone, and that's perfectly fine. I'm not arguing about your tastes. I'm just saying that the above points are questionable when processor strength, software optimization, RAM, storage, and other factors are far more important in determining flagship status. My $0.02, but to each their own. Cheers~~

First thing you have to understand here: I am evaluating this overpriced mid-ranger by NOKIA standards. I've used Nokia phones exclusively for 15 years and I went down with the ship in 2014 (I then jumped into a Z3 Compact lifeboat when Microsoft showed up to pick the debris). So with that in mind: - Wireless charging was standard on ALL Nokia flagships since 2012. - AMOLED was standard on ALL Nokia flagships since 2013. - Camera buttons were standard on ALL Nokia flagships since 2007. - Actually HMD's product manager already published photos taken with the Nokia 8 on twitter. And going by those either: 1 - the guy is a moron who take take a decent photo or 2 - the camera results are terrible in Auto mode (and since that's pretty much all you have available anyway...well...). Good manual mode have been standard on Nokia flagships since at least 2012. - IP rating is a standard for any 2017 FLAGSHIP. It may be niche but the moment Samsung and Apple started adding it to their phones, it became a standard. The only thing niche about it is the amount of people who might care about it. - Again, 2017. This phone's bezels wouldn't be a problem in 2016. In 2017 the industry that dictates the standards is moving towards bezel-less phones. I don't have problems with bezels IF they're not huge (they should be enough to have the fingerprint scanner on the front as well as capacitive buttons if you ask me. But in September this will be going against not only the S8 and G6 - which cost the same or less currently, as well as the new iPhones, the LG V30 and the Note 8.
You need to understand also that HMD only has certain regions where the Nokia brand has any cache with consumers. Those regions are Europe, India and South America. For India and South America the phone is too expensive for what it offers. And for Europe the phones can NOT compete with the other established brands. Even the new Xperia phones - the XZ1 or XZS1sXs12 or whatever Sony calls it - will give this a run for its money. A flagship is the best all around that a company can offer. This is NOT the best that Nokia can offer. That's the thing. This phone, apart from the processor, has absolutely nothing better than a Nokia flagship from 2014. In fact, it takes so many steps back that it fails at delivering hallmarks of Nokia phones.
This is why I will continue to call this what it is: an overpriced mid-ranger. Because I know perfectly well that Nokia can so much MUCH better than this. Now, HMD says "we're just getting started". Well, what will they do next? The rumoured Nokia 9? IF they release a Nokia 9 which addresses ALL of these issues (and they ARE issues), how exactly do they plan to justify the existence of this overpriced mid-ranger? I surely will be happy if they do but at this point does anyone really believe that?
Some sites called this the "affordable flagship". Well, at 600€ this isn't an affordable flagship. It's in full flagship territory in Europe (and yes, even though OEMs are releasing phones for +700€ on launch, the European market - where carriers have zero power - quickly lowers the price of the phones to their realistic value).

Hmm my N8 from 2010 had AMOLED as did my N9 2011 and 808 Pureview 2012 :) I thought they were Nokia flagship phones when I bought them ;)

"First thing you have to understand here: I am evaluating this overpriced mid-ranger by NOKIA standards." Agree completely. I had high hopes when HMD got the license to use the Nokia name. This might be a good phone, but it's not an exceltional Nokia phone that some of us wanted.

without any disrespect, ever since you've been active, you give me the impression of someone who's enamored with the nokia-that-never-was. You are, of course, entitled to your opinion and while it's nice to see someone with such passion every time and again, at this point I think NOTHING nokia/hmd comes out with could ever satisfy you, even if it ticket the boxes. As a bit of insider info from someone who's utterly pissed by the current smartphone efforts (feel free to take it with as much salt as you wish): as sad as it is, despite your claim to the contrary, this is pretty much all nokia is currently capable of cellphone-wise. But hey, we're making nice progress with 5G and just recently milked Apple for a truckload of cash.

well HMD aint Nokia anymore they put things they think its enough

Clearly not. But they sure are making ALL the mistakes Nokia's old D&S division did, that's for sure.

What were you expecting? They're almost literally the same people, give or take a few newcomers.

Flagship in 2014?? Like what model? Snapdragon 835 in 2014? 4GB in 2014? 64GB HDD in 2014 (maybe)? It's true that this phone is not competition for the Samsung Galaxy S8, but you can't say that it's a mid-range, what I don't argue is the price, it's very high.

I've explained above (in a rather lengthy answer. Penultimate paragraph) why I call and will continue to call this an overpriced mid-ranger. ;)

Imho by definition, a mid ranger cannot have a 835 cpu inside.
Mid rangers are defined by the processor: 8xx series for flagships, 83x 86x for midrange and so on. But I do agree with you that this phone lacks in crucial areas like:
- wireless charging
- bezels from Hell
- battery size
- IP

"the first Nokia overpriced mid-ranger".....Correction the first one was the "affordable flagship" Lumia 830, so this is the 2nd one.

Needs to be bigger 5.3 to small...

Funny you say that considering that the Nokia 8 is actually taller than the G6 and S8, and also a little bit taller than the Moto G5 Plus.

I know, it should be more like 6.3"!😁

If only the screen was AMOLED, I'd buy this without even thinking. They got it right with the camera sensors, not this stupid Yx zoom Samsung, Apple and others are doing. Now let's see some battery life tests, though with only 3090 mah and QHD seems unlikely to be good, but they might bring in some good optimization. If it is decent, I can overlook the fact it is an IPS.

Real Nokia flagships have OLED displays, standout cameras, a camera button and wireless charging. Gadgetry tricks of shooting front and back at same time doesn't qualify as worthy of this price point, and neither does the display or battery. Maybe this spec-set flies in Europe, and America will get something that would actually sell here...

No, this will most definitely NOT fly in Europe. Specially when the S8 is currently available for the same 600€ they ask.

Agree, it should have something unique to stand out from the others. As you said the S8 is kind of cheap to buy it,....actually i can buy it for 535€.

Lol what? This thing will bomb in Europe

Sounds interesting. Could be competitor to OnePlus - high-end specs, more expensive but potentially with better screen, focusing on updates.
Although camera is a concern - Pixel camera is 12MP with 1.55micron pixels, this one is 13MP with 1.12. Could optical stabilization compensate?

It uses both sensors on the back to improve performance in low light. An individual sensor has smaller pixels and less performance, but the 2nd camera is monochrome and captures more detail to improve the image. Software handles a lot of it, gonna need to wait to see how it turns out. Huawei uses this method and it seems to work well.

I was so stoked for this but it's massively under delivered from release pics and spec sheet. I won't be buying it but going back to wait patiently for the Nokia 9 if and when it comes and ONLY if it's tonnes more exciting than this and worthy of the Nokia name This is pretty much on par with the Huawei P10 but with nearer stock software

I wish this was the new Pixel phone.

Ah ,no. Maybe the smaller one. Changed my mind. No on all accounts

This is the phone that a lot of people were considering, including myself. After seeing these specs I will have to pass. I would have thought they would have gone with an Amoled screen, ip 67/68 water resistance, and compatibility with more carriers than what this is saying. Maybe next year.

good phone, wrong price. What's up with all these startups and unproven companies (this is not the Nokia you once knew) selling phones at iphone prices?

no thanks. ill stick with my g5 plus thats half the price and similar specs.

I'm really not getting the complaints about the specs. They look good to me. Splash proof IP rating is better than no IP rating. I'm already seeing someone whine about the bezels lol which aren't even that bad smh. Some of you really need to hop off of Samsung's nuts.

Yep. The specs look good enough to me too. If it is built like the Nokia 6 as on JerryRigEverthing's teardown it will have great build quality. Sometimes it is worth paying a bit of a premium for a well built phone.

If you can't take the phone scuba diving with you then it's a no go for these folks.

I use my phone in the pool every single day - It's a must-have feature for me.
I don't scuba dive :)

Go look at Nokia's past flagships. Maybe then you'll understand why this phones doesn't hold water with long time Nokia fans.

No complaints about the specs but not offering anything special. Solid phone that I will pass on.

Solid phone, but not at that price.

I think a lot of people don't understand that it's not so much that this phone sucks, but rather that Nokia is capable of so much more. That's what has some of us disappointed

And some of us - well, me - more than disappointed, seriously p*ssed off :P

Just what we needed another $700 phone with an 835 chip. This phone offers nothing you can't get in in a one plus 5. Why does every oem think they can sell the same phone for $700?

That's release MSRP. It will most likely be $450 on Amazon in about a month from the release date. They will get those fanboy sales up front then the price will fall.

I just hope this device sell well. Sure it does have the whole bezel-less thing but it's not to bad. It runs stock like android and the camera is quite decent. Have see the review but it looks like a solid device.

Looks good... Pure android latest specs and still people complaining... When pixel was launched and was very expensive still people brought it with no iP no wireless charging no sd card slot huge bezels... I guess Nokia will sell on many things
People will always find faults.. If don't like it don't buy simple

There is a contest on each release to see who can complain the most. It is a wonder many here can find something to buy.

An increase in battery and screen size and I'd be all about it. I had the Nokia n900

Having almost pure, unbasterdized version of Android and the promise of timely updates is already a great deal to me. Being less than 5.5" is a great bonus.

I used Nokia 6 that I bought for my friends mom, that was good for 180. For 600 this is not worth it. Maybe for 400-450 and it should be great. I was gonna get it after I used the Nokia 6, but at that price, oh well.

There isnt a thing wrong with this phone except the 5.3 inch is a little small for my personal taste. I like a 5.7 inch screen. But Nokia didn't consult me for some reason.

Call me when they release a Lumia 1520-like device. Complete with everything from Qi wireless charging, big ass battery, QHD AMOLED, and more.

No band 12 for TMobile :(

For 500 bucks I would totally buy it. As far as some mentioned here it's total failure because it doesn't have wireless charging, camera button, (really?) And ip68. That's really not a big deal. Here's why,
You can't have a wireless charging in metal body and it's a tech that didn't really take off that much. because new fast charging is actually more convenient. I have a sgs8 plus and my phone never seen water, nor my sgs 7 edge, sgs7, sony z3, z5. None of them. People just don't really sink their phones to take pics. Sure its nice to have, but not a selling point either. Amoled vs lsd? As long as I can see my phone screen outside, it can be made from macaroni for all I care. Here's what do metter though. Having stable and not heavily skinned OS (when you don't wait a year for the new android update), having a durable phone that lasts, having good camera (witch remains to be determined with this phone) and the good battery life. If the nokia 6 had a Snap 625, it would be a killer mid ranger. Nokia 8 looks pretty cool actually, simple, and it's just works (iphone anyone?) I thing HMD is on the right path, as long as they price it right and find the way to flood US market. (Make a deal with t mobile and see how it takes off) all and all I'll be dumping my sgs8 plus for the note 8, for productivity reasons. And I need a second phone for work, its between Nokia 8, new pixel or BlackBerry (maybe even V30).

Looks really good, would seriously consider it had I not bought an Xperia XZ 6 months ago. My biggest gripe with the phone is the lack of a dedicated camera button. Some IP68 would be nice too. Overall a good phone, I hope it sells well.

Tiny battery, not interested in discussing the rest until that's fixed.

Are you for real? 3000mah isn't tiny. It isn't big but certainly isn't tiny! There's still phones of equal size and specs being made with 2500-2800mah batteries. They're tiny!

Yeah that's a good men's health average if anything. Not tiny.

So, let me get this straight, except for the fanatical Nokia fan on here, who dislikes it because it doesn't stand up to their standards. Everyone seems to have some fault with it. I have to question others though. This is pretty much like a newer Google Pixel phone with a SD card slot (which Google phones never have). Potentially better camera and audio tech. So I don't quite get the complaints. If I didn't have a phone already I would consider this as I'm not into wireless charging or taking my phone into water. I do like a camera button but it's not the end of the world without it. As for screen type and all that, that's personal preference stuff, like everything. I'm sure they're next phone will be more to some people's liking but I think this is a good first flagship overall. The real test will be the camera and audio reviews.

I think we all have very high expectations since it does wear the Nokia name.

I like this phone. Not sure I want to spend 700 bucks for it. I'll keep watch on a OnePlus 5 for now.

HMD you fxxk up Nokia brand!

What the price for that?
Saw newegg.com selling the nokia 6 for $229. Im so going to update my asus zenfone for this.....my nokias never let me down. I had the nokia 920, best phone ever, but they stop supporting many apps, so i jump to my first android, ZenFone 2. Forst year was the best, then started to behave like a jerk.
Android Central Newsletter
Get instant access to breaking news, the hottest reviews, great deals and helpful tips
Thank you for signing up to Android Central. You will receive a verification email shortly.
There was a problem. Please refresh the page and try again.