The Nokia 7 Plus isn't officially available in the U.S., but here's why you should buy it anyway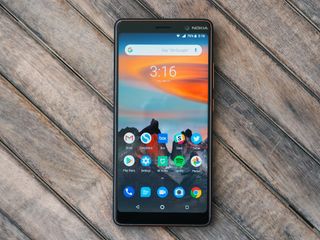 (Image credit: Nokia)
The Nokia 7 Plus is the best $400 phone you can buy right now, but unfortunately it isn't officially up for sale in the U.S. HMD Global is currently focusing on Asian markets, and while the Nokia 6.1 is available direct from Amazon for $269 (opens in new tab), that's the only Nokia-branded phone sold officially in the U.S.
However, the global variant of the Nokia 7 Plus is now being listed on Amazon for $359 (opens in new tab), with the particular model offering compatible bands for AT&T and T-Mobile.
It works on AT&T and T-Mobile
The Nokia 7 Plus variant on sale (TA-1062) features a host of LTE bands, specifically 1/3/4/5/7/8/20/28/34/38/39/40/41. Band 4 compatibility is key here as that makes the phone eligible to work on AT&T and T-Mobile. It doesn't have all the requisite bands for either carrier as it's missing band 12, so coverage will be limited. That said, bands 4 and 5 provide LTE connectivity across wide swathes of the country, so you shouldn't face a lot of issues in this regard.
Should you face issues with LTE connectivity on either AT&T and T-Mobile in your locale, you can at least turn in the device as it's backed by Amazon's 30-day guarantee. Furthermore, you won't be able to use the Nokia 7 Plus on Verizon or Sprint as this is a GSM model.
The build quality is fantastic
The Nokia 7 Plus has an aluminum unibody with a six-layer ceramic finish at the back, giving the phone a matte finish. The matte texture makes it easier to hold, and the aluminum chassis makes it one of the most durable phones in this segment.
Nokia devices in the past have long been associated with durability, and HMD is imbibing the same qualities to its portfolio of Android devices. I've been using my Nokia 7 Plus for well over two months now, and after numerous knocks and tumbles, the phone is still going strong.
Snapdragon 660 is a performance beast
The Nokia 7 Plus has the distinction of being the first HMD device to feature an 18:9 panel. It also features a Snapdragon 660 chipset, Qualcomm's mid-range powerhouse. The Snapdragon 660 made its debut last year, and continues to be one of the best chipsets in the sub-$500 segment.
You also get 4GB of RAM and 64GB of storage as standard, microSD card slot, dual 12MP + 13MP cameras, Wi-Fi ac, Bluetooth 5.0, NFC, and a 3800mAh battery that delivers over a day's worth of use with ease.
Nokia 7 Plus review: Come for the value, stay for the excitement
You get the promise of quick updates
HMD has committed to the Android One platform for all of its Android phones, and that translates to two platform updates and three years of security updates for all phones in its portfolio. HMD managed to do a stellar job rolling out updates, with the Nokia 7 Plus running Android 8.1 Oreo and the phone is in the first wave of devices to pick up the Android p update once it's released.
It costs just $90 more than the Nokia 6.1
The main issue with importing a Nokia 7 Plus is the customs duties and shipping costs associated with the purchase, but with the phone available from Amazon and backed by a 30-day guarantee, this is the best time to get your hands on the device.
Right now, the phone costs just $90 more than the Nokia 6.1, and for that amount you're getting an 18:9 panel, beefier hardware in the form of a Snapdragon 660, 4GB of RAM, and 64GB of storage, and much better cameras. Sure, you'll lose out on warranty as the model on sale is a global variant that doesn't offer U.S. warranty, but you'll be able to return your unit within 30 days to Amazon should you face any issues.
As outlined above, the Nokia 7 Plus has outstanding build quality, and is one of the sturdiest phones in this segment today. For $359, there really is no reason not to try out the Nokia 7 Plus and see what's on offer.
See at Amazon (opens in new tab)
Android Central Newsletter
Get instant access to breaking news, the hottest reviews, great deals and helpful tips
Harish Jonnalagadda is a Senior Editor overseeing Asia at Android Central. He leads the site's coverage of Chinese phone brands, contributing to reviews, features, and buying guides. He also writes about storage servers, audio products, and the semiconductor industry. Contact him on Twitter at @chunkynerd.
I think this is one of the best mid-ranger's on the market. The build quality is excellent. Plus a 3800mamp battery & reasonably priced!

What is going on at AC these days? This is such a misleading and terribly thought out story. No you should not buy this phone if you live in the US unless you are almost always on WiFi and don't care about network performance which last I checked was pretty important. T-Mobile uses LTE bands 2/4/12/66/71, AT&T uses bands 2/4/5/12/17/29/30/66. This phone only supports one of those bands. Without support for any other LTE band you are likely to experience poor performance anytime their network is even slightly congested. Sure this is a great phone for the money but if you actually want to have good network performance in the US you should look elsewhere. Writing a story telling people to buy a phone that will almost certainly not work well on the US carriers it's compatible with without even mentioning this fact is irresponsible journalism. This story should either be edited or taken down.

This is an ad and they just want to make a buck.

Absolutely correct. Buy it anyway, Harish? Nonsense.

I agree with this. You can't use a phone on AT&T or T-mobile without 700 MHz bands. Wonder if HMD paid for this ad

I agree. Very sad they would write this. Some people won't fully understand and be swept away. This is what we used to call a sell out.

Sorry, but this article is WRONG. Great phone, but this phone lacks LTE band 12 which is T-Mobile's PRIMARY LTE BAND. If you import this phone and try to use it on T-Mobile in the USA you are going to get spotty LTE coverage, if ANY at all. Buyer beware.

Band 12 is not exactly primary for TMobile. Maybe in a handful of markets, but not in any major metro market I've been to. My phone uses band 12 only when in fringe areas where 700mhz can keep me connected or when phone needs carrier aggregation to download data. In most markets band 71 (once fully deployed) will have more bandwidth than band 12. In South FL I see bands 2, 4 and 66 as primary. However, I agree this Nokia would not be a smart choice for TMobile or AT&T customers.

I've bought a 6.1 and this phone is the only reason I might regret buying it.
I can't think of another phone at this price that would suit me better.

So this phone includes the following bands: 1/3/4/5/7/8/20/28/34/38/39/40/41
T mobile's LTE bands are: 2, 4, 12, 66, and 71 (with 4 and 12 being its main LTE bands)
AT&T's LTE bands are: 2, 4, 5, 12, 17, 29, 30 and 66 (with 12 being its main LTE band, and17 being a subset of 12) Why on earth would you recommend this phone for AT&T and T mobile? Sure it has t mobile's band 4 and bands 4 and 5 for AT&T, but it is missing one of two key bands for t mobile (and supports no other band) and does not support the main LTE band for AT&T (band 12). So someone purchasing this phone for either carrier (based on the author's advice), would be disappointed. Such an uninformed article.

I so wanted the 7 plus. Opted for the 6.1 but would have strongly considered this had I not just picked the 6.1. Really hoping Nokia brings more of their higher end models to the States.

I'd be interested in it... IF it supported Verizon's network. I really don't understand why so many companies inherently block themselves from a huge amount of potential sales in the US by failing to include CDMA compatibility. Is the cost of those CDMA radios / LTE bands really higher than the lost profits?

Main reason is they would have to include radios in a phone for only one country that uses CDMA on a large network. Not worth it to the company.

The US are missing out on a really good phone in the Nokia 7 Plus.

It's the other way around, Nokia is really missing out on a lot of potential US customers. They should've launched you'd device officially in the states.

I do wonder why so many phone companies don't bother with the US.
Could it be the need for carrier support, or the fact Samsung and Apple have such a strangle hold on the market?
I'm sure if they felt they could make money they would do it.

The duopoly and carrier employees not caring about non Samsung and apple phones. Go to a carrier store and non galaxy and iPhone are in the back by the closets lol. It's a shame

No band 2 for T-Mobile. No thanks. I spend a lot of time on that band. Really, there's no reason for ant manufacturer to skip LTE bands these days. It can't cost that much more to include them.

Band 12 is pretty essential if you're on T-Mobile. That's a huge chunk of the coverage they've built out the past few years. Using a phone without it really handicaps coverage. Ideally on T-Mobile you also want bands 71 and 66. Neither is an absolute must but T-Mobile has been adding a lot of 71, and less on 66.

Wrong. Wrong. Wrong. If you live in the US, this is not the phone you are looking for... but it could have been had HMD included missing frequencies. AC, I expect better than this. The Mobile Nations of half a decade ago wouldn't have missed details like this.

Lol this is not even an official ships and sold by Amazon listing. It's a third party seller on Amazon, just like buying from eBay.

This article gave me a headache

Just get the 6.1 or look elsewhere if you are in the USA. Too much money to just throw away for a bad experience.

I'm happy I read the comments!

Blah. Of course this happens right after I jump in on the BOGO for the G7.

I have the Nokia 7 Plus. It works fine in Phoenix. I bought it on Amazon for 340.00 and have seen it as low as 325.00 it came from China in like 5 days. I had to tell DHL to hold the package since I was out of town and wasn't expecting it so fast.

I got it for $327 last week on Amazon, seems the price has gone up after then. Still a bargain for $359.

Maybe it is coming to the US since its shown as a US android one device on the android.com web site
https://www.android.com/one/?gclid=CjwKCAjwg_fZBRAoEiwAppvp-SZBAkbgUIyqE...

I'm glad I saw these comments. I'm on T-Mobile and currently using the Nokia 6 2017. A good phone but I think I need a performance boost. I don't like the Nokia 6.1 as it doesn't have dual speakers and Dolby Atmos. Performance is only marginally better than last year's model also. At least that was my experience when I tried out the 6.1. Will just have wait until Nokia releases better options in the future.

convinced me against the international nokia 7 plus... thnx commenters

I bought one of these for the wife a couple of days ago here in New Zealand. She really likes it except for the finger print reader at the back. As she has it in a wallet case after several attempts to set it up she gave up and just uses a PIN access. Great phone . I prefer it on the front like my Motorola. Pity that it doesn't have all the bands for you guys in the US..

This isn't my first import Nokia and i bought it with the understanding LTE would be hit-or-miss, and i don't regret it. HSPA+ is strong so even if i turn off LTE this phone does just fine. Performance and software are fantastic, screen and build quality are top-notch. i only wish it had stereo speakers, otherwise this is a nearly ideal device and for its price i have zero complaints.
Android Central Newsletter
Get instant access to breaking news, the hottest reviews, great deals and helpful tips
Thank you for signing up to Android Central. You will receive a verification email shortly.
There was a problem. Please refresh the page and try again.